Are Clear Silicone Sex Toys Possible? Absolutely!
Silicone sex toys have come a long way, baby. I often am asked to give someone my opinion on whether or not a sex toy is actually the silicone it claims to be. When the material is opaque it's hard to tell visually but the proliferation of clear jelly/TPR material in sex toys gives me a leg up in making a call. I've frequently warned on my blog that "clear silicone sex toys won't be crystal-clear, they'll be cloudy-clear". Yet earlier this year I was reassuring multiple people that a new guy on the block, Funkit, was definitely creating clear silicone sex toys. Why the panic? Probably because my differentiation between "crystal clear" and "cloudy clear" is skimmed over and the focus is on "clear". Today I'm hopefully going to give you better tools, and a better understanding, of the differences between clear silicone sex toys and clear TPR sex toys if you don't want to, or can't, do a flame test.  And while Funkit isn't the only brand to use clear silicone it is the brand people have asked me about the most lately. Other brands that have used a clear silicone include Vixen and Vamp; you'll notice Vixen using it in their Hitachi Wand caps. Vamp uses a clear silicone but heavily infuses it with glitter. A brand that has been around awhile, quit, moved to Etsy, quit again was Jollie/Chavez Dezignz – they made the polka-dot dildo many of you would remember.
Clear As….Water?
In many past posts I'd used the terms "crystal clear" to describe what PVC/TPR/Jelly toys look like and "Cloudy Clear" to describe what clear silicone toys look like. Kenton, the ingenious person behind Funkit, graciously allowed me to pick his brain to help better explain things to y'all. According to Kenton the term "water-clear" is a better descriptor to use, and he's right (unless your water isn't clear…). While both materials are certainly translucent (and thin samples of clear TPR might even be considered transparent), the silicone we would want our sex toys to be made of can never be water-clear. There is water-clear silicone, something Kenton reminded me of that Metis told me a long time ago; but it isn't a sex toy material, because it gets brittle and doesn't hold up well, plus is very hard.
Cloudy-Clear vs Water-Clear
When it comes to a relatively thick chunk of translucent silicone, like the head of the Funkit dildo shown below, you can see that it wouldn't be called water-clear. This is the perfect example of "cloudy clear". Even with the Funkit silicone paddles, as thin as they are, you can still tell that it's kinda cloudy. But as you can see below the head of the TPR vibrator is as thick as the head of the Funkit dildo – And as thick as it is, it's still a lot more translucent than the clear silicone.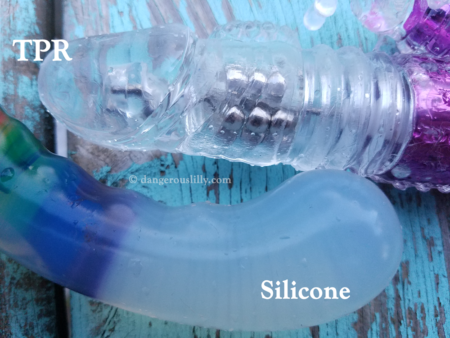 If you're still unsure, and you can see it in person Kenton told me about the light trick, which is pretty neat:
Visually, cloudy clear, but highly transparent silicones often lend an amber hue to light that passes through them, especially thick parts. This is true of my toys, at least, and all the silicones I've worked with, including many Wacker samples and Reynolds Advanced Materials. That's a pretty good test, but flame testing is still important.
When I just held my LED light up to it I didn't really notice what he was talking about but the moment I shone the light through the material onto a white surface, the answer was clear. Below this paragraph in the photo on the left I'm shining my light through a Funkit Swing dildo; you can see the light that passes through is very amber-yellow. The photo on the right shows the same light shining through the head of the Tracy's Dog not-silicone rabbit vibrator. There's no color distortion to the light as it passes through.  I don't know how this test would fare if the clear silicone were tinted, like many water-clear TPR toys, such as this. Kenton has said that it is possible to all-over tint the clear silicone like that, he just doesn't do it.
Price, Brand, Feel
Price, and brand reputability, will give you many clues. The brands you will see claiming their water-clear material is silicone are nearly never being sold through reputable retailers and are almost always under-$40. One brand that I've only seen on Amazon, the terribly-named Tracy's Dog, is one example. While the company does produce silicone items that are indeed silicone, they also sell items like the rabbit vibrator in my pictures – priced at $13.98, you won't find clear silicone sex toys for that price. But what if it's a frosty translucent material, from an Amazon brand, and cheap? Is it silicone? I think I'll have to purchase it and do a flame test. I do know from my trials with items listed on Amazon as "silica gel" that you can have a soft, nice-feeling frosty translucent item that is NOT silicone. The "guess by looking" isn't fool proof, obviously, but we have to start somewhere. However, the more clear the silicone is, the better the quality of the silicone, the higher the price.
Another clue is confusing listings with poorly-translated ad copy. As you'll see from these Amazon listings the material can be described as silicone, TPR, and medical silica gel all in the same listing. "Medical silica gel" is not a sex toy material so when in doubt always assume the lesser material if you can't tell just by the level of transparency.
I mentioned price up there when I talked about the cheap items you might find on Groupon, Amazon, AliExpress or Ebay. But not all PVC/TPR rabbit vibrators are cheap. For reasons I'll never understand companies like Doc Johnson and CalExotics, or Evolved Novelties sometimes charge a pretty penny for TPR rabbit vibes – but at least they're honest now in the materials description, and call it TPR – so long as you're shopping with a reputable retailer.
Often when you see bigger brand clear silicone sex toys, like this silicone rabbit vibe, the silicone is more cloudy (frosted?) than the stuff used by Funkit, Vixen, Vamp, etc. It could be down to a difference in shore, silicone type & quality (medical, food grade1, etc) or silicone price (the more clear, the more expensive). It could also be a difference between RTV silicone that is hand-poured and LIM or liquid injection molding.
Feel – this one is harder to put into words, for me. Often a TPR or PVC clear material can feel a bit oily, but not always. When I was trying to find a word to describe what I was feeling, what came to mind was "squeaky" but that's a sound, not a word. I can rub my thumb over these materials and I actually kinda can hear a sound. When I'm done rubbing my hands over these materials, if they don't feel obviously oily, my the skin on hands still is left feeling strange – like there's a chemical residue. I don't experience any of this with silicone. The only residue that's been left on my hands after fondling some silicone is a silky feeling. I think that once you can feel both materials side by side, you'll always know how to tell in the future.
Thanks Kenton!!
Kenton Johnston is the man behind Funkit, and he's creating some pretty amazing stuff. Yes, the vivid swirls of pigment suspended in translucent silicone is different and gorgeous but he also is thinking way outside the box – from his unique suction-cup-and-butt-friendly base design to these really cool hand sex silicone texture rings he's trying to get funded on Indiegogo – I've seen them in person and I definitely think they'll work as advertised. He's a big sex geek, like us, and fortunately was happy to let him pester him with all sorts of questions to help me easily show you how to tell if these clear silicone sex toys are really true to their advertising. For now you can buy Funkit products direct, but I hope that soon he'll get his stuff into the hands of progressive retailers like Early to Bed, Smitten Kitten, and Shevibe.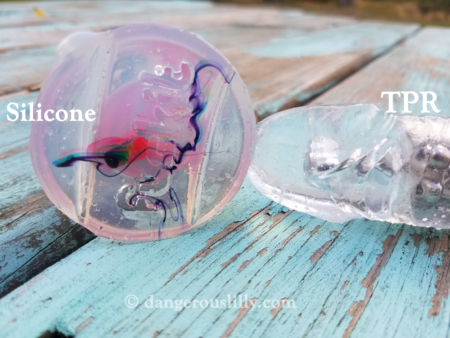 Find Funkit on Facebook, Twitter and Instagram.
Medical grade isn't everything, and I feel confident now recommending other grades especially when it's listed as food grade. Kenton told me that "Food grade silicone is tested to FDA standards for food safety, which involves submerging a sample on ethyl alcohol, water, oil, and acetone and seeing if anything leaches out in any of these. If harmful substances come out of the material, it is bad, and should feel bad. Medical grade silicone has to be able to be implanted for a certain amount of time, and is tested differently for different duration. There's also medical silicone for prosthetics, and this has its own tests as well. Medical grade silicone is also made in cleanroom settings. The thing is, a sex toy is something that is most likely going to come in contact with mucous membranes. It is not going to be implanted into your body. Anything that is safe for food necessarily has to be safe for mucous membranes like your mouth and anus, so food grade is a perfect fit for sex toys. While medical grade sounds better, it's really overkill for the cost it adds, considering the extra effort in testing doesn't add anything for a simply sexual  purpose." ↩