Review Round-up: 4 Affordable Sex Toys to Maybe Avoid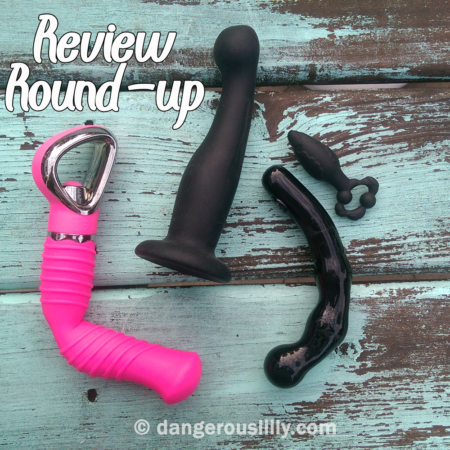 In my never-ending quest to locate affordable sex toys made from body-safe materials that aren't terrible I often end up finding a lot of crap. The following four affordable sex toys aren't worthy of a full review but each one has some issues. I really only hate one of these items. The others are just okay, with some flaws in marketing (do these companies understand the vacuum capabilities of the butt??) and odd designs.
Closet Collection Ellie G Ribbed Bendable
This is my first time trying something from the Closet Collection brand and I think it'll be my last. I don't know how much SheVibe would have sold this for, but it's not yet (or ever?) on their site. Other websites seem to be selling it for no less than $60 which is fucking atrocious. I mean really, seriously what-in-the-actual-fuck ridiculous. This is Picobong-level bullshit pricing. Before I looked up the average retail price on the Closet Collection Ellie G I had it pegged at about $35, maaaaybe $40. It's battery-powered, it has a cheap metallic-coated plastic handle and when you bend it, it just feels cheap inside. It has one button for its 10 functions (only 3 speeds) and is noisy as hell. The vibrations aren't the buzziest I've felt, but they're not all that powerful or anything I'd ever call rumbly. The gimmick is that it bends in the middle up to a 90-degree angle. Sadly it doesn't STAY bent like that. As you get it inserted and start to thrust, it begins to straighten out. I also had to screw the cap on just-so so that it would work. Too tight and it wouldn't even turn on. The ribs feel like they're scraping my vaginal wall; like maybe I should take it with me to my next pap smear – it's that scrapey.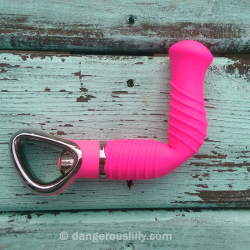 I'd heard some rumors that the material was a bit suspect – it felt weird, and smelled bad. When I first opened it, it did smell quite "fragrant" but that dissipated in a few days. The silicone is silky and dust-resistant, but there's no oily residue. After I was sure that I never want to use this piece of crap again, I dissected it and flame-tested it. So it's silicone; at least it has that going for it.
Sinclair Institute Select Onyx P-Spot Wand
First I have to tell you this: I don't really feel comfortable telling you that this is anal safe. I mean yeah, the Njoy Pure Wand is anal safe and I think was first designed for prostate massage, but what is the deciding factor on baseless butt toys? Will something with a certain degree of a curve not get sucked up inside the rectum? Does it have to be of a certain length? Do the balls on each end of the Pure Wand acts as stoppers? I just don't know.
I reviewed this as a G-spot dildo. They already have a G-spot dildo, but the sizes and styles are so similar that I figured it didn't matter which I chose. The G-Spot version is 6″ in length, supposedly, and 1.25″ width whereas the Onyx P-spot dildo is 5.75″ in length and 1″ wide. I've seen reviews of the G-Spot dildo calling it "tiny"; 1.25″ isn't super tiny in my book, but 6″ is on the shorter end for some people. However with glass there is always a quarter inch leniency in size, it seems because even if they don't anneal it properly, it's still "made by hand".  I feel like the Onxy P-Spot is just too short for prostate play for most people, unless your prostate is located more closely to the anus and you're pretty flexible. As a G-spot toy it was nice enough – I like that curve and it reminds me of the Pure Wand. But I'd rather it be longer. Bex has the Crystal G-Spot wand and when I visited them last year I did a polariscope test – surprisingly, there were no rainbows. There's some stress, to be sure, but it's not awful. And given the under-$35 price range for these, if you are looking for something small and slender then this could be a decent glass option for those with a G-spot. But for prostates? Avoid.
I'm also undecided of the safety of the "etching". You can definitely feel the etching; whether it's etching or a decal, I can't say for sure. I tried to scrape it off, but it wasn't coming off. I don't think it's something that would bother anyone unless they're sensitive. It's better than Pipedream but I still have some reservations here.
Cloud 9 Silicone Pro Plug Small
So I wanted a Cloud 9 item just to see if it's really silicone. They have a dildo that is under $25, for pete's sake! And a lot of anal toys with that controversial "ring-pull" base. And a "double-sided" plug which is either bizarre or brilliant depending on how you look at it. But anal safe? Eeehhhhhh I don't know about that!
Oh my god, do not use their anal toys unless you definitely have a finger completely through the ring-pull, up to your third knuckle. The ring-pull is made of silicone. Stretchy silicone. What's even more bizarre is that because they insisted on having this fucking "cloud" design going, the stretchy silicone ring is fairly thin in one part. Thin enough that when I stretch it, I become concerned and it's shown signs of wear. But silicone is more hardy than rubber so fingers crossed it'll be fine. If your fingers aren't too large, then it won't be uncomfortable to wear; it could be potentially used with success if it's on your thumb or finger while manually stimulating someone's clit. The plug could then go in their butt or vag. It could be something interesting to use on yourself in this manner, possibly? I only have the small plug just because I wanted to flame test, so it did nothing for me but hey, maybe a bigger plug could?
Sadly Cloud 9 has a set of silicone beads that could be nice, if they didn't have that elastic ring pull. Then there's the vibrating plug which, thanks to the bullet, leaves no room for it to go on your finger like a ring which means….don't you dare put this in your ass. If it's not on your finger….goodbye butt toy. The silicone is very silky and dust-resistant, though. So there's that. And yes, it passed the flame test but wow….so little thought went into anal safety here.
Packer Gear Kisser Silicone 6″ Suction Cup G-Spot Dildo
I think I dislike this one the least. But my god can we cut down on the long-ass names? This new line from CalExotics caught my eye because it's affordable silicone1. Why is it called "Packer Gear"? Well they do carry a cloth gender-neutral packing harness2 but these black silicone dildos are not what I'd call "packer friendly".  The base is a firm suction cup. The bottom portion is fairly firm and unyielding. The thinner mid portion has bend and give, naturally, because it's thinner. But these aren't dildos to pack with. I don't see it working out well, at all. The Kisser is actually a nice-feeling dildo, and I like that head (although it's not very thick) for g-spot play. But packer, it ain't. I've also felt stronger suction cups.
What they ARE though, are affordable silicone suction-cup dildos. My gripe? In the center of the suction cup is circle of silicone. The suction cup on top looks to be all one piece in regards to the dildo portion – there's nothing that leads me to think that the suction cup and dildo were two separately made pieces. When I bent the suction cup around I heard this crunching sound, like dried glue being dislodged. Then I could see, when the suction cup was flattened a bit, a gap around that circle. Great place to trap fluids. I tried to pry that circle off, and couldn't.  Then I got more curious so I cut it open. I wasn't really surprised to see that in order to make such an affordable silicone dildo, they had to stuff it. Except for the plug being able to trap fluids, there's no way this is going to fall apart on you. You would never get fluids inside to the stuffing, because of how they made the plug portion – the wider part goes into a groove inside the suction cup which is why I couldn't pry it out until I cut it open.
Some people may have a problem with this. The silicone3 surrounding the stuffing is thick and seamless. Unless you hacked this thing open you would never come into contact with the stuffing and I truly don't believe the stuffing could ever come in contact with fluids. I don't have a problem with how this is made, for the most part; just don't futz around and be rough with the base in a way that'll dislodge that glue around the edges like I did.  Yes, some folks take issue with the wording in cases like this: "pure silicone". "But it's not 'pure' silicone, it has stuffing!" Look at it this way: When you see a silicone vibrator marketed as pure silicone, do you say "But it's not 'pure' silicone, there's electronics and hard plastic inside!" No? When they're saying it like this, it's just a marketing thing, and it's harmless. It's probably a holdover from the days when they used to claim that a "silicone blend" was a thing.  In this case the stuffing isn't something that could potentially ruin the dildo and unless you hack it open you'd never know. If this is necessary to produce truly affordable silicone dildos then I don't have a problem with it, so long as the design is done well.
Thanks to SheVibe for sending me these items to try, dissect, burn and bend, in exchange for my unbiased reviews.