JimmyJane Intro Line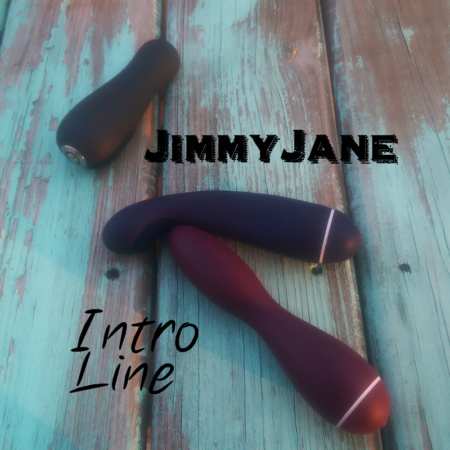 You know how I feel about JimmyJane so you're wondering right now why on earth I'm reviewing part of the new JimmyJane Intro line, yes? Well it was suggested by a trusted friend that I check them out, especially because of the price point – which has always been a sticking point with me when it comes to JimmyJane. I just don't feel that the Form line is worth their price tag. So when JJ came out with these new Intro vibrators I felt that I just had to give them a chance. At $391 for the most expensive version – a battery-powered Form 2 (which they've so originally called the Intro 2) – the line is affordable and "simple". But so many vibrators right at (or under) the $35 mark can have lackluster vibrations or flaws I can't overlook, so we already know that this will be a tough battle. However with a clean slate – past grievances momentarily forgotten – I ripped the JimmyJane Intro 4 and Intro 6 from their packages and hastily turned them on. I tried brand-new name brand oomphy batteries as well as the nonames included in the box.
Here's Me Trying to be Objective and Nice
JimmyJane is certainly not the first "luxury" sex toy company to come out with a more affordable line. Lelo did it first with Picobong; with one exception I remained largely unimpressed – Picobong is kinda overpriced and has horribly placed controls and terrible cap-handles. Despite the fact that I hate the design flaws of Picobong, and their price points, the Picobong Moka is stronger than the JimmyJane Intro 4 or 6. Picobong Moka also takes 2 AAA batteries like the JimmyJane Intro 4 and 6 do, so it's not the batteries holding back such a motor.
The JimmyJane Intro 4 has a weird shape, much like the JimmyJane Form 4 but the Intro 4 is even more weird for my body. It's straight with an hourglass-like shape that doesn't do anything for me. The shape of the JimmyJane Intro 6 is much better, and much more universal. So I wanted to like it, honest to Pete I wanted to like it. And in hand the vibrations aren't BAD. I've felt worse. They seem to come pretty close to the Boom Olive and the OVO K2 Rabbit's internal arm is a bit more powerful and rumbly.  I was definitely kinda disappointed and underwhelmed when I first turned on the Intro 6 but I'd been expecting more rumbly vibrations. I also wish that both the Intro 4 and Intro 6 were a little longer. However these are waterproof, and able to be submerged a little bit (1 meter).  So if you want a cheap, bathtime vibe and don't need power, this is a decent option – especially since bathtime is the only time the silicone will be clean.
The cap on the Intro 4 or 6 doesn't come off easily during use, and the single button is in a good place. I have enough room to rest a finger on the end for added grip and leverage while trusting without turning the vibe on or off.  This is good. Nothing horrid, so far, right? I mean I could totally do without it existing, but this isn't the hate-filled tear-down I've given them numerous times in the past.
This Fucking Silicone Though
OVO is around the same price for battery-powered pieces and their silicone covering is so much better.  Smooth and silky, it doesn't attract dust, dirt or fur. The same can be said for the Boom line, or Picobong (which is even silkier than the Ovo K2). But Jimmyjane Intro is covered in that grabby-draggy sort of silicone that manages to attract more dust and fur than a Swiffer. Lube is fairly necessary for most people to comfortably use the Intro line.
I love the navy blue and wine colors, but they don't make up for a silicone that cannot be used without cleaning first. The picture below shows the Picobong Moka and the Intro 4. I'd recently washed off the Intros for their photoshoot but after a mere 15 minutes any dust in the air landed on the Intros and any cat fur on me ran for the Intros like metal shavings to a magnet.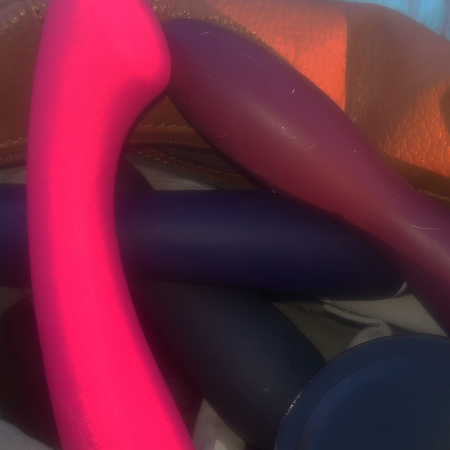 Let's Not Get Too Excited
I've been told on good authority that the JimmyJane Intro 1 should be passed over – weaker than the 4 and 6, it's kinda useless. Having avoided the polarizing Form 2, I didn't ask for the Intro 2 so I can't comment on how the Intro 2 compares. Unless you prefer a straight vibrator, I think that the only one in this line that I could half-heartedly recommend is the Intro 6. I think that the Picobong Moka has much nicer vibrations, but it's also $20 more for no damn good reason. I think that the Ovo F3 has a sorta-similar shape to the Intro 6, same price point, with ever-so-slightly better vibrations, plus nicer feeling/cleaner material. 
We're all wondering how the vibrations compare to the JimmyJane Forms, right? I've hung on to my Form 4 and here's how it breaks down: the Form 4 has 5 levels of intensity. Level 3 on the Form 4 is equal to high (level 3) on the Intro 4 and 6. Level 4 on the Form 4 is equal to OVO F line. Level 5 on the Form 5 is about the same as the Picobong Moka. If the motor on the Form 4 never went past 3 then I would swear to you that the motors in the Form 4 and Intro 4 and 6 are identical; the vibration "tone" and level of rumbly is identical.
I don't hate the JimmyJane Intro 6, but I am far from loving it. How hard would it have been to get a motor that is rumbly or just a smidge more powerful? How hard would it have been to use a better silicone? A little extra rumble goes a long way and if JimmyJane really wants me to believe that this motor is the absolute best they could do for a $492 vibrator (bitch, please) then we need to have a chat. It can be done, I know it can be done. I'm sure that the motor on the Blush Nude Impressions isn't what makes it cost $49, it's the rechargeable aspect. The motor in the Picobong Moka is proof – it probably doesn't cost more to include, it's that Lelo likes to overcharge for everything. I just will not accept that at $49/35 THIS is the best we can do in terms of power and rumble. My Doc Johnson Black Magic Bullet is proof of that to me. It seems that I am destined to dislike the motor in every single JimmyJane item.
I would possibly recommend the Intro 6 as a first vibrator for someone only if they are apprehensive about vibrations in general – if they can already orgasm *fairly* easily from fingers or tongues, then this is perhaps enough. I very much dislike the notion that everybody's first vibrator needs to be either the overrated Magic Wand (an 11 on the scale) or something mild / tame. Where are the simple, affordable vibrators that have rumbly-ish vibrations which go from mild to spicy? I guess it just depends on your level of affordability, but I won't stop trying to find something under $40 that is great. I just don't think the JimmyJane Intro 6, or Intro 4, are good enough. I don't think that JimmyJane deserves the vast amount of praise and accolades I've read lately; this line isn't groundbreaking. It is not unique. If I could compare it to something, it's like this Michael Kors bag I got off of a tag sale group on Facebook that is a knockoff – the big logo plate on it is cheesy and clearly not real, especially when you compare it to a real Michael Kors bag. The knockoff is still leather and still a nice bag, don't get me wrong. The Intro line doesn't look bad, but it makes the Form line look downright posh.
Many thanks to SheVibe for indulging my whims and sending me these vibrators in exchange for my brutally honest review, and especially for not sending me the day-glo pink variety. Also, gratitude to Shevibe for pricing the Intro line at a reasonable amount, rather than following JimmyJane's grabby-hands prices as listed on their homepage.