You won't believe what happened to these silicone sex toys after 5 months in a jar!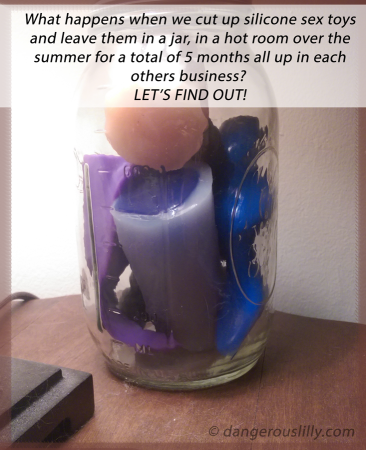 When I continue to see people warning others that their silicone sex toys need to be stored in separate containers, I get a little twitchy. I mean sure, it won't hurt, but it's not necessary. We need to reassure people that silicone is 100% safe, not scare them with false facts! Cured silicone is pretty damn stable! So to help me prove my point, months ago I cut up some pure silicone sex toys and put them in a mason jar, just like I'd done with a bunch of TPR/PVC toys. I let this closed jar of toy bits sit in the one room of my two-story house that is not air-conditioned. It got pretty hot up there this summer! Even without the benefit of heat, though, my first jar full of gross sex toys had a reaction. I never had to subject it to heat.  Those toys reacted to each other because the oil-based chemicals that help soften them also kill them – as one toy started to break down, the oils from it would be the catalyst to starting a nearby material to break down and it gathered like a snowball rolling down a bank. Yet I wanted to put the silicone sex toys to harsh conditions, to dissuade anyone from having a doubt.
To clear up confusion: as I mentioned above and will show below, yes, I had to cut up most of these into smaller pieces. I do not own a huge glass jar nor do I have room for one . Cutting the sex toy into pieces doesn't affect the results (in either jar).
So how did we get here? Why do some still think that silicone can have the same reaction as TPR/PVC/Jelly? Because just a few short years ago many of the big-name manufacturers were trying to scam us, and would call something silicone that was absolutely not silicone. We still see this here and there, but not nearly to the degree of past years. Screaming O is a big offender, their cheapie disposable (crystal clear, burns like a damn oil lamp) vibrating cock rings are labeled as silicone or some weird creative "silicone elastomer" fake material name. And so, because these toys were falsely labeled as "silicone" and they were in fact a very unstable, gross material…..they had reactions. But pure silicone will not.
To ensure variety, I included three types of Tantus silicone  – a cross-section from an O2 dildo, a portion of firm silicone from the Flex and the Panty Play which is made overseas and is a silky-soft silicone. Oh and part of a Protouch, I'm not sure if that's the same silicone as the Flex or not. There's a portion of a very inexpensive CalExotics toy; I don't remember the name of it, it seems to be discontinued. I did flame test it though, and it passed. Also included is a piece of a Doc Johnson silicone dildo that is very cheap; it too passed the flame test. 
It's been 5 months….what will we find?
Want some updated photos of the Original Jar of Horrors? There's been some activity! Gravity? Further decomposing?  Using the markings on the jar I can point out what's happened. When you view the original photos you can see that the bright blue thing (a masturbation sleeve) once was mostly above the Ball logo.  And there's a dark purple bit, that used to be partially behind the Ball logo on the lower half.  There also appears to be a lot of liquid but it's a slow-moving heavy oily liquid. I can't tell just how much material has settled at the bottom of the jar so I don't know how much displacement there is with the liquid or if there's more liquid….or just a changing landscape of melty TPR.