Jopen Ego e5 Review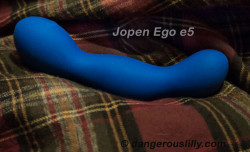 I get a lot of sex toys to review, so recently I nudged my husband to find something he'd like. It's been a long time since he's had something he loved for a prostate massager, so after some poking around at Shevibe he picked out the Jopen Ego e5. The Jopen Ego line is specifically aimed at penis and prostate toys; most of the line, in fact, is comprised of cock rings. They have four cock rings, all of them looking like some giant plastic kiddie costume jewelry ring you'd get in a toy vending machine for a quarter. Then there's the Ego e4, which looks like your average prostate massager – aiming to hit the prostate two-fold, from inside and out. But the Ego e5 intrigued him. It looks very much like your average g-spot vibrator. In fact, I can see strong resemblances to the Envy Five, except that the Envy Five doesn't have an anal-safety base.
Usually it's true that what's good for the g-spot is good for the prostate – something curved or angled, or just big and fat. And while one aspect of the Jopen Ego e5 is good – the motor is located at the end – it has a lot of small issues that don't add up to a win for him.
The Good
The vibrations are quite nice – much more rumbly than buzzy, and pretty powerful in fact. I wouldn't call it the most powerful motor I've felt, but it's certainly no weakling. The silicone is nice – no texture, not a lot of drag, but not super silky, either. It doesn't attract lint and fur easily. And the overall shape is great to be used externally – much enjoyment was had when I pressed the length of it against him during a blowjob. We positioned the vibrating tip to press against the anus, and he received pressure and vibrations against the perineum, balls and base of his cock.  And as I mentioned above, it's also good that the motor is located in the tip.
The Bad
While the vibrations are rumbly and powerful, apparently straight vibrations are not something his prostate enjoys. It's overkill, it's boring, it's just nothing special. If the Ego e5 had a pulsating function, it would have greatly improved his opinion. And despite the shape of the Ego e5 appearing to be prostate-friendly, he simply couldn't get it to really hit his prostate. Not to mention the fact that the best position for him during use made the middle "bloop" rest at the sphincter – very uncomfortable indeed. He also kept hitting the button during use and turning it off. The Jopen Ego e5 uses a single button – you click it to turn it on or off, but must press and hold to ramp up in vibrations. Once you're at the maximum level of vibrations, there's no way to back down in intensity without turning the vibrator off completely.  There's also a decent amount of flex in the first "joint", which he isn't sure is a good thing. He personally likes a lot of pressure on his prostate, though. Ironically, he's had better luck with a straight, hard plastic vibe than the Ego e5.
What about the G-Spot?
Honestly I think this vibrator would be better suited for g-spot users. I tried it out before handing it off to him, and while it wasn't quite powerful enough for my tastes, it should be powerful enough for most. And, this would give us g-spot people another damn color choice besides the pinky-purple that Jopen seems to think we want. The gender binary and stereotypes are strong with this company. The entire Ego line only comes in royal blue, while most other Jopen lines only come in "femme" colors.
Should you get it?
At the end of the day, unless you think this would make a great g-spot vibe, we can't recommend the Jopen Ego e5 for prostate play. After failing with this style we began to think that the e4 would suit him better, but then we read Incendiaire's review and found out this baffling bit: on the e4 the motor is located in the external arm. What the fuck? Why? Regardless, the Ego prostate massagers just don't seem to be worth the price tag. I honestly don't see him ever using it again for its intended purpose, but we may pull it out for blowjob assistance now and then. Of course, I have an aresenal of other vibes that work just fine for that application.
Thanks to Shevibe for hooking us up! I hope to find him something else wonderful for prostate massage in the near future. For now, the list of possibilities includes: the Nexus Gyro Xtreme, the Fun Factory Duke, or the Lux LX3 Plus. Anybody have any experience with those?