In the weeds, but lookin pretty sharp!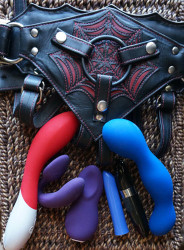 I never managed to find the "perfect" theme for my blog. Sure, I loved most of them at the time I created them, but I grew/the blog changed/squirrel. I've never been sure of myself. I change my outfits and I change my mind so quick, your head spins. I can't even fathom never changing up my look. I think this is my 4th or 5th theme since 2008.
I had practical reasons for changing, too. The old theme had a huge flaw: I couldn't update it automatically. I would have had to download the new theme files and reinstall a new theme….losing all the custom changes I made. And there were a LOT. Plus I've been wanting the dual sidebar thing for awhile now. So, what's new besides the obvious? The blogroll finally got dusted off. And since I don't read the blog of every person I know & like, that Twitter List serves as a secondary blogroll of sorts. I have some new pages1. I updated my Toybox page, it's hopefully easier to find things now.  I implemented it a week or so ago, but I finally have Disqus as the commenting system, which will make replying to comments much easier.
I've got a lot of things on my plate right now! I recently did my first (very small) educational talk at a local event, and trotted out some of the lovely sex toys. Trying to explain how the We-Vibe worked was a trip! I'm doing a couple consulting jobs right now. REVIEWS. ALL THE REVIEWS. Upcoming reviews include me finally getting around to writing up reviews on items I've had for awhile including the Lelo Mia 2 and Mona 2,as well as the Fun Factory G4 Big Boss and Patchy Paul. But I'm also swimming in new stuff, much to my excitement.  The Tantus Black Widow Connoisseur Harness is really, really neat to look at. OH MAN IT IS SO AWESOMELY GEEKY.  The newest versions of the We-Vibe Tango and Touch arrived literally this morning. I've got something that's marketed towards prostates, but really can be enjoyed by anyone, the Jopen Ego e5. What else….ah, the We-Vibe 4.
I saw that Smitten Kitten had posted their old pics again of the "jelly jars" that inspired my "little jar of horrors", so I got out my jar to see how the science experiment was progressing and found…..free-floating glitter in the puddle. I'm on my way to a toxic snowglobe! Yay?
That's it. I think. If you see anything around here that broke during redecorating, holler. 
What's new with you?
Technically not new, just now being shown in the menu. I've been doing consulting for 2 years now and I hemmed and hawed over that damn Donate page for 4, never publishing it ↩