Contest Tweets Are Like Car Alarms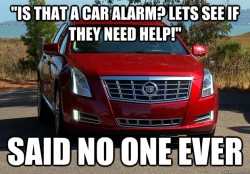 You'd be hard pressed to find an online giveaway these days that doesn't have the "Tweet about this contest" as an entry method. Same for "liking" a Facebook page. While the Facebook page "likes" are a bit less intrusive to the would-be winner's social media circle, a Tweet is going to show up on the dashboard of everyone who follows them. And since some people just enter every contest they can, these Tweets are just so abundant that we've begun to, I think, tune them out like a car alarm. Remember those? Now they're just annoying; you hear a car alarm go off and instead of thinking "Oh noes someone is trying to steal a car", you think "That fucktard just set off their own alarm again I'mma kill that bastard you stupidhead would you just TURN IT OFF!!!". Or something like that.
While there are people outside of the realm of sex toy giveaways who also will create a "contest only" Twitter account, I think it's probably more prevalent for our little niche. Unless the person's Twitter is safe from the prying eyes of friends and family, or they simply come from much more modern stock than I, they will want to create a secret account for entering sex-related giveaways. And then, since their Twitter account contains no valuable content to generate followers, their contest entry is the equivalent of standing in the middle of the woods and talking to the squirrels. Yet we reward them with multiple entries.
During my last giveaway I encountered a large number of these pseudo Twitter accounts, but also more pseudo Facebook profiles than I'd seen in the past. And like I said, to a degree, I get it. I happen to have a blog-me Facebook account and a vanilla-me Facebook account because I wouldn't want to follow and like sex-blog/sex-toy related things on my vanilla account. It's not something I need or want my family to see. But while I have followers on Facebook, these pesudo accounts that people use for contests usually do not have many, or any, friends/followers. So again, it's a middle of the woods entry and we reward for it.
I suppose though that I'm more old school than I should be. While I agree and recognize that giveaways are a great tool to build brand recognition for both myself and the company sponsoring my giveaway, I keep wanting to go beyond that. I want the people to do something deserving of the more expensive prizes. I think I'm alone in this mindset, though. I encountered a giveaway earlier this week for a Vitamix blender – those fuckers start at something like $400. But did the giver-awayer require that I write a thesis paper? Nope. Did they even give a blog post as an entry method? Nope. They know that their audience isn't other bloggers. All of the entries are nothing more than liking pages on Facebook, following Twitter accounts and a Tweet. Then again….this sort of social media "advertising" works for mainstreamers. People can easily "like" the Facebook page about food or recipes or whatnot, and it doesn't matter one iota about friends and family, plus they'll likely have a few friends/family who will also enter the contest and so it spreads, like wildfire.
But we are unique. We are stigmatized, in many ways. We are the dirty little secret. I get it. I do. My family knows nothing of my blog work, the blog-related trips I've made in the past to NYC for Calendar parties, to DC for conferences.
So, what to do? Do I need to just suck it up and play the game of social media as if I were giving away a blender and stop caring that most of the Twitter entries fall on deaf ears or half of the Facebook entries are seen by no one? As I was reading some articles about contests and giveaways, they stressed one fact that we already figured out on our own: people are lazy. They won't want to do anything complicated. If your entry methods are complicated in nature or complicated to report, you won't have many entries. I can remember once, long ago, Epiphora was giving away something pricey like a Pure Wand maybe(?) and contest entries had to be something creative and effort was required. I recall that she didn't get many entries.
Past entry methods that netted me permanent traffic increases included things like having people submit a post to Reddit, Stumbleupon, Digg etc…but not many people did those. Any idea why? It's pretty darn simple, given the Shareaholic plugin I have below that allows for easy sharing to those places. In recent contests I've allowed not only the daily contest tweet, but the opportunity to share via Twitter a past post of mine. Again, some people do it, many don't. It's still relatively easy.  I've had entry methods where I have people subscribe to my RSS feed (can't track that) or subscribe to email notifications of my posts – but those can be throwaway entries too, as I've had people subscribe to my updates and then after the contest they unsubscribe. They don't want their inbox cluttered with notifications on posts about sex toy reviews. No, that isn't true for everyone that enters using those methods but it will be true for a decent percentage.
So I'm running out of ideas for "worthy" entries, most effective entry methods, etc. For my 5 year blog anniversary in June, I've decided to have 5 different giveaways. Some of the prizes are from smaller, niche/luxury companies like Fucking Sculptures and Nobessence. These companies need traffic, referrals and to just in general create buzz and keep it going. We need to help keep companies like them in business by fostering their growth.
What contest entry methods are you willing to do to win a sex toy?
What entry methods have you seen that you won't or can't ever do?
Should I just give up and stick to the status quo?
Edit: I've been doing a lot of research and I know that some don't enter contests that use an app (like my last giveaway) that will ask you to link your FB account and you "allow" it to access your information; it'll sometimes even say "post on your behalf" which causes panic. First, by using FB privacy controls you can control who see that stuff and what stuff the app can see. Usually apps can't see things unless they're visible to "public". But I found this which is interesting:
Facebook has it own set of Promotional Guidelines.  All sweepstakes or contest promos that run on a brand's or company's Facebook page must run within a 3rd party application. This means that you cannot just use the Facebook wall to collect data on the person or use the page or "Like" button as a means to determine winners.   So when you use a Facebook application the user must "Allow" the application access to the user's personal profile and other data. Many people are still not comfortable with this and don't understand what data the marketer will be getting and what they will be doing with it. Facebook users should adjust their privacy settings so that they are not sharing their information with "Everyone". Most apps will only have access to what a user makes public to "Everyone".
Wow. We've been doing this all wrong. 
Apparently, whether or not to allow Canada residents to enter is NOT dependant on whether the sponsor will ship there: In Canada the winner can not be chosen by luck, but rather some element of skill must be involved. And if you do wish to open your giveaway to residents of Canada, you must go one step further and either exclude Quebec or add in the various additional rules that province requires. Quebec is very strict and requires bonding and registration for sweepstakes along with all communications to be produced in both English and French-Canadian. This is why you will see many U.S. based promotions excluding Quebec from eligibility.