Why I Hate JIMMYJANE: Part 1 – The Form 3 Review
Subtitled: When you're right, you're right or I should listen to my gut more
Once long ago in Babeland I fondled a few JimmyJane vibrators and was summarily unimpressed. I read a litany of mixed reviews from the entire spectrum of "LOVE IT" to "DIE IN A FIRE" and had figured out that JimmyJane's Form line was largely overpriced "luxury" crap.
I was right. At least I got that goin for me.
I had an opportunity to grab the Form 6 and Form 3 from Red over at ToySwap (along with the now-defunct Cone vibrator and a Metal Worx "steel" dildo) and even though I knew I was probably going to hate them I JUST HAD TO. The things I do for you guys.
JIMMYJANE Form 3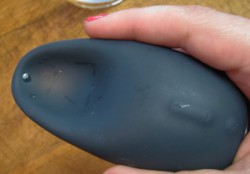 In case you've been living under a rock, the innovative design of the Form 3 is supposed to combine your finger with the vibrator for "enhanced touch"1. Except…it really doesn't. The motor is in the body of the vibrator, which is the lower half. Then the silicone forms a scoop that is just a silicone extension, sort of like a Rabbit Vibrator on steroids. The material vibrates but the portion where the motor resides isn't what you press to your clit. You can put this "lip" or tongue or whatever sideways between your labia for a meh amount of vibration. But the design's intention is for you to push your finger in the center there. The silicone in this section is a membrane and it feels like pushing in on a balloon. The problem is that as soon as you do this….and you touch your silicone finger to your body….the vibrations are practically nil. It's a pretty simple theory as to why the vibrations are not being transmitted: it's a piece of silicone material being vibrated by a distanced motor and as soon as you apply enough pressure, the vibrations nearly stop transmitting through the material altogether. To push through the membrane and have your finger-via-silicone touching your clit or your partner's clit requires a lot of pressure. If you have any strength issues with your hand, any physical disabilities, etc you will probably not be able to use this. Arthritis? Carpal Tunnel? Tennis Elbow? FORGET IT.
So you turn the Form 3 on and you're thinking "Hey…this seems pretty powerful!" and then you lightly touch the thicker sides of the scoop/lip/tongue and they're "ok" but then you add a little more pressure and 60% of vibrations have left the building. You then awkwardly push your index finger through the silicone and suddenly 90% of the vibrations have left the building. I found myself grinding the rigid body of the Form 3 against my clit just to feel something. Except that it's surface-buzzy for the most part. Definitely not deep or rumbly like the We Vibe Touch or Tango. The controls on it though are easier to use than those on the Form 6. Press "+" to turn it on and go through the 5 levels of vibrations; press "-" to turn it down or off, there is no "quick off" though. The bottom with the "~" symbol controls the pulsation type functions.
Even more frustrating is trying to charge the goddamn thing. It sits there, easy and cute in it's charging base. The contacts must touch and they must touch just so. It's more difficult to align than your average rechargeable computer mouse. Since it's not magnetic it doesn't snap into place and since the vibrator has a rounded body and the metal contact isn't flat either you have an irritating game of the Weebles: JimmyJane Edition. Form 3 will blink at you like it's laughing as you set it in the cradle and it falls over a little or slips down like drunken college kid trying to sit upright. After 15 tries and a few minutes you finally have the thing sitting just so and the charging light remains steady – forever. You won't know by looking at it when it's fully charged. No no, you have to pick it up and look at it for the blink pattern 2 and if you pulled it off too soon there we go again with the goddamn Weeble shit.
For all of the innovations packed into this little thing and the hefty price tag ($140-150) it is quite possibly a bigger rip-off than any Lelo toy when you rack up all the fails. If I wanted to sugar-coat it I could say that "it's a great tease!" or "great for foreplay!" but you know what? I don't come to vibrator-land looking for a fuckin tease. My fingers already have that job. Foreplay? Tongues are the VP. The job of my vibrator is to get me from any state of arousal to orgasm. Vibrators are my CEO, President and Head Bitch of the Orgasms Department. I am not willing to pay $145 for TEASING. I get that for free.
The JimmyJane Form 3 is a clitoral vibrator made of silicone and it is waterproof and rechargeable and a large disappointment.
Who will like this: Anybody who enjoys buying luxury sex toys and requires barely any vibration added to pressure and massage of the clitoris for orgasm; if you require no pressure with your vibrator and like vibrations on the side of clit
Try this instead: We Vibe Touch – same size, rechargeable, luxury, much better vibrations OR Leaf Spirit if you don't require strong & rumbly vibrations – moderate power, luxury, rechargeable, half the size of the Touch or Form 3, very unobtrusive.
This is enough venom and fire for one post, so the Form 6 will be talked about separately. OH HOW WE WILL TALK.
JimmyJane actually says: "Because your fingertips direct the vibration through a thin surface, your partner feels your touch, not a hard plastic device. Touch, stroke or tease your partner exactly how you typically would with your fingers (with new superpowers, of course)" ↩
1 blink means it's less than 1/3 charged, 2 blinks is 2/3rds charged, 3 blinks is fully charged and 4 blinks means you're too tired and seeing shit that isn't there ↩