Review: SinFive Burgono – A Suction Cup Dildo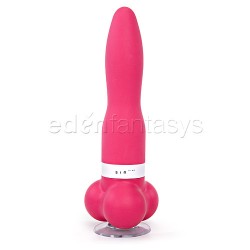 Do you know how *few* sex toys there are out there that are both suction-cup AND body-safe material?
Not many.
Tantus has a suction cup modifier that could be used on their vibrators (remove the vibrating bullet and shove in the suction cup modifier and voila its a suction cup dildo). Some of the Fun Factory dildos have a suction-cup-esque base but I don't know if it's as good of a "hold" as a true suction cup.
But the somewhat-upscale company from Germany called SinFive has two suction cup dildos that, while not quite the perfect material that is silicone, are still very body safe made from WTP material – read about this material type here. Today's dildo, the SinFive Burgono, is their smooth, texture-free version.
But wait. You're wondering what the big deal is about having a suction cup dildo, aren't you…..
Attach it to a window; tiles (must be texture-free and the size of the tile must be bigger than the suction cup); wood floors or furniture (must be flat where the suction cup goes); basically any surface that is relatively texture-free, paint-free and  flat. Et voila, your hands are free to be doing other things – to yourself or your partner.
The Good
~ Suction cup base which is removable – it screws firmly into the base – and provides a very strong suction grip to the proper surface
~ A body safe material
~ Versatile for vaginal or anal use
~ The funny looking base? Actually VERY ergonomic and fits well in your hand.
~ Comes with nice extras
~ Unique texture – very very subtle texture to it, but it's not slippery smooth like hard plastic or some shiny silicones.
~ Tapered for easy insertion if you do not do well with large toys, or are a beginner.
The Bad
~ Personally I didn't think it was good for g-spot play, given that the slimmest point is in the middle – where I'd want it to get bigger
~ The measurements on EdenFantasys (provided by the manufacturer) aren't exactly accurate – they just list 1.5″, which is the widest girth….but you don't see that width until you're farther down the toy, about 4.5″ down in fact. The slimmest points aren't even at an inch wide, and the top portion's widest is at 1.25″
~ The SinFive logo band at the bottom of the insertable portion and above the base leaves a bad spot for lubes and bodily fluids to hide out, making cleaning and keeping it germ-free a little darn difficult. Teeny, tight crevices.
Bonus Round
~ Comes with a functional, plain but handy ribbon-drawstring pouch that is more than big enough for the toy by itself.
~ Comes with a sample pack of massage "oils" in 1 unscented and 4 various scents. All come in a little box and are teeny tiny adorable glass vials with reusable, leak-proof caps. The SinFive site doesn't give a whole lot of information as to the ingredients of this stuff so if you're particularly sensitive then I wouldn't use these as lube, just massage stuff. Oil-free.
The material is pretty firm and doesn't have much give when you squeeze it but it is a bit bendy in the center. It comes in Raspberry, Light Pink, and White. Despite it's lack of girth for most of the toy, I'd still recommend this one over the Pikilo which scared the crap out of me. Those little bumps feel a lot more painful than you'd think just by looking at it.
Read up on WTP and all Thermoplastics here to find out how to best care for it, and what types of lube to use. For cleaning I'd recommend either Dishwasher Method or Wipe Down Method.
Thanks to EdenFantasys for providing me with this toy in exchange for an honest review.