Lilly and the Construction Crew
Recently I had a brief chance to get seriously naughty at work. I took a dare a little farther on my own – quite possibly flashing a crew of construction workers. I say "possibly" because I'm not really sure. IF they looked my way….well my eyesight is not great at a distance so I couldn't tell. The windows are thick, so I couldn't hear. Every time one turned my way I had to fight the urge to hastily duck down.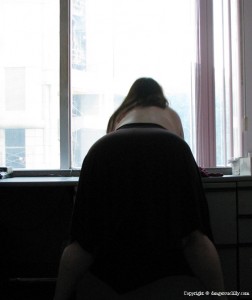 Here I am giving the boys a lovely view (pity you can't see this from their angle) of suspended full breasts, sunlight hitting my pale skin.
I posed for more photos after this….a view from behind, unobstructed by panties. No, I won't post those. If any of you recall the very small and grainy spread-ass shot from a few months ago, you have an idea of what the view looks like – but not grainy. Not small.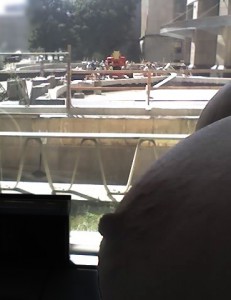 Topless, right next to the window. At one point during the couple of pics I snapped there was a guy right over there on that far ledge. Close enough to make my heart race – I couldn't look.
I had a fantasy….
Since I was one window from the corner, well, it's obvious how to find me. I imagined giving them a hell of a way to start the day. With a quick fuck from the office slut.
Perhaps as I was still taking photos I would hear a knock on the glass door, and see 2 construction workers peering into the office which looked closed. I freeze, I'm mostly undressed! Wearing only that skirt you see in the photo…..no panties, either. In a split second decision I run to the door, flip the lock and let them in. I know the door – it's broken. Whether or not the lock is flipped, people can't get in from the outside.
"You didn't think you could tease us over there and not get a visit, did you little girl?"
I can't speak, I can't do or say anything – I'm so nervous. I back farther into the office, back into the cubicle in which I was taking those photos of me posing in front of the window.
His voice is low and growling in my ear "Lean over the desk, just like you were. Show those guys over there those big tits again, but this time in action. They'll see em bounce as my buddy and I fuck you."
He shoves me forward, I assume the position. My skirt is lifted up, and I know that they are both right next to me, one on each side of my body. Pressing into me. Rough jeans against my skin. Dirty coarse hands running over my body, harshly grasping, tweaking, pulling my hair. One of them runs a hand up under my arm, forcing my arm up in the air, over my head. He brings my forearm back, so that my upper arm is in the air and my wrist is at my neck. He taps my other arm and I mimic. In his one huge hand he grips my wrists together….human bondage. This position makes my breasts even more prominent. My chest pushes forward, my ass pushes back….and meets skin….firm stomach. Cock.
The one who will fuck me first introduces himself to me unceremoniously – one finger runs along my slit, and finds the slippery wetness. Plunging deep in my cunt. One moment later his cock follows, and I cry out. I can not move, nor do I want to. The man holding my wrists in his hand is forcefully pinching and pulling on my nipples, groping each breast in turn. I can see out the window that one at a time, the other workers come to the edge of the construction area and stare in for a moment before returning to work.
I can feel my orgasm slowly approaching as the cock of the man behind me pummels my g-spot….suddenly he is fucking me even rougher and grunts out as he cums. My pleasure here is of no consequence. He backs off, and the other man takes his place. As I become impaled on a second cock, a signal is given to the guys outside. I can hear a knock on the glass door again, and I'm panicking. I try to turn, I am fearful it is a co-worker.
No, it's another construction worker. Tag teaming me, they are. He taps out the first one who just finished with me. In a daze…..the second man finishes, the third man spins me around and lifts me up onto the desk. His hand on my tits….more pinching, more pulling. His palm on my chest he pushes me to lay down. Any man outside now sees their friend pumping away and my tits bouncing above my face which belies my nervous fear…..the face of sweet sexual torture.
This fantasy brought me to orgasm at lunchtime while I sat in the office, babysitting the phones. People walking by the glass door, in the hallway, on their way to lunch or coming back. Talking, laughing, oblivious. Oblivious to the slut sitting in there, talking to one of her online lovers over IM, moaning as the bullet buzzes her clit to orgasm. Messy orgasm. Oops….!