Updates and Sales
It's been a long time since I've last logged in here. I've become so overwhelmed with my work schedule and my various health issues that I didn't think it had been 2.5 months, but it has. My brain doesn't feel any closer to being able to write consistently. There are no tugs to write reviews – no, not even seeing the latest ridiculous offering from Jimmyjane. Just looking at it I can almost write a quarter of the scathing review, but the drive to do it all just isn't there.  Everything that should be easy, is instead overwhelming.
It's still too soon for me to say that this hiatus is temporary. But I'm writing a little something today to flex those muscles and also say thank you to the people who keep finding my site; who are buying through my affiliate links; who write in to say thank you and check in on me. Sometimes in the depths of our despair we miss the obvious things and it took my husband's reminder for me to see that someone will still want to hear from me on Black Friday, even though most other bloggers will tell you about far more sales than I will, because I'm so picky on who I work with. He feels sure that someone will want to hear from me, and know how I'm doing. I don't fully believe him, but here I am.
Thanks for not giving up on me. Thanks for your patience. I need to see some new doctors and get into a decent treatment plan, but I have to wait until February thanks to being stuck for a year with a truly shitty health insurance plan. I'm scared and not feeling especially hopeful, to be honest. But maybe I'll find a rare gem of a doctor.
Now, onto the sex toys I get asked the most about. I know that a lot of you ask me about the Womanizer and Satisyfer new models. I've tried the new Womanizer Classic and Pro; I've tried the Satisfyer Travel. I can tell you I still think the Womanizer Pro40 is the best of the line but that doesn't matter now since it's long gone. I'm not in love with the new nozzle shapes on the latest Womanizers, and the motor feels very different – it's a distinct "tapping" of air that is sometimes too intense, sometimes just right. I have found myself reaching for the Satisfyer models more than the newer Womanizers, and I really dislike the new Womanizer Premium and it's bloated "features" which only work some of the time. I have no experience with newest Womanizer Liberty.
Onto the sales!
SheVibe
In addition to their standard tiered-savings sales, my readers get a special gift – a scratch-off card good against a future order. Just make sure you use my codes to get the scratch-off card: LILLY10, LILLY15, and LILLY20.
Customers that use the discount codes provided here to place an order at SheVibe.com will receive a SheVibe Holiday Scratch-Off Card.
Scratch the panel on your card to reveal your prize: Up to $50 off your next SheVibe purchase – every card is a winner!
The scratched off panel will reveal a Gift Certificate code followed by the amount of the prize.
Your unique SheVibe Holiday Scratch-Off Card will be provided in your shipped package, it cannot be replaced if lost, so keep it in a safe place!
In certain situations, the SheVibe Scratch-Off card may ship separately from your order.
This offer cannot be retroactively applied once you have checked out.
The prize code will not be valid for the purchase of Gift Certificates.
The SheVibe Holiday Scratch-Off Card has no cash value.
This offer is good while SheVibe Holiday Scratch-Off Card supplies last.
Sale excludes Eroscillator and certain restrictions apply.
Free Shipping offers are good in the U.S. only.
Prize code is valid through March 31st, 2019. Redeem as a Gift Certificate at checkout.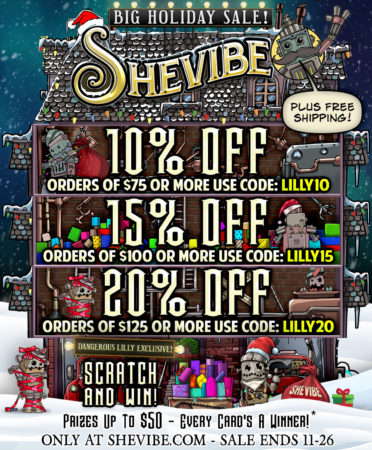 Smitten Kitten
Smitten Kitten is a smaller, independant retailer who always has some cool, local stuff. Their Black Friday sale is limited to Friday, and I recommend you shop early! Their stock is smaller, so quantities will be limited.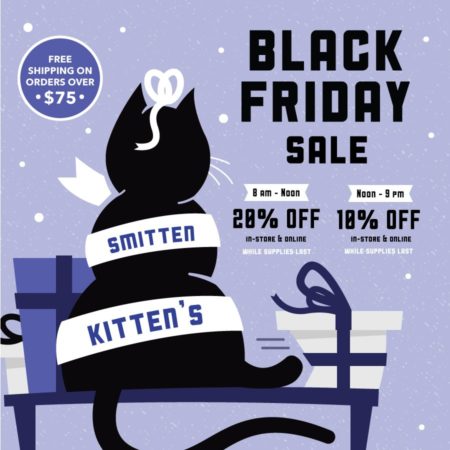 Hot Octopuss
Grab a Pulse for your favorite peen at 20% off! Check out their sale here.

When I find anything else that strikes my fancy, I'll update!