Lilly's '10 Salty Years' Giveaway
I heard you wanna win some sex toys? Well, celebrating 10 years of blogging is certainly an auspicious occasion deserving of a good giveaway! Often, my giveaways have a theme; if not a theme, then a core tenet: I give away the things I love from the companies I love. Since I needed to include some items this time that aren't my own personal favorites, I made a point to only include products and companies here that I respect, that have impressed me over these last ten years.  What this means for you, dear readers, is that this giveaway is perhaps a little less splashy than you might have expected from someone celebrating a decade of blogging.
Let's face it: I've never carefully planned anything in my life and I fell into blogging and reviewing on a whim, on a quest. And, quite frankly, for someone with ADD who never managed to finish a semester with her class notes in order, and intact, the fact that I've lasted as long as I have as a damn miracle!
I want to thank the following retailers for being impressive, generous to me and their community, for growing and changing, for educating: Shevibe, Early to Bed, Come As You Are, Vibrant, Betty's Toy Box, Sugar, SelfServe, Toolshed Toys, and Stockroom. I also want to give a nod to equally amazing retailers who weren't able to participate this year: Smitten Kitten, QToys, As You Like It, SheBop, Spectrum Boutique, The Pleasure Garden, and probably a few more my brain is blanking on.
The manufacturers I've included have also all made a big impression on me over the years – whether it's their ethics, their amazingly orgasmic toys or a blissful combination of all that and a bag of superb social media presence: Funkit Toys, Crystal Delights, Standard Glass, Tenga and Tenga Iroha, Tantus, Blush Novelties, Tails n Portholes, Exotic Erotics, Hole Punch, Nobessence, DoDil, Sheets of San Francisco, Njoy, Je Joue, Agreeable Agony, New York Toy Collective, Split Peaches, We-Vibe, Womanizer, Aslan, Doxy, Vibratex, Eroscillator, Sola and Fun Factory. A nod to the lube makers who don't burn our bits: Sliquid, Coconu, Good Clean Love, Uberlube, Sutil, Probe, Yes and The Butters. And while Kink Academy isn't a manufacturer or retailer, they are a phenominal educational site that has been supportive of me and the community. And RGNToys is actually a distributor, but run by an amazing woman whose ethics made me reconsider Doxy as a company. Manufacturers I still love but couldn't get on the list are L'amourose, Minna, Lumberjill, Vixen, BS Atelier, Crowned Jewels, Spareparts, Fucking Sculptures, and more.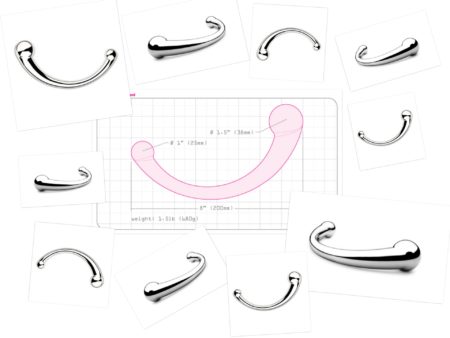 Ahhh the one and only njoy Pure Wand. I first reviewed it in 2008 and it truly ruined me for all future dildos. If not for the beautiful colors found in other products I could easily give up every other dildo I own, I think, probably, if I could just keep my Pure Wand. It's the only sex toy that can occassionally make me squirt, and it provides the intense G-spot stimulation I need.  Thanks to the generosity of Sugar, Self Serve Toys for each providing a Pure Wand and njoy themselves providing FIVE (plus me taking advantage of a Walgreens whoopsie) I have TEN PURE WANDS to give away, one for every year of blogging.  Please note that 5 of these (provided by and shipped by njoy) are available Internationally (with exceptions1 while the rest are limited to the US.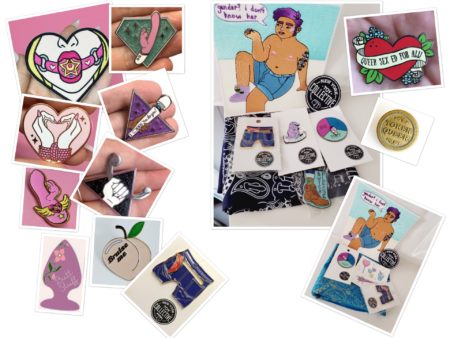 This next one is it's own bundle of products – This is a 2-bundle-and-a-runner-up section! These two bundles are open to anyone in the US – if you're outside the US I'd ask that you pay for the shipping via Paypal. Shipping weight is less than a pound.
Bundle 1, the Sex Toy Pins contains:
Bundle 2, the Queer Bundle has:
the Token Queer pin I got from Gold + Mean;
Queer Sex Ed For All pin from Isabella Rotman; 
1 hanky and a fold-up tote bag from NYTC
plus their Gender I Don't Know Her patch
and one each of their Hanky Code, Platypus and Gender pins
and the Butch Please keychain.
Runner-up will receive a hanky, a Gender patch, and one each of the hanky code pin and gender pin (plus some cool little stickers from Sugarbones).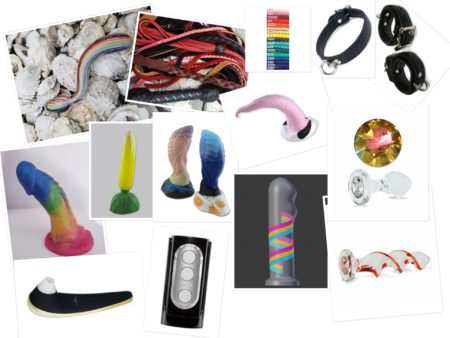 These prizes are limited to the United States OR International2 if you're willing to pay for the shipping yourself via Paypal.  Prizes include: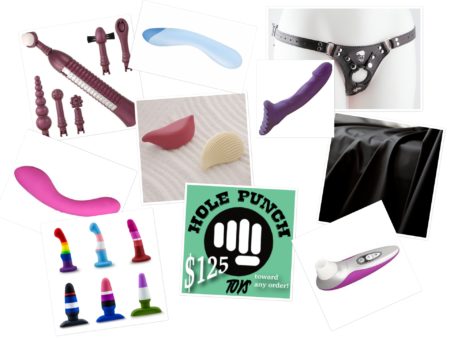 These prizes are available to residents of US, Canada, and a couple other countries – it varies depending on the item so check it out in the footnotes.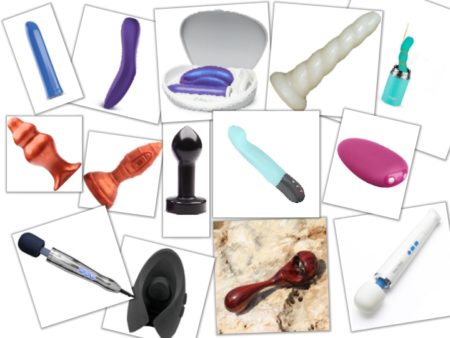 This last set of prizes is available mostly-worldwide – except for the places sex toys can't get past customs, etc. There are some restrictions that vary from company to company, so pay attention in the footnotes!
A few rules & restrictions: Make sure you use a valid email address – chosen winners will have Three Days to respond to me or I'll choose someone else. Those who live outside the area and enter to win a product they need to pay shipping for need to then pay for that shipping cost (I'll let you know the $) within 5 days. Any winners outside the US are responsible for paying any customs fees that may occur. I reserve the right to delete entries that are from the same household, entries where you've claimed to do the thing and then didn't, or entries from social media accounts that exist only to enter contests.  <— It seems that that part was not clear enough: one person per household may enter. If you break this rule, all entries will be invalidated. If you do some entries now and some later, make sure you do it under the same Gleam login. If your social media accounts exist just for or 90% for entering giveaways, then your social media entries will be invalidated. I reserve the right to invalidate entries if they do not comply with the requested action and are therefore incorrect or appear to be cheating. If you appear to try to be cheating on multiple entries then all entries are invalid. In short, just do what you said you did in the giveaway widget. Be decent.
IMPORTANT: Read this before you enter! You must choose your prizes, and your choice must be listed the way it is listed below and you cannot make changes once your entry is submitted. Copy/paste the item name from the list if you need to, to get it right. Please consult the footnotes for International shipping restrictions by prize. Pick 1-4 prizes and list them in order of your preference, from most wanted to least wanted.
Njoy Pure Wand (US)
Njoy Pure Wand (INT)
Bundle 1 – Sex Toy Pins
Bundle 2 – Queer Pins and Accessories
Standard Glass Rainbow Dildo
Whispers of Fire Chaos Flogger
Restraint Kit (Wrist cuffs, Collar, Leash, Agreeable Agony Rope Kit)
Exotic Erotics Orca and Yacuruna Minis
Exotic Erotics Small Corn
Tails n Portholes Rainbow Male Nereid
Crystal Delights Princess Plug
Crystal Delights Twist Dildo
Funkit Toys Custom Pride Colors B1 Dildo
Tenga Flip Hole
Womanizer Plus
Eroscillator Top Deluxe
Sola Cue
Aslan Jaguar Harness + Fuze Velvet Bundle
Tenga Iroha Plus Vibrator Choice
Swan Wand
Sheets of San Fransisco Black Throw
Blush Pride Picks + Nude Impressions 01 Bundle
Womanizer Pro40
Hole Punch $125 Gift Card
We-Vibe Tango
We-Vibe Rave
We-Vibe Anniversary Kit
Split Peaches Unicorn Horn
Magic Wand Rechargeable
Je Joue Mimi Soft
Fun Factory Stronic G
DoDil
Doxy Die Cast
Nobessence Fling
Tantus Butt Plug Trio
Lube Bundle
Hot Octopuss Pulse III SOLO