A Great First Vibrator – The Gaia Eco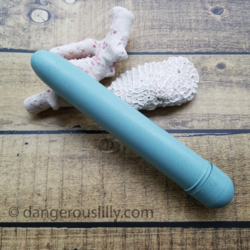 You are probably wondering why a reviewing veteran like me is talking to you about a $10 vibrator and the answer is: the material, the vibrations and the sheer novelty of liking a $10 vibrator. The Gaia Eco is *biodegradeable* and *recyclable* which is rare for sex toy materials. When this first came out and we read about the starch-based plastic a number of people imagined something much more delicate and single-use; something that might be made out of "starch" more than "plastic". Rest assured it feels like plastic and acts like plastic; it won't be disintegrating atfer a few washes. What's more, the Biofeel bioplastic uses less energy and creates less greenhouse gas emissions to create. 
Just because I'm recommending this as a good "first vibrator" option doesn't mean you should expect it to be weak – too often reviewers have attempted to sugar-coat mediocre or sub-par sex toys by proclaming their weak motors as "good for beginners". I was once that beginner who kept trying buzzy, weak motors and thinking I was broken because, newbie to vibrations or not, I needed more. I knew because fingers could only get me off maybe 1 in 15 times and tongues nearly never. I knew I needed more but every review I read on retailer sites kept proclaiming the vibrators "powerful" when they really weren't to me – power is subjective but you can't ask Raina in Ohio any follow up questions.
Let's get back to this cool bioplastic for a minute. I needed to know more so I went to Ducky. Here's what Ducky told me:
The Gaia Eco line is made from a food grade bioplastic. Like ABS plastic, our bioplastic is nonporous and compatible with all lubricants. The toys will not break down. You can not just toss it in your recycling bin and expect it to be recycled, but a person can take this product to their local recycling center and they can recycle them there.

Biobased polymer need to be proceed in industrial composing units which have a measured dose of heat and microbes. In this environment the toys will degrade in 180 days. To toss it in a landfill or your home composting bin will not expose the vibe to the right elements. City recycling facilities should also separate the metals and electronics from the casing. Can we guarantee that every consumer will follow through? No. But the vibe does encourage conversations around how to recycle and the availability of sustainable plastics. 
So yes, it can be recycled but perhaps not as easily as tossing it in your blue bin. But at least we understand more about the material, now!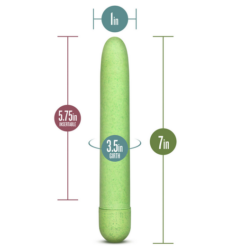 The Gaia Eco is about as basic as a vibrator can get: Straight, rigid, battery-powered with a control dial on top for a range of steady vibrations. It's slender and long enough for vaginal insertion (but not anal-safe!) and works really well as an external vibrator, too.  I personally don't like this as an internal vibrator because I want a more girth and a lot more curve, but plenty of folks like this style for insertable use.
Here's the kicker: the motor is actually pretty darn good. It's powerful and fairly rumbly. A lot of cheap vibrators can be mild on the vibrations and surface-buzzy but the Gaia left me pleasantly surprised – so surprised that as it sat on my desk for months I kept turning it on briefly as if to remind myself that the vibrations weren't something from a fever dream, they really were that good.  In fact, the power level is so good that if you have a sensitive clitoris and can orgasm fairly easily from just fingers it might be too powerful for you. The vibrations are concentrated in the tip and lower third. You do feel some residual vibrations in your hand as you hold it, but it's not much. I didn't find it irritating and the vibrations are definitely enough to get me off. I had a much easier time orgasming with this $10 vibrator than I did my first three Lelo vibrators.
You'd probably also expect a $10 vibrator to be loud and obvious but the Gaia Eco is quieter – and more powerful – than the Dame Fin, the JimmyJane Intro line, the Fun Factory Jazzie, or the Crave Bullet.
I'd recommend the Gaia Eco as a first vibrator because it will help you understand your body better: you'll find out if your vagina/g-spot responds at all to vibration; you can see if you may prefer pinpoint or broad stimulation by using the very tip or the side against your clitoris and labia. You can use this to find out if any of your external parts like vibration – just don't insert this up your butt. You'll regret it. And hey, because it's battery powered it makes a decent "whoops my other vibrators are in the shop1" back-up and even is good for travel – no accidental turn-ons and if you forget it you're only out $10. It needs 2 AA batteries – I use Duracell copper-topped batteries. If you use rechargeable batteries you'll get less oomph from the motor and, of course, as the batteries (any type) drain in power your vibrator will slow down, as well. 
Thanks to Blush Novelties for sending me the Gaia Eco in exchange for my honest review – you can find it for $9.99 at SheVibe in colors I can really get behind like aqua blue, spring green and coral pink. The coloring does have a lightly speckled look to it, like a robin's egg!
Because everybody forgets to charge their rechargeables at some point ↩