Best Women's Erotica 2014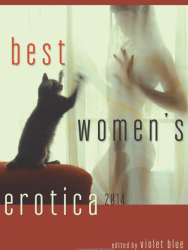 Quite some years ago, before e-books, I got my first taste of what someone else's really hot sex looked like through the erotica compilations available at my local Barnes & Noble. Best Women's Erotica was one of the three short-story collections that I cut my teeth on. As with them all, some years are better than others. But make no mistake, it was always really good writing.
While the cover art of BWE'14 eludes me (and I did manage to find a few grammar errors that jumped out at me) I can absolutely say that these stories were superb. More than a few left me disappointed when they ended; I wanted to keep reading more of that tale. Excellent stories and character development, no doubt. It's been awhile since I've read a BWE, but 2014 really seems to overall be aiming at a cisgendered hetero female audience. There are 2 stories where the women in question are lesbian, but at least one of them brings in a cismale to the party. I found myself wanting more lesbian erotica, but that's just me. There was plenty of kink; nothing super extreme though (unless you count cake-sitting as an extreme thing–it's absolutely not my thing, yet still that story was so well-written, I read it anyways and enjoyed it for what it was). Actually, this collection would be a great one to hand someone who cut their erotica teeth on that damnable 50 Shades stuff. Similar sort of scenarios but with way, way better writing.  Violet Blue curated the collection, and did a wonderful job choosing the best of the best. While there is a decent amount of varying degrees of D/s, it's not all about submissive women. Violet Blue demands that the stories that make up this collection feature lots of really hot sex with great stories, and she delivers. You won't find anything "artistically subtle" in these pages, the stories are meant to arouse and excite. 
From the back of the book:
The Most Daring Erotica of the Year

From sparks between strangers to the knowing caresses of long-time lovers, Best Women's Erotica 2014 delivers risky, romantic stories for your reading pleasure.

This year's extraordinary collection is a glorious celebration of the finest and friskiest female erotic fiction today. In Valerie Alexander's "Monsoon Season," a gorgeous hunk begs to be groomed as a sub by his hard-to-get lover. A new couple with just the right toy discovers each other's true desires after a few dates in the playful "Revealing" by Ruby Ryder. Laura Antoniou's masterful "Blame Spartacus" explores how strong men will serve an even stronger woman, and beg for it. Artfully curated by Oprah's porn pundit Violet Blue, these stories evoke the sensations of falling in lust and the electrifying thrills of sexual passion.
Cleis Press sent me BWE2014 to talk about here and also will be sending one to a lucky (US-only) winner, in paperback! Entry methods are pretty simple, for once. I know you're accustomed to weird and complicated giveaways from me, but for this little book I thought I'd cut you all a break. The rules are pretty basic: If I can't verify your entry, it will get deleted. If you don't live in the US, you can't win. I'll put you in touch with my contact at Cleis Press, so no need to be handing over your personal info to me directly.