For a long while now, Tantus has had their signature strap-on harness play kits designed to get you right into the swing of things. The "Bend Over" kits are more aimed at pegging, with the straight, untextured Silk dildos. You could also get the Flame kit or the Curve kit, but what if you already had a harness-compatible dildo that you and your partner were enjoying but just wanted to dip your toes into the waters of wearing a harness? Strap-on harnesses usually come in two varieties: The high-end creations that will fit beautifully and look amazing, but come with a high price tag that frightens away the newbies OR the cheap, low-end harnesses that are sometimes made entirely out of dodgy plastics or harsh, stiff-edge leather that chaffs.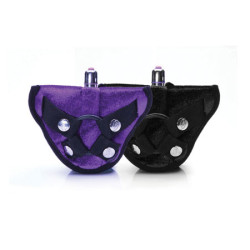 For an extremely affordable $35.99, however, you can grab a very versatile harness to see if this is your thing. The same harness that they offer in kits, the Vibrating Velvet, is now sold separately. It's pretty basic – mostly comprised of webbing straps, it fits in a jock-strap-style with two leg loops of strapping that you'll step in to and a velvet-like plush front pad. While this harness doesn't aim to fit as large a size range as the Divine Diva, I find that it's still pretty darn accommodating and will fit up to 60″ "hips" (or wherever you actually wear it).  I had room to spare when I wore it correctly (which would be so that the base of the dildo rests over your clitoris – if you're overweight, this means you put it under the belly…not on your belly). Not just for those with a clitoris, this basic style can also be worn by those with a penis; if you situate it just a bit above the natural penis, it will allow you to add on for double penetration, or pinch hit.
The vibrating velvety plush front pad can easily be removed when you undo the snaps that hold the o-ring. I personally found that the plush pad was so soft that it didn't stay in place for me as much as I'd like, so removal for me ended up being the way to go. Then again, the vibrating aspect of it isn't going to work for me and the way I'm built. The vibrations occur with an included bullet and a pocket sewn into the back of the pad. You can also remove that bullet and put in your own – for more oomph, the We-Vibe Tango would fit beautifully. Vigorous thrusting, though, and pressure at the right spot can push the bullet out of the pocket. A tiny round dot of velcro closure added in would fix this if you really like using the added vibrator.
This basic style can also easily accommodate the Realdo/Feeldo (when you remove the front pad), which I would have loved ages ago when I owned one of those. I never was able to gain kegels of steel enough to keep the Feeldo inside of me properly.
One aspect about this harness that I really love over the Divine Diva is the 4 straps securing the o-ring rather than just 3. 4 straps allows for a more secure hold, and can allow you to more easily use a dildo that has balls. It's damn difficult to accommodate a dildo with balls in a 3-strap design, but can sometimes be done.
Adjustments are easy enough and once you get the hang of putting it on a few times, it's pretty simple overall. The ladder-lock style plastic buckles make for easy cinching of the webbing straps to get a tighter fit, and lifting the ladder-lock buckles will get you out of the harness quickly, as well. For someone plus size, it's overall comfortable enough, but it's not the absolute best. Then again, to get that level you will have to be prepared to shell out a lot more for something like an Aslan leather harness. But that's not why you're buying a basic one, am I right? Everybody needs to start somewhere; you need to be sure that both you and your partner are into, and able to incorporate, strap-on harness play before you shell out the big bucks. Also? I'd hate to take the Aslan harness on vacation and risk having anything happen to it. The Vibrating Velvet Harness would also make a good travel harness.  It's also fully washable, did I mention that?
Get the Vibrating Velvet Harness on its own to accompany your existing collection, or create your own kit! If you're reading this during the month of November, you can also grab it all for 30% off with the code THEDIRTY30 at checkout!
I was provided this item by Tantus in exchange for an honest review. Thank you Tantus!
Read More
All text and images on this site require permission before they can be used anywhere. To obtain permission click here to contact me
Posted by Lilly | Comments Off
When it comes to choosing a strap-on harness for yourself, especially when purchasing adult toys online where you can't feel the material, "confusing" doesn't even begin to cover it. Confusion is compounded if you're larger than a size 16/18 (US sizing there). Many harnesses give a waist measurement and a leg opening measurement but they forget one crucial thing about women of all sizes: we don't all have flat stomachs. Your body shape and where you carry your weight factors heavily into choosing a harness AND how it will fit on your1 body2
My very first experience with a strap-on harness also coincided with my first pegging experience and my first real BDSM experience as being the top. Let's just say that there was much failure in all aspects – the least of which was that I did not fit into the harness and I was too embarrassed to tell the (thankfully blindfolded) guy this. Not to mention that it was difficult to get the thing on.
There are two main styles for strap-on harnesses: G-string and Jock. Both have waist straps; g-string covers you much like a pair of panties and goes up the crack of your ass. Jock style has leg straps that connect from the bottom of the dildo base section and run up to the waist strap in the back, and those straps hug your thigh crease. Jock style allows for complete access to the wearer's genitals but for some it can be a little bit more confusing to get into at first. The Diva Harness by Sportsheets is supposedly made with larger women in mind – not just that it expands to a very big size (up to 84″ waist) but they claim that the wider waist straps are plus-size friendly, and the fact that the waist strap adjustment "ladder locks" (think backpack strap adjustors) are at the back and protected with a layer of padding in between them and your skin means more comfort as well. The thinner leg straps also are meant to well….sink into your curves better and not chafe/gouge as opposed to thicker straps(? I don't know how wide vs thin straps fare, never tried anything else). The front pad is completely soft and plush and so it bends with you (unlike "latigo leather" harnesses which are generally stiff).
At first when I tried it on, the padded section sat more on my stomach than where I'd want it to sit – which would be right over my pubic mound. The second time I tried it on I was able to adjust it and put that padded section underneath my belly so that the base of the dildo would mostly be pressing against the top of my vulva and my clitoris might receive some pressure (for those women with less prominent outer labia and more prominent clits, you'll receive even more stimulation from a harness if the dildo base hits you there).
There is a downside to this harness being able to fit such a wide range of women – it could be made to fit smaller women, as well – and that is the excess straps. Ideally when you have a harness it is yours and yours alone – so trimming the nylon webbing straps so that you don't have 2 feet of them dangling down is an option. Except that if you trim them too much the webbing might very well come out of the plastic ladder locks when you loosen everything when it's time for the harness to be removed. You could somehow tuck the excess webbing strap back into the leg and waist bands of the harness but that cuts down on comfort a lot. Dangling straps get in the way and do not look sexy; you will not at all look like the model on the box if you leave the excess straps dangling, lol. Then again, the model on the box isn't what I'd ever call "plus-size"; it's like looking at buying a size 20 dress when it's modeled by a size 4.
While this harness does come with 3 various-sized rubber o-rings to fit many dildo sizes, the straps that hold the o-ring in place have one issue: there's only three of them. Ideally there would be four points – 10 and 2 and 8 and 4 if we're looking at a clock. With this one the third strap goes straight down to 6 o'clock. Why does this matter? Well, four straps are always going to be more sturdy than three if you are using a larger/heavier dildo. And if you happen to use dildos that are more "realistic" and have balls, you won't be able to use those with a 3-strap o-ring base. This Beginner Harness has the 4 straps, the ability for the padded section to be removed (for use with a Feeldoe or more skin contact, etc but is only moderately plus-sized, fitting "up to 60″  which means it may or may not work for you if you're right at that 60″ line or a few inches below, depending on how you wear it)
This isn't the prettiest harness out there. It's not bad-ass masculine leather with shiny studs, it's not pretty leather with laces, there is no femme-y corset style adjustment in the back – It's plain, it's androgynous and it's styled for moderate comfort.
Enough about the specs and looks: How does it perform?
I will admit that I wasn't able to use this on a willing warm body. Instead I employed my husband's now-neglected Fleshlight. I don't actually own many silicone dildos with bases that are harness-compatible so I first used the Tantus Silk Medium (with the Fleshlight) and then out of curiosity I tried out the Greta that I reviewed long ago. With a 1″ diameter, the Silk Medium had some wiggle room left in the smallest rubber o-ring. It seemed to fare alright, though. At the same time I used one of my trusty corded bullet vibes – if I were the wearer I'd want something buzzing on my clit, personally – just to see what would happen with thrusting and base contact. Even with my very full outer labia to help keep it in place, the fact that the base of the dildo still hit just above my clit meant that the bullet was pushed down from the top and kept sliding out of perfect position. The solution in my eyes would be to cut a slit in the outer fabric of the plush base, the side that rests against you, and fashion a snug pocket for your bullet to sit in. Hem/stitch the cut edges I guess so that the fabric doesn't tear or degrade when you wash the harness (yes, it can be washed). Now mind you, I didn't try this out yet but I think I will. Please think hard before altering a $50 harness of your own :)
So what about the nylon webbing, did it cut into me? Yeah, most notably the leg straps. Did I have them too tight? Maybe. Since they attach to the front piece at the very bottom pulling the leg straps pulls the front piece down more. I thought I needed more stability, but the straps were then so low (or far back depending on how you look at it) that it would have been a little bit cumbersome for someone else to use a toy inside me. Also, because the leg straps were snug in the standing position it meant that in a wide-spread fucking stance the straps dug in something fierce. I still had red marks an hour afterwards. 
When I tried the harness with the Greta I'd wanted to see how it would hold up to a large, heavy dildo. That one is 2″ (2.25″ at the head) and the rubber o-rings do have some stretch so I was able to get the o-ring on but it wasn't easy. Keep in mind then you also have to get the straps for the o-ring in between the ring and the dildo. Again, not easy. The weight of Greta pulled down on the soft front piece, especially at the very top. It probably wouldn't work very well in use but I can't say that for certain. 
The o-ring snaps can be cumbersome, so it's best to switch the dildos when you're not wearing the harness (or have your partner attempt to do it for you). If you have anything other than a flat belly it's probably just too frustrating to do while wearing it yourself. As you can see below, the snap is underneath, not on top. The bit of nylon webbing that you can grab to pull the snap is very small – slippery fingers or a difficult snap will make things frustrating. The bottom snap on mine was very hard to open up for some reason.
The harness might look confusing at first when it's laid out but it's simpler than it looks. Your legs go in between the front pad and the thin leg straps. Pull on the straps (don't angle the strap out, pull straight from the ladder lock) to snug it up a bit. Then position the leg straps so that they rest in the crease where thigh meets hips and ass. You might want to alternately snug up the waist straps and the leg straps to gradually get it into position. Grab the waist straps and pull them from your hip line straight out in front of you. To release the straps for taking it off or readjusting, take the outer "lip" of the plastic ladder lock and pull it away from your body. That allows the strapping's tension to ease up so it can be pulled through the ladder locks, which is quite quick and easy actually.
It's not a bad harness – it's great for plus-size beginners who don't have access to real stores where they can feel and maybe even try on over clothing. It's affordable without being cheaply made or horribly uncomfortable. If you are in the market for a harness and would like to know anything else about this one, feel free to email me with questions. I know how difficult it is to read a review and have any idea if it's going to work with your size or body shape.
Update: 2013: I'd still agree that for plus-size women, this is a decent, affordable harness. However, if you've purchased this and are now sure that you'd like to continue down the harness path but want something more comfortable I would suggest that you upgrade to Aslan Leather harnesses. Every single discomfort aspect that I experienced with this Divine Diva disappeared with the Aslan harness. I own the Cherry Minx; Minx styling has a corseted backpad to allow it to expand even further. I actually didn't need that aspect if I was positioning the base to be resting on my pubic mound. I would have if I wanted the straps to be around my actual waist (meaning base would be on my tummy). But the leather that Aslan uses is "garment leather" and it's the softest leather around. The harness is just so damn comfortable.  I realize that the price difference between Aslan and Sportsheets is huge, but if it's something you plan to use (with one partner, not shared between multiples) on a very regular basis then I would highly recommend that you invest in it.
Are you heavy but without tummy rolls like this woman? You might still appreciate the plushness of the front piece but you could also possibly tolerate a harness with a more firm leather portion which adds stability overall ↩
Do you carry a lot of weight in your middle, with tummy rolls like this woman or this woman? (NSFW links) Then you'll want a harness with a plushy padded front like the Diva Harness so that it doesn't irritate the tummy fat the might hang over the edge. ↩
Read More
All text and images on this site require permission before they can be used anywhere. To obtain permission click here to contact me
Posted by Lilly | 15 Comments
Microfantasy Monday…….."strap-ons"…
She's a tiny little thing. Impossibly pure, smooth skin. B-cup tits with small pink nipples to cap them off. And I am her opposite…..where she is small, I am imposing. Taut skinny limbs to my lush plump expanse. Young perfection to my wizened curves that have been ridden hard.
And I have the power. It's right between my legs. This big, imposing purple faux-cock that has her eyes wide as saucers and her breathing labored. I haven't even impaled her yet…..I am just hovering above her. Waiting, watching. Testing that the restraints pulling her lithe legs up and apart are firmly in place.
I tease her with the tip. I shove a mere centimeter or three in her cunt lightning quick just to hear her squeak. She's never taken a cock this big before, you see.
So yes, in so many ways, I have the power and I am nearly drunk with it.
And I plan to fuck her brains out.
Read More
All text and images on this site require permission before they can be used anywhere. To obtain permission click here to contact me