Posted by Lilly | 2 Comments
I mean "aftermath" in the best possible way, but yet my brain is a freaking mess. "Overstimulated" is the best way to describe my current state. I go from leading a fairly boring life to a jam-packed weekend full of sex geek fun, feminist conversations, sex-positive atmospheres and 50-some hours with "my people". It's funny to me how different Mcon 2012 was from Mcon 2011 – a lot of the same people were present (but yet a lot of new faces) and a lot of similar sessions/discussions but my experience was very different. This year I co-presented a session on Blogging (the only session not to focus on anything sex-related, I think), I found slightly fewer sessions that interested me and/or applied to me personally, I hung out with different people.  Last year I think I really only spoke with 1 of the vendors but this year many hours of conversation was had whether it was in the vendors rooms or over drinks in the hotel bar. It was enlightening, empowering and validating. I think I have a better idea of what road I'm going to be taking now that my time in the sex bloggosphere has hit a multi-path fork in the road.
I will continue to remain "Lilly" and mostly anonymous. I will not be telling my family anything, unless it gets to a point where I simply have no choice. It's not easy lying about my whereabouts but it's been done so far. All that matters is that my husband is incredibly supportive of me and loves what I'm doing, loves that I care. That's really all I need. He had a supremely shitty work week and was just depressed and exhausted; I felt guilty, a bit, for having fun at Mcon when I felt the pull to be a supportive partner to him but he wouldn't let me go there. He insisted numerous times that I deserved this fun weekend and that I needed it, that he was proud of me and wanted me to soak it all up. And I did.
I was still my same socially awkward self, but less so. I started up more conversations. I put myself into conversations. Yes, I panicked when I realized that the "oh hey meet us at the bar for drinks" turned into "Oh, we're sharing a table with Dr. Carol Queen, Dr. Joycelyn Elders, Lynn Comella and Metis Black" but hey, I didn't speak. I let the grown-ups talk while I sat on the edges in awe with the lovely Jenna of Tantus. Crista (my amazing partner in crime for the weekend, and roommate) and I hung out with Ducky Doolittle, Jenna and Metis; had conversations and intelligent discourse on the ethics and practices of the sex toy industry. It was a dream. I got enough hugs from friends to last me weeks. I felt pretty in my big Victorian skirt. Nobessence is no longer an entity, a luxury company – I know them now to be a spectacularly amazing couple leading a fairly normal but wonderfully sex-positive life committed to making excellent sex toys. I'm trying so hard to keep all the memories and words said in all these amazing conversations fresh in my memory but my cursed brain is leaking out things. I hate that. I wish I could have just been wired all weekend, recording everything like a spy. For my own personal use, of course, nothing else!
You all know I've never thought much of the Big 5 companies of the sex toy industry, but I know think even less of them if possible. While I can't repeat some of what was said, suffice to say you should just take my word for it. Support the smaller companies whenever possible, you'll never regret it. But I also learned that I'm wrong sometimes and while I still say JimmyJane is overpriced, Jacq from Sugar in Baltimore told me things that changed my opinion a bit. I finally held a fully-charged Form 2 in my hands and noticed it only once had that wonky motor issue other reviewers had mentioned but I also noticed that it was perhaps a little more powerful than I expected and it certainly surpassed the (still hate it) Form 3.
I think I'd like to consider the possibility of hanging up my shingle as an official consultant. Now to narrow down who I can help and what I can do and how to go about making this a reality. But there are a number of smaller sex toy companies/manufacturers/adult industry people that need a better SEO presence and need more information on social media but don't know how to get it. I think I have something to offer. I have the experience of being on both sides of the coin.
Not everyone will be walking away from MomentumCon with the glowingly positive experience that I had. Some people are hard to please, some are argumentative, some are just simply looking for absolute perfection from everyone and every word said. It won't happen. Nobody is perfect and people don't always do/say the right thing – but we tried. We all had good hearts. But the first person to gripe about my "privilege" and "checking it" just because I was able to go to Mcon? Will be told where to go. I was not handed my trip to to Mcon on a silver freaking platter, I worked MY ASS OFF to make the money to get there. I made sacrifices and I worked hard.
So read everything with a grain of salt.
I can only hope and pray that there will be a Momentum 2013 because we all need more – more instruction, more discussion, more debates, more affirmations – and we're not done learning. If you are reading this and read my posts about last year's event and say "I wish I could have gone", here is my advice to you: Do whatever you have to do to start saving up now and get yourself there next year. You have no idea how it will change you. It changes you. It's amazing. Thank you, everyone, for making this weekend the best weekend I'll have all year, hands down.
Read More
All text and images on this site require permission before they can be used anywhere. To obtain permission click here to contact me
Posted by Lilly | 9 Comments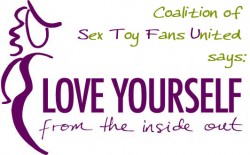 Thanks to Teagan for the Coalition name ;)
I read something somewhere recently, an innocuous little joke-in-poor-taste, where the author (a reviewer, no less) made a comment likening the ownership of "too many" sex toys to needing to find a partner. That because they happened to own a lot of sex toys it meant they were in even more desperate need of a sex partner – Not you, dear reader, just that person (to be clear). But then again….maybe somebody read that and thought "Oh god…I have a lot of sex toys TOO! Oh no, I'm a sad, miserable person and need to find a partner, stat!"1
I am a reviewer. I own a LOT of toys (mostly because I'm a reviewer, otherwise I wouldn't because I'm not rich). I like my variety. Some I keep but aren't my taste anymore. Even before I was a reviewer I had a lot (relatively speaking; it was a lot to me back then, a normal amount to me now) of toys, because I was muddling my way through purchases trying to find ones that worked for me and my body. I was never embarrassed about the quantity. In fact, I have always been proud of my collection. It's like having a big book collection – different styles for different needs, different moods, etc. Some for a solo quickie, some for a drawn-out tease, some for g-spot, some for …..you get my point. Some are just for me, some are better for use with my partner.
But never would I equate my use-frequency or quantity of sex toys to a need for having or not having human partnered sex2. There's no fucking shame in owning your sexuality, in taking control of your own damn orgasm. Can you PREFER human contact and partnered sex to sex toys? Sure. You can prefer whatever the fuck you want. But don't insinuate to me that owning a lot of sex toys is somehow bad or shameful.
Do I think you, my reader, are to be pitied because you do NOT own a lot of sex toys? Only if you desire to own a lot. If you have a few ones that really do it for you and that's that, fucking awesome. If you orgasm easily and do not need them…..I am highly jealous but still, fucking awesome for you. If you want a large collection or just can't find the right one for you then yeah, I pity you, because the right to bear orgasms is in the fucking constitution3, damn it.
Did I make a mountain out of a proverbial molehill here in my little rant? Possibly. But there ARE people who are ashamed of sex toys4 and they don't need that shame added to and there are men who feel threatened by sex toys and women who let their men feel threatened by the toy – they hide it instead of teaching him how it can be a wonderful addition to their time together and not a replacement.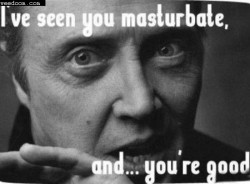 Sit down, have a cup of coffee and let it all out. Yell at me. Agree with me. Ask me for help in expanding your own collection. I love to help give orgasms *grin* and by that I mean helping you shop, you silly perv.
Read More
All text and images on this site require permission before they can be used anywhere. To obtain permission click here to contact me
Posted by Lilly | 10 Comments
It seems that my rants lately are being spurred by a deluge of emails from various and sundry companies all looking for a hand-out of some kind. Thing is….I'm not stupid. And I'm not about to be walked all over, either. Let me just get this out of the way right now, in case it's not been made clear before:
I will NEVER post content that I didn't write or don't 100% believe in/support.

I am all for supporting causes and sex-positive people and companies and "the little guy" but I will not post shit just because I was asked in a mass email. There's helping out a worthy cause and then there's being taken advantage of. If I post here about something you better damn well believe I've done my research, that I fully support it, that I'm not spouting off random shit and getting paid for it (either money or "in kind" i.e. a link at some site). I mean you've all seen my sex toy reviews – I'm picky (can we use the term "connoisseur" instead? It sounds less negative) but you'd better believe that if I say a sex toy is good I fucking mean it and mean it hard.

So what are some things that have been coming down the pike that I feel go against ethical blogging/respectable blogging/ sex-positive blogging / real-person blogging? All of these are real:

Scenario 1. "Hi,I wrote an Ebook about penis size and vagina size importance in heterosexual intercourses." He'd like a review. Um, has he READ my site?

Scenario 2. "I've visited http://dangerouslilly.com/ today, and really like it. I run a site with similar content, and I was wondering if you would like to trade links with me? You can see my site at "a#dult-c#raft.c#om". SIMILAR CONTENT??? Dude, for reals, I'm offended. No srsly. The graphics alone make my eyes hurt and it's all SEOtastic content that god knows who wrote. Once I emailed back about my "no link trades" policy and said that if he truly meant it that he's already linked to my site because he genuinely likes it, then thank you (guess what? my link is gone, he doesn't like me, lol)

Scenario 3. A man using a gmail address sends me a generic sales pitch to join his unnamed affiliate programs. It's a sales pitch, alright. Why so cloaked, dude? But you've already read my rant about these types of unknown sites wanting me as an affiliate just so they can get free advertising, right? Right.

Scenario 4. "I've recently written a 5-part series titled "Be the Best Lay She's Ever Had", and am currently working the hustle to try and scrape up some links and traffic. You know how it is. While your site is mostly female facing, I figured it never hurts to drop a line and ask for a link, worst case scenario is you say no." I give him half a point for honesty. A fellow blogger replied with her ad rates which he, of course, turned down saying he was making no money off his site – so he's relying on the kindness of bloggers to read his Cosmo-magazine-esque crap and just give him a shout-out for shits n giggles? He offers nothing in return, not even a link like Scenario 2 guy. This guy is a real taker, not to mention that what he wrote is not anything I'd ever promote or support, it's somewhat misogynistic and really just feels too much like a site trying to get good rankings so that THEN he can start making money. I don't see this guy's site/"articles" as a philanthropic effort to hetero women.

Scenario 5. "My name is [redacted], PR person with [redacted], and work with P#aris I#ntimates, a sex toy blogger and retailer. I'd love to do some cross-promotion with your site. I can write a free articles (redacting the example links) for your blog on almost any topic and also have 10,000 Twitter followers if you are looking for new visitors. I'm all about spreading the love!" Ok so he might have something to offer but in the end….I've seen the articles. Some aren't what I'd call entirely sex-positive; many are the same yawn-worthy drivel that you can find on hundreds of sex-tip sites, and all are littered with SEO links to their sex toy store. Guess what that's called, folks? Free Advertising. If you are really that hard up for content on your site then put out a call for guest bloggers – real bloggers, fellow sex-blogging-community bloggers. Share the love within our own community, not handing over your dignity and respect for an article that might get you some search engine hits and possibly some traffic from their Twitter account. I would so much rather you take a break or hell even re-post something from your archives than to ever post this kind of shit. It will make me never trust your recommendations and advice.

New! Scenario 6. "I would like more information about advertising on a minimal budget as we are still in the "guerilla marketing" stage of our company."  I can appreciate that it's difficult and a catch-22 for small companies to advertise when they may not yet be bringing in much profit but really….how do I know that to be true? In this particular case, judging by the product itself it's probably quite true that they're not making much but you're going to ask me to lower the rates that I give to everyone else just to appease you and your tight budget? Honey, everybody has a tight budget. I have a tight budget. Would you go to a stripclub and ask the dancer for a private dance for half-price because you just lost your job? Let's envision how that would work out for ya.

I've also had offers from places who will pay me for a post they write, unlike Scenario 5 guy. Again, I adamantly refused them and told them I never post opinions that are not my own or support ideas/sites/products that I don't believe in. Will I take advertising money for places that I wouldn't shop at? Yes. (unless it's s$ext$oy.com, who couldn't pay me enough to link to) They're unobtrusive and I make it clear that they are a site supporter. You all know the places I recommend sincerely because I review for them.

The real you, your real opinions, are so fucking valuable. Please don't throw out that value.

Seriously now, what would you think of me as a blogger, as a person, if I posted about all that shit? I want to know, I really do. I get a lot of people asking me for advice on sex toys and other things and I don't take that role lightly. I will NOT recommend something I don't fully back up. And really….I can't respect a blogger who would. But that's just me, that's just how I feel. Am I being bitchy? Am I being too harsh, too rude, too stingy, too snobby? I stand by Ethical Blogging and Sex-Positive Blogging; I've earned the trust of many and I intend to keep it.

Please excuse the less-than-eloquent nature of this post. I'm ranty and I'm in a shit-ton of pain with a fucked-up wrist. I shouldn't even be typing, given how much it hurts to do so but something sparked me today and this just had to come out.

Also, the weird characters in site names? That's only because I don't want to give them any Google Juice or whatever you want to call it :)

ETA: those who comment are wondering who I think I'm going to offend with this post – why, the bloggers who do these things, of course. ;)


Read More

All text and images on this site require permission before they can be used anywhere. To obtain permission click here to contact me