Posted by Lilly | 10 Comments
I've had a number of readers make suggestions for naughty exhibitionist photos – mostly at work for some reason! Quite a number of them I haven't been able to do, my physical placement in the office floorplan just doesn't allow for it. Well I found out last week that due to everyone in the small admin office being out for vacation/time off all at once, I was going to have the keys to the office, and would be all by myself for a short bit. One of my favorite male bloggers, who doesn't like to be one-upped, made a request based on this information. Not just merely a toy buried deep in my cunt, but perhaps in a place in which I could be seen – by construction workers.
Confused? Let me explain.
The office normally has the main receptionist/secretary, 2 other higher-ups in "real offices" (windows and a door), and 2 cubicle areas. The door to this small office is all glass, but lockable. The desks of the cubicles are mostly hidden from view of the glass door (which opens to a hallway that is constantly busy). The office is on the first floor, and the windows look out to the construction scene next door.  The full-length ceiling to almost-floor windows.  Well, here. Take a look for yourself what it looks like out the window I posed in front of……..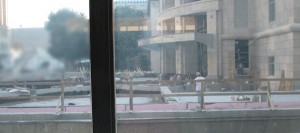 So I'm taking these photos up on the desk that is -right in front of- the window. The window that is at eye level with them. The window they can probably see into.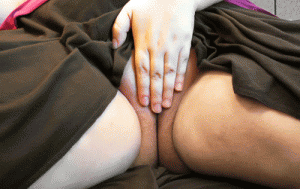 I was nervous now at this point, but well…..pretty wet. I chose a toy that would show up well in photos, and also is currently the thickest I own (soon to change!), the Feeldoe (purple medium-sized one). Feeldoe, when used solo, has the perk of having a nice handle :)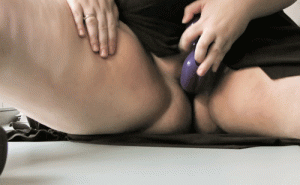 So yes, if any of them had looked at my window, they would have known I was naked under that skirt, they would have known my hands were doing something naughty. As I slid it in and out of my wet pussy they probably could have seen the hand/arm motion of that, at the least. Did anyone see? I haven't a clue, to be honest. I can't see detail well at a distance without my glasses, which I don't wear much, and the windows are pretty thick against outside noises so I wouldn't have been able to hear them.
This was all just before 8am, when lots of people are in the hallway outside, on their way into work. I was pretty certain that the door was locked (it's a tricky lock, and finicky), and I knew that the woman coming in at 8:30 was never, ever early. It was fairly nerve-wracking. But fun. There are a few more photos, saved for another day this week.
Read More
All text and images on this site require permission before they can be used anywhere. To obtain permission click here to contact me