Posted by Lilly | 4 Comments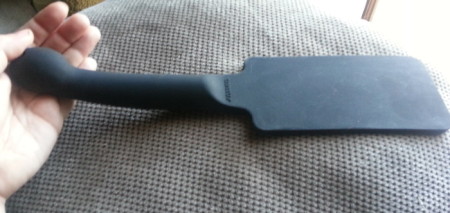 The first four silicone paddles were innovative enough, just being made of silicone. But then, Tantus being Tantus, had to go and up the ante. They chose what I assume is their most popular design, the Thwack, and changed the handle. On the original paddles, the handle is similar to the paddle – flat, with edges, but usually a bit thicker than the paddle itself. With the Plunge, the handle now doubles as a teasing dildo.
And, it also just makes for an easier-to-grip handle.
In an effort to please the most people, the dildo handle on the Tantus Plunge Silicone Paddle isn't fat and girthy. It's a nice, moderate size that is perfect for many or a teasing warm-up for others. It's safe to use both vaginally or anally (but never ass to vag, please) and is very easy to sanitize and keep clean. There is a hole in the bulbous head, which serves as a way for stores to hang and display (or you, too, if you like) and does make cleaning up the dildo portion a little more cumbersome. But regardless you can still toss it in boiling water or run it through a sanitize cycle in the dishwasher for a squeaky clean impact play item. Can you feel the hole in the dildo during use? Eh, it depends on how sensitive you are. I actually could slightly feel it if I really paid attention.  The dildo isn't perfectly round, either, it comes to a bit of a ridge on the back end. This isn't something I noticed during use of the dildo, though.
The bulbous head is angled and works great for g-spot or prostate play. The dildo handle is pretty firm, too. And the paddle? As I mentioned before, the silicone paddles pack a punch that I've never felt before in suede and leather paddles, or even hard materials like plastic and wood. Wham Bam was awfully sting-y, and Thwack/Plunge is too, but it also adds in the smack of a hairbrush or firm palm. I think that the Plunge is awesome as a paddle full stop, even if you never intend to use the dildo portion, just because it makes it easier to hold and therefore wield.
The Plunge is a tool that any paddling/spanking kinkster should have in their arsenal. It's not for newbies, though. You've got to have a higher pain tolerance than me to bear this bite!
(Hurry, it's still November and right now the paddles, and everything else in the store, are 30% off! Use code THEDIRTY30 at checkout to see your discount!)
Tantus sent me the Plunge to check out in exchange for an honest review. Thank you Tantus!
Read More
All text and images on this site require permission before they can be used anywhere. To obtain permission click here to contact me
Tantus is pretty damn awesome, all around. Their products, their employees, their founder, their entire rainbow-unicorns-glitter existence. And then they had to go and make something that will raise eyebrows everywhere, whilst still being made of awesome.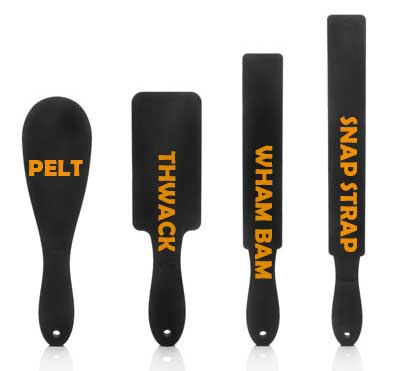 Silicone. Paddles.
I've seen paddles made of wood (naturally), paddles made of rubber and leather and even glass. But I don't think I've ever seen a pure silicone paddle. What's the fuss? Well, it's Tantus silicone so you can sterilize it (an important feature for the serious kinkster), and each of the 4 paddles is a varying level of wobble ranging from pretty firm to nearly-a-flogger.  While I only own one of these, I was able to play with all of them at CatalystCon last month.
Pelt and Thwack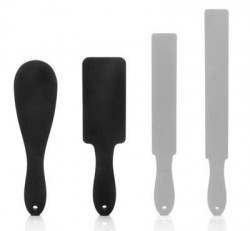 These two are more sturdy, the paddle portion is thicker than the other two. They're also shorter, and in my eyes look more like a traditional "paddle". They still have flex and bend, though.  A solid, wood paddle is firm and hard, and absorbs the excess energy when you smack someone (there's a better way to explain this, but I don't have the words in my brain lately). The "give" and bend of the silicone paddles means that you don't have to use as much of your own energy to deliver the same amount of pain – conversely it also means that you can deliver as much pain as you want, as hard as you want and unlike the traditional wood paddle, you can't break it. But the ability to deliver more-for-less is great for people with disabilities, less upper body strength, a wonky wrist, etc. I've seen people just kind gently "wobble" the paddles and deliver a satisfying, yet sting-y smack with little effort. This also means that you gotta dial back your swinging arm. I'm accustomed to a suede flogger, the kind made up of strips of leather. It's more thud than sting. But it also lets me really work out my frustrations/irritations/whatever and feel more, really uh "put my back into it" kinda thing.  Pelt is all about the nice, rounded edges and reminds me of a hairbrush. Thwack has a solid, rectangular look to it and is a little more rigid of the two, I think.
Wham Bam and Snap Strap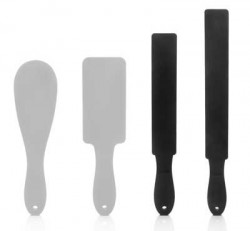 Ohhhhh boy do these fuckers sting. Wham Bam is the one I own personally, and while it's pretty wobbly it isn't exactly floppy – if I hold it upright it lists the side a bit. It's 15″ long, whereas the Pelt and Thwack are closer to 12″ long, and the paddle portion is thinner silicone than the Pelt and Thwack, which lends to more wobble. And therefore, again, less effort required to really deliver a stinging smack. Even at 15″ though, you'd think it's not travel friendly but it is. The flexible design would allow this to curve around in a tight U-shape to half its length. The same can be said for the Snap Strap, as it is even longer (nearly 18″) and a little thinner than the Wham Bam.  When you try to hold the Snap Strap upright the whole length just falls down, it doesn't support itself. I would really classify Snap Strap as something more akin to a flogger than a paddle, with Wham Bam being in the middle.  Since the body of these is also less wide than the more traditional Pelt and Thwack, you are delivering a more concentrated smack but also a more precise smack on a smaller surface area. Trying to aim for the nipple and not the whole breast? The Snap Strap would really do well at that sort of thing. Into delivering these sensations to the vulva/clitoris? Wham Bam or Snap Strap. Now excuse me whilst I go cringe like crazy for a few minutes after thinking about the last two scenarios.
If the receiver has a high pain tolerance, then these are absolutely perfect. If the receiver can only tolerate dull, thuddy whollops like a hefty flogger can deliver, then they may not be able to enjoy the Tantus Paddles. But I have a feeling that many kinksters will enjoy the hell out of these things. You can't break them, they're easy to clean, they're non-porous and safe to share between partners, the handle will be comfortable for most, they travel well and are lightweight, but best of all? They're affordable. Right now SheVibe.com has them listed for $33.99 each.
When you purchase one of the Tantus Silicone Paddles, you'll receive it in a simple, Tantus plastic bag. Attached to the handle is a simple tag with a little about the item and it details basic care. As with every Tantus silicone item, the paddles are phthalates- and latex-free, hypoallergenic, odorless and can be cleaned with a 10% bleach solution, by boiling or even tossing in the top rack of the dishwasher. Less rigorous cleaning could be as simple as soap and water or, for fun at the dungeon, use cleaning wipes unless it came in contact with body fluids and you'd like to go use it on a different body. These paddles will last you a lifetime.
Thanks to SheVibe for sending me one of these to review.
(It will really come in handy for….nevermind. If I tell you, you're an accessory.)
Read More
All text and images on this site require permission before they can be used anywhere. To obtain permission click here to contact me