Posted by Lilly | 15 Comments
Microfantasy Monday…….."strap-ons"…
She's a tiny little thing. Impossibly pure, smooth skin. B-cup tits with small pink nipples to cap them off. And I am her opposite…..where she is small, I am imposing. Taut skinny limbs to my lush plump expanse. Young perfection to my wizened curves that have been ridden hard.
And I have the power. It's right between my legs. This big, imposing purple faux-cock that has her eyes wide as saucers and her breathing labored. I haven't even impaled her yet…..I am just hovering above her. Waiting, watching. Testing that the restraints pulling her lithe legs up and apart are firmly in place.
I tease her with the tip. I shove a mere centimeter or three in her cunt lightning quick just to hear her squeak. She's never taken a cock this big before, you see.
So yes, in so many ways, I have the power and I am nearly drunk with it.
And I plan to fuck her brains out.
Read More
All text and images on this site require permission before they can be used anywhere. To obtain permission click here to contact me
Posted by Lilly | 11 Comments
.
~  ~  ~  ~  ~  ~  ~  ~  ~  ~  ~  ~  ~
I am face down, modified doggy-style. My forehead presses to the mattress as he roughly fucks me from behind. My ass pointed up, I'm on my knees and my feet are pointing skyward. He uses the heels as handles. He holds them, holding me apart, keeping me stationary – for his use.
~  ~  ~  ~  ~  ~  ~  ~  ~  ~  ~  ~  ~
For being as femme as I am, I have a confession:
I don't wear sexy shoes.
I know I know, it ruined a little bit of the fantasy for ya huh? Yeah…Trust me I really WANT to wear sexy shoes. Really, I do. I have a condition that affects the tendons that run the bottom of my feet, and so being on my feet after a few hours even in the most comfortable shoes renders me in severe pain. Plus my front is wide, my heel is narrow, and my arch is partially fallen. LOL, man I'm a mess huh??
For the NYC-sexblogger party though, I felt this need for sexy shoes. I was in NYC, at a party, with an ass-ton of sexy beautiful women!! Of course I had to have better shoes! I tried and tried, but I just couldn't pull off heels. I got a great pair but after a mere 15 minutes standing in them at home, I was in agony. Probably because I never wear anything with a heel! But then I found these hot pointy-toed flats that looked amazing. The color is truly perfect for me – glossy deep blood red. The perfect accent color to my mainstay of black clothing. And despite the fact that my feet were still in agony after a few hours and they don't have a very long lifespan, they made me feel sexier wearing them. I've worn them out and about occasionally. Natt sweetly asked for a photo of my hot shoes, and you know I like to comply to such requests ;) I took a half dozen or so and emailed them off prior to this post writing itself.
.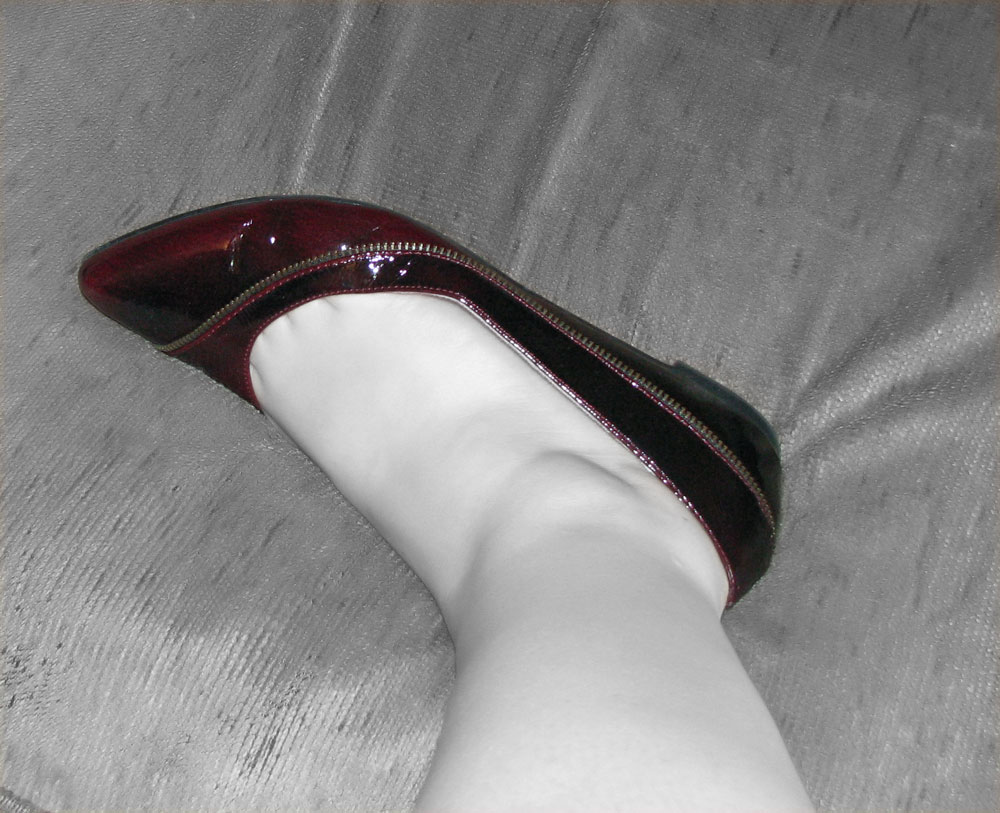 You might want to click, see if there's another vantage point of these shoes…
.
~  ~  ~  ~  ~  ~  ~  ~  ~  ~  ~  ~  ~
I am on my back, legs bent and my shod feet planted on the bed. Legs spread wide open, ready for him to feast. As he lays down on his stomach his hands go to my shoes but he does nothing. Just keeps his hands on the pointy heels. The reason is apparent as I finally reach a screaming orgasm and my legs begin to instinctively close – he has not stopped lavishing me and for the first brief moments it is painfully, exquisitely sensitive. His grip on my shoes helps to keep my legs apart, his access still granted.
~  ~  ~  ~  ~  ~  ~  ~  ~  ~  ~  ~  ~
.

Someone in my recent sexual past waxed poetic one day about his great love for a woman wearing her heels and nothing else in bed during sex. I didn't get it then.
Now, I do.
It's like an accessory. With purpose.
.
I found some that really get me going…..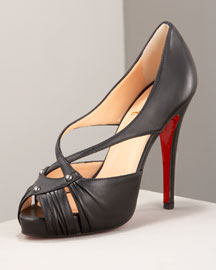 .
~  ~  ~  ~  ~  ~  ~  ~  ~  ~  ~  ~  ~
Again, I am on my back. But this time my shoes are my power. I plant my foot on his chest, the heel gently pressing into his flesh. He is on his knees and I instruct him to enter me – but just barely. Just the tip of his cock is allowed into my cunt. I slide my foot down a little bit until my heel is pressing into his stomach. Then into his lower abs an inch or two above the base of his cock. I move my pelvis just slightly…..the barest hint of friction to his cock. A whisper more of penetration. My eyes strip him away, my fingers drag over my lips, my breasts, my nipples. The look of sexual torment clouds his features….and he tries to fuck me imperceptibly – but I press the heel of my shoe into his abs. Firmly. The pain keeps him at bay, keeps him motionless as I still say nothing. Finally I drag my foot up, first one then the other until my ankles are resting on his shoulders. I cradle his head with my feet and pull him in to me….and he gasps as his cock finally gets buried to the hilt in silky hot wetness.
~  ~  ~  ~  ~  ~  ~  ~  ~  ~  ~  ~  ~
Read More
All text and images on this site require permission before they can be used anywhere. To obtain permission click here to contact me
Posted by Lilly | 7 Comments
SwelteringCelt has drummed up a lil thing called Microfantasy Monday, and this week I think I can contribute something half-assed ;) The point to the microfantasy is to pick a snapshot….a moment in time and not the whole fantasy. Paint the picture as you wish.
The theme for this week: "There is an ass and it is on display."
Well now….
I can hear the murmurs of people around me but I am not paying attention to them. My wrists are bound in front of my body. My upper half is draped over a hard surface that is just above waist-high; my bound arms stretched out in front of me, my feet only barely touching the floor. My skirt thrown up to expose my ass. I feel his pocketknife at my hip. He slices off my panties…..my good black lace ass-framing panties! Damnit! He has the option of his hand, or my new leather paddle. I pray for the hand, as I believe it will not be as hard of a whack as the paddle. He runs a finger down the crack of my ass and dips into my slit for a brief second; this attempt to distract me works. I am off guard when I hear and feel the crack of the leather paddle. A split second later my highpitched yelp is also heard. Short, succinct, loud. Both the crack and my yelp.
Read More
All text and images on this site require permission before they can be used anywhere. To obtain permission click here to contact me