Posted by Lilly | 2 Comments
I mean "aftermath" in the best possible way, but yet my brain is a freaking mess. "Overstimulated" is the best way to describe my current state. I go from leading a fairly boring life to a jam-packed weekend full of sex geek fun, feminist conversations, sex-positive atmospheres and 50-some hours with "my people". It's funny to me how different Mcon 2012 was from Mcon 2011 – a lot of the same people were present (but yet a lot of new faces) and a lot of similar sessions/discussions but my experience was very different. This year I co-presented a session on Blogging (the only session not to focus on anything sex-related, I think), I found slightly fewer sessions that interested me and/or applied to me personally, I hung out with different people.  Last year I think I really only spoke with 1 of the vendors but this year many hours of conversation was had whether it was in the vendors rooms or over drinks in the hotel bar. It was enlightening, empowering and validating. I think I have a better idea of what road I'm going to be taking now that my time in the sex bloggosphere has hit a multi-path fork in the road.
I will continue to remain "Lilly" and mostly anonymous. I will not be telling my family anything, unless it gets to a point where I simply have no choice. It's not easy lying about my whereabouts but it's been done so far. All that matters is that my husband is incredibly supportive of me and loves what I'm doing, loves that I care. That's really all I need. He had a supremely shitty work week and was just depressed and exhausted; I felt guilty, a bit, for having fun at Mcon when I felt the pull to be a supportive partner to him but he wouldn't let me go there. He insisted numerous times that I deserved this fun weekend and that I needed it, that he was proud of me and wanted me to soak it all up. And I did.
I was still my same socially awkward self, but less so. I started up more conversations. I put myself into conversations. Yes, I panicked when I realized that the "oh hey meet us at the bar for drinks" turned into "Oh, we're sharing a table with Dr. Carol Queen, Dr. Joycelyn Elders, Lynn Comella and Metis Black" but hey, I didn't speak. I let the grown-ups talk while I sat on the edges in awe with the lovely Jenna of Tantus. Crista (my amazing partner in crime for the weekend, and roommate) and I hung out with Ducky Doolittle, Jenna and Metis; had conversations and intelligent discourse on the ethics and practices of the sex toy industry. It was a dream. I got enough hugs from friends to last me weeks. I felt pretty in my big Victorian skirt. Nobessence is no longer an entity, a luxury company – I know them now to be a spectacularly amazing couple leading a fairly normal but wonderfully sex-positive life committed to making excellent sex toys. I'm trying so hard to keep all the memories and words said in all these amazing conversations fresh in my memory but my cursed brain is leaking out things. I hate that. I wish I could have just been wired all weekend, recording everything like a spy. For my own personal use, of course, nothing else!
You all know I've never thought much of the Big 5 companies of the sex toy industry, but I know think even less of them if possible. While I can't repeat some of what was said, suffice to say you should just take my word for it. Support the smaller companies whenever possible, you'll never regret it. But I also learned that I'm wrong sometimes and while I still say JimmyJane is overpriced, Jacq from Sugar in Baltimore told me things that changed my opinion a bit. I finally held a fully-charged Form 2 in my hands and noticed it only once had that wonky motor issue other reviewers had mentioned but I also noticed that it was perhaps a little more powerful than I expected and it certainly surpassed the (still hate it) Form 3.
I think I'd like to consider the possibility of hanging up my shingle as an official consultant. Now to narrow down who I can help and what I can do and how to go about making this a reality. But there are a number of smaller sex toy companies/manufacturers/adult industry people that need a better SEO presence and need more information on social media but don't know how to get it. I think I have something to offer. I have the experience of being on both sides of the coin.
Not everyone will be walking away from MomentumCon with the glowingly positive experience that I had. Some people are hard to please, some are argumentative, some are just simply looking for absolute perfection from everyone and every word said. It won't happen. Nobody is perfect and people don't always do/say the right thing – but we tried. We all had good hearts. But the first person to gripe about my "privilege" and "checking it" just because I was able to go to Mcon? Will be told where to go. I was not handed my trip to to Mcon on a silver freaking platter, I worked MY ASS OFF to make the money to get there. I made sacrifices and I worked hard.
So read everything with a grain of salt.
I can only hope and pray that there will be a Momentum 2013 because we all need more – more instruction, more discussion, more debates, more affirmations – and we're not done learning. If you are reading this and read my posts about last year's event and say "I wish I could have gone", here is my advice to you: Do whatever you have to do to start saving up now and get yourself there next year. You have no idea how it will change you. It changes you. It's amazing. Thank you, everyone, for making this weekend the best weekend I'll have all year, hands down.
Read More
All text and images on this site require permission before they can be used anywhere. To obtain permission click here to contact me
Posted by Lilly | 2 Comments
If you thought I was intimidated freaked out excited by the list of presenters, you should have seen me when I viewed the list of sessions. The one that caught my eye and I Will. Not. Miss1. is just….oye I'm so verklempt. Read this.
The Dirty Business of Sex Toys
Metis Black, Greg DeLong, Rachel Venning, Dr. Carol Queen. Moderated by Lynn Comella
Sex toys, or "novelties," are a billion dollar business. It's an industry that thrives on creative (and not so creative) minds and ethical (and not so ethical) business practices. Get an insider's look at a few company's core values, and talk about material safety, creative rip offs, labor relations, financing and politics. Hear some stories on the challenges that have arisen and how very important you, the sex educators, bloggers and the consumers, are in moving and shaping up the industries ethics.
YOU GUYS.
I'll probably have to be bound and muzzled so that the panelists and other people can actually have a nice session. I mean, you all know I have opinions on this stuff. Oh….opinions. I has them. I'll be sure to pack a panty liner in case I piddle a little. Seriously now. The Founder of Tantus (yay silicone!), the Founder of njoy (yay Pure Wand!), a co-owner/co-founder of Babeland and Dr. Carol Queen. It's like a goddamn sex toy reviewer's wet dream.
Other sessions that I am really looking forward to:
So yeah…I'm seeing all this serious but awesome stuff and thinking "Gosh these are some intelligent people" and yes. I'm intimidated.
Our session is a lot different; Blogging 202: Take Your Site to the Next Level is definitely more "teach" than "discuss" although there will be a lot of discussion and questions. The geek in me will likely overprepare and have way more info than we can squeeze into our 40? minutes. A little less than 40. We want to let brave souls share their site link and get our un-sugar-coated 30 second opinion on it *grins*
(I might need a bodyguard)
I'm really excited to work with AAG on our presentation and see what we can teach people.
Now accepting volunteers to sit in the front row in their undies to help break the ice and my fear of public speaking!
I am not above bribing the ladies who make the schedule with rich chocolate cakes to ensure my session isn't going on at the same time ↩
Read More
All text and images on this site require permission before they can be used anywhere. To obtain permission click here to contact me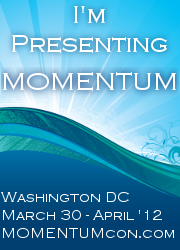 After our session proposal was accepted I had this big feeling of "oh FUCK why did I do that???" Because I have the worst stage fright / inability to do public speaking / inability to behave normally in social situations.
And then today…..today they released the names of the rest of the presenters. You go take a look through that and then come back here, eventually.
Back now?
WTF AM I GONNA DO?
Do you see those people??? They're famous. Or they have letters after their name. Or both. I don't even know yet what the sessions are going to be, much less the session schedule to know what we're up against in our time slot, but about halfway through the list three things went through my mind:
I hope I can get somebody else to video record the sessions I wanted to see that will be going on at the same time as ours, so that I don't miss anything good
The audience for our session will likely be small
Thank god for #2. Any more than 15 people and I'll likely ask a few to strip to their underwear because I wouldn't be able to imagine them in their underwear and do a presentation at the same time, my ADD doesn't allow for such multitasking.
The session AAG and I are doing isn't intellectual or provocative in the way that most of the others will be. Our session is going to be very slideshow-heavy and I'll probably make up a something or other to hand out digital session guides with links to all the helpful places we'll talk about. Our session is "Blogging 202: Take Your Site to the Next Level". I'll talk more about it when they officially release all the sessions.
If you think you want to go, you should start saving up now. I remember reading the tweets last year of all the people who regretted not going and I think that it's going to be an even more impressive and wonderful event this year. Last year they limited the attendees to 250 people….this year it's 400 people. Wow that's a lot of people. This year their early bird ticket price will end on January 2nd and I have a feeling that most of the tickets will sell by then. It's not cheap, but it's very much worth it – so save up. Buy a few less sex toys or something, lol. REGISTER HERE.
My next step is figuring out how to get there. Can my body handle a nearly 350-mile drive? On major highways that are sure to be subject to traffic delays? Fly…..ehhhh, not so crazy about that idea. Not at all. I could take Amtrak….
Drive – cost of gas, toll on my body at 7 hours of driving, $12/day parking – but I don't have to worry about lugging around heavy suitcases, which would require to be checked @ airport or lifted higher than I can manage on trains and rails
Plane – not going to find a ticket for less than $300, plus requires a layover in Philly, and then get to the hotel. And deal with TSA. And flying fat.
Train – will take less time than driving, at 5 hours, is affordable at $50 each way. It'll land me at Union Station which will require 2 MTA rails to get to the hotel. Can I do that without getting lost? Must get a ride to the train station at home both days.
Read More
All text and images on this site require permission before they can be used anywhere. To obtain permission click here to contact me