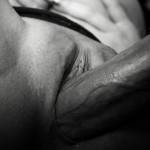 penetratingcock
Photographer unknown
I had decided to start adding to my erotic art photography portfolio. Since my end results were primarily high contrast black and white, I wanted to delve into a more licentious subject matter. Porn can easily become art with just a small change in lighting and removing the color from the prints.
I wanted to photograph the contrast between the flesh of a hard-bodied male and a soft, curvy female. The two posing for me did not know each other. I knew each of them in my own weird social circles, though, so their comfort level with me translated well into a pseudo-comfort with each other. And their bodies looked exquisite together.
I made them hold poses for 5-10 minutes, sometimes difficult poses, until I got the angle of light and the angle of the shot "just so". The proximity of their nakedness and my scrutiny resulted in this beautiful agony of arousal for them both. I asked if they would feel comfortable doing some poses of vaginal penetration for me, and they readily agreed. His thick cock and her diminutive outer labia really lent a "skewered and spread wide" filthy quality to the joining of the contrast in flesh. Her cunt was a glistening, split peach just swallowing his marble hard cock.
Each penetrative pose that I had them hold for such agonizingly long minutes added to their subtle desperate arousal. I wasn't stupid; I knew what I was doing, what I was creating. She was laid back on a table, while he was standing. Her ass raised up off the table a few inches, and her legs wrapped around his hips for added support, left her body in this downward slant away from him. I had them hold a position of his cock halfway inside of her. As I stood next to her head I bent forward to get a different close-up angle and my long hair trailed over her breasts. I could see the controlled, but rapid, rising and falling of her chest as she did her best to remain stoic. Almost imperceptibly she started pumping her hips to get the friction her cunt was craving. I laid a cool hand on her mound, looked back at her, and sternly told her to be still – she was blurring the shot. Privately though I was grinning; I was pulling their strings so well.
I asked them to adjust slightly so that the current position was more exaggerated – I wanted to get a different angle and needed more space but the same depth of penetration. When I noticed how very wet she was, I used one finger to redistribute it from her cunt opening up to her clit and labia. A firm, slow, touch that teased his cock and her clit. As I did it I locked eyes with him; we smiled at each other when we heard her whispered moan as my finger grazed her swollen clit. It was his turn to groan when I sucked her juices off my finger before continuing. When I looked at her I could see the pink flush creeping across her breasts and face, I knew her breathing was more labored. She looked so beautiful, so overcome with lust, so tortured. I moved the accent light, I slowly walked around them to snap a few more shots. I instructed him to slowly penetrate her almost to the hilt and then lean his body backward. When he did this, I watched her face. Her eyes closed and her lips parted to a slight "o"; the furrowed brow came next and I snapped a few photos of her face for my own use. Then I spread her labia around his cock, a pair of lips in a kiss. Another quick graze over her clit just to be sadistic. A few more shots and I noticed his breathing was getting more shallow and rapid, his eyes closing, his face the same portrait of pleasure as hers.
"What is she doing?" I asked him.
"She's…..I don't know….she's milking my cock….it's like sex but its…not…" He could barely speak around the controlled effort not to fuck the shit out of her, I presume.
"Carrrrieeee" I taunted. "You just can't help yourself, can you. You're trying to come."
[Click here to read more...]