Posted by Lilly | 2 Comments
Last  year I wrote up what I thought were the best & worst sex toys of 2011 and here I am again. My reviewing slowed down this year so I'm afraid I may have missed one or two that would deserve a spot on this list. If you can think of anything that I would consider worthy of this list, mention it! It will give me something to try in the new year. I've also included a few things on the list that I haven't personally tried (*), but my Spidey Sense tells me my hunches are spot-on. That and reading from reviewers that I trust.
Best Sex Toys of 2012
Last year I could rattle off a few really stand-out new products. This year I'm having trouble coming up with more truly "wow" items simply because my tippy top favorite wins by such a giant landslide that everything is just "good" in comparison.

Best Vibrator: Tango & Salsa by We-Vibe – (Some of my research says these came out Dec2011/Jan2012, some research says earlier.) It's no surprise to regular readers of my blog that this would be my number one pick as I have adored these vibrators for a multitude of reasons. They're one of the few "luxury" sex toys that I fully stand behind the price tag and I will recommend these to just about anybody. I pretty much compare everything to them now and they can sometimes be the only vibrator that I use for weeks on end. Solo, partnered, stand-alone or paired with a dildo…it doesn't matter. Best external vibrator, ever. Period. It is simply the most powerful mini vibe on the market – and it's rechargeable. Those two facts don't usually go hand in hand. It's more rumbly than just about anything else, too. Pick any external vibe and this will blow it out of the water. Don't let that scare off the sensitive girls though, because there are 4 speeds.
p.s. – Grab up the Salsa while you can at SheVibe.com if you prefer the red, black or white color, as it appears that We-Vibe has discontinued Salsa – Salsa & Tango are virtually identical except for the tip's shape and the colors. Tango comes in baby blue, pink and purple. I also feel that the Salsa is more versatile for replacing the RO-80mm bullets.

Best Dildo: This year's best dildo is also one of the more unique things. Tantus came out with three new dildos this year specially made for people with short arms. Um, I think. Actually I don't know what the idea was behind making dildos with handles, but I'd like to think the short-arms theory came up in the drawing room. The Anaconda is my favorite but for those that prefer a little more texture and a little less girth, the Echo and Goddess versions are awesome as well. While Tantus didn't pioneer the whole handle-on-a-dildo thing, I think they perfected it. I've only ever seen similar styles in icky rubber dildos. You don't want an icky, rubber dildo.
Sometimes Tantus has sales on these, so keep an eye on their site as well for the Anaconda, Echo Handle and Goddess Handle.

Best New-to-Me Find: Aslan Leather Harness – I'm one of those people who has a visceral reaction to the smell of true leather. Aslan Harnesses are made from the most awesome leather, ever. It's buttery soft and beautiful. The Cherry color is just so incredibly sexy. While I can't consider myself a harness expert, I've tried on a few and the Cherry Minx was the most comfortable one I've had on and that says a lot. I always used to think that being fat with hips and a gut meant I couldn't find a harness but this company proves that thought wrong. The Cherry Jaguar is better for slimmer-to-curvy women, as the Minx adds in a corset backpad that allows for a bigger size increase if you need it. Really though, I think you'll love any harness from Aslan. They're just beautifully made and look awesome.

Best Sex Toy Accessory: Vibrator Enhancer* – It doesn't cost much and it doesn't really do much but yet if you're really into anal play and like vibrations in your butt, then you need to own this. Nothing more than a stretchy hunk of silicone, it gives vibrators a flared base which is essential for safe anal play. Small, medium and large sizes will accommodate just about any sex toy on the market I think. I've read in more than one place that it can also turn a standard vibe into a dual stimulator, but I just don't buy that. Anatomy doesn't work that way for one, and two as we learned from the We-Vibe Touch, a hunk of silicone seriously dampens vibrations. The Enhancers are sold alone or in a three-pack; for the price, you should just get the three-pack, that way you're certain to get the best fit. You want the enhancer to fit pretty tight – a barely-there grasp will be useless as an anal-play-safety device. Also keep in mind depending on where you're able to put the enhancer, the all-around pressure on the vibrator might dampen vibrations on some toys. Just try to keep this thing on the handle of your favorite vibe.

Honorable Mention: Lelo Smart Wand Large – I love the deep, rumbly vibrations and feel that they are less numbing than the Hitachi. It's not as powerful but sometimes buzzy things like the Hitachi need to be more powerful in order to get some people off…..like me. I need less power when the vibrations are truly deep and rumbly. This doesn't receive a ribbon though because you really get the most out of it as a sex toy only by adding in a Hitachi-compatible attachment like the Gee Whiz…plus the price tag of everything is a bit of a hindrance. But for rumble-enthusiasts and lovers of the posh look of Lelo, it's a Good Thing. Heavy? Kinda. Much better as a back and body massager though than the Medium version, which earned a place down below.  If I could manage to keep this thing charged up all the time, I would use it more often than I do.

Best Re-Vamp Efforts: Lelo has revamped, for the better, the Tiani 2 (and I think anything else from the SenseMotion line), Tor II cock ring, Ina, Mona, and Elise. Lelo actually listened to the complaints of reviewers and while they obviously could not alleviate all concerns and please everyone, their efforts are worth mentioning. The Mona was never really a bad toy, but with a power boost to the Mona 2 and a change towards a more rumbly motor, it seems to be even better. They even addressed that demarcation line between silicone and plastic, making things easier to clean! The TorII cock ring (I'm told) was made more stretchy after my review, although it never really was the strongest contender in their line of revamps. Ina 2 gets a more flexible clitoral arm so that there's less clamping going on, plus more rumbly power.
Worst Sex Toys of 2012
Hold on to Me Kegel Exercisers from the Bedroom Kandi line – Some women will love how these look, some women will hate them. I actually preferred the color scheme to the Lelo Luna Beads but that was the only singular positive thing about this utter failure. I had the head guy from OhMiBod (the manufacturer) insisting up down left and right that the holder for the beads was pure silicone. My insistence that it was not led to my Silicone Flame Testing post and video. The fails on the HOTM begin with the name and end at "will snap your vag like a rubber band oh and the paint flakes off". Yeah.
Fixsation Couples Vibe – I knew the very second I opened the package that I was going to hate this item. Hate. It's worthless for women who need more than just a little vibration and generic pressure to get off. At best it was annoying, at worst it was quite painful. It's definitely not a "fat chick approved" sex toy, despite them offering the """panty""" (I cannot put enough sardonic quotes around that word to describe it) in plus sizes.
We-Vibe Thrill – Part of the reason I hated the Thrill so badly was that I was expecting it to have the same motor as my beloved Tango/Salsa. It might, buried somewhere in the confines of the Dumbest Sex Toy Design This Year. It didn't do anything for any part of my genitals, but hey my thumb got quite the buzz! Wait. Thumb? This toy would be great for women who require feather touches to their clit and a little buzz to the g-spot. If you need anything more than that, keep on lookin.
Lelo's Smart Wand in Medium – As much as I enjoyed the Large Smart Wand, the Medium left a lot to be desired. Wimpy (equal to the original Mona), not at all living up to the "wand" name, worthless as a sex toy and more worthless as a body massager, it felt like an overpriced (but pretty) waste of money.
Duet by Crave – I didn't review this, Epiphora gave us that honor. It confirmed my fears and despite being a giant geek, I was not at all willing to shell out $150 of my own money to echo her review. When we first saw this sex toy it was in beta, and all that was talked about was the fact that it was USB storage AND a vibrator ALL IN ONE. Sure…..if you wanna pay something like $225. For 16GB of storage. I always thought that the Lelo Mia would be better if it had USB storage capability but Piph made a very valid point: Unless you were to copy the porn file to the computer in question, it's not like you can watch porn from the vibrator while you're using it. Unless you truly enjoy something clamping your clit in a pinch that could turn ugly at the wrong moment, the vibrations are paltry and frankly…Crave should be ashamed of themselves. The vibe was also a lot bigger than I had expected and not even the posh look and adorable black leather carrying case could charm me. * It should be noted that this opinion is based on the original version of the Duet, and since then Crave has re-vamped the vibe with more power and less pinchy tips. I haven't personally tried it, so I can't speak for the updated version.
Evi by Aneros – Aneros should stick to prostate toys. The idea behind the EVI is the same as their prostate toys – hands-free, it works by you clenching and unclenching muscles, basically. It may work for some (I've heard some glowing reviews, boggled as I may be) but it was an utter failure for me. It is supposed to stimulate both clit and g-spot in a back-and-forth motion via pressure alone. It doesn't come anywhere near my g-spot OR my clit. It's, quite honestly, a very boring sex toy. Just looking at the photos on the site again boggles me as the majority of dual-stim toys are C-shaped…and this is um, not. It felt like it was pressing into my ass.
Read More
All text and images on this site require permission before they can be used anywhere. To obtain permission click here to contact me
Posted by Lilly | 2 Comments
Whenever I see a product, especially a sex toy, that is marketed as the be-all end-all perfect-for-all product….I get skeptical. And then I aim to prove it wrong. I'm happy to be the one proven wrong, lest this be misunderstood as a mission where I will not accept my own "failure" to spot a crappy product. I think you all know better than that, but I also think there might be a reader or two who won't understand unless it's spelled out. As much as I love to tell you about awesome sex toys I also love to tell you which ones to avoid.
Update: Fixsation owner tried to leave a "redeeming" comment for the product, shaming me and pretending to be a customer. Professional, eh?

When I first saw the Fixsation I thought "Oh great…another wearable vibe for skinny hetero chicks". Then I was told that no, no! it comes in various sizes! yay. Unlike the atrocity that was the Venus Penis which had no hope of fitting any woman above a size 12, the Fixsation comes in various sizes. The XXL  claims to fit sizes 18-20. That is as big as it goes, however. My pants are closer to a 20 right now because I carry a lot of my weigh in that ring area right below the belly button – my hips, my ass, my belly. Going by the drawings of the Fixsation, I figured I would not be able to wear this at all. I was mostly right. Anyone larger than me would not have a prayer.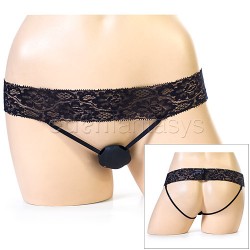 Photo courtesy of EdenFantasys
Fixsation is labeled as a "couple's vibe and panty", and that is my first bone to pick. A strip of lace does not a panty make. At best it's a garter belt. Sort of. I suppose this is a minor gripe in the grand scheme of things to come, though.
The Fixsation is "assembly required". I always appreciate when my rechargeable vibe is already charged up when it arrives at my doorstep, because I'm impatient when it comes to trying out new toys. The vibrator portion of the Fixsation did arrive charged….so at least I was able to immediately tell that that portion was a complete fail for me, but the "panty" portion required assembly. It seems simple enough – there is a silly band of lace and 2 small bra-strap-ish straps that clip on to the lace and eventually run through holes in the vibe to achieve the hands-free feature.
Assembly took me 10 minutes and I nearly launched it across the room twice. I had to get out the tweezers to finish the job. Since part of this sex toy is fabric and it will get dirty, you will need to handwash it…which means you will need to take the vibrator off. And then re-assemble it. My tip, if you should purchase this, is to assemble it well before sex otherwise you will be too irritated to even have sex. Once I had both straps threaded through the side holes it was time to put it on. You step into it like a panty…..just be sure you don't get things tangled up before you step in. Pulling the lace bit up proved my point that this design is just not meant for fat girls. I had to pull it all the way up over my hips to rest at my belly-button-centered waist area and this was a very tight fit. Someone built differently might have better luck letting this rest on the hips. I then had to adjust the vibe so that it was sitting more or less over the area where my clitoris was….somewhere. Here's where the failure was the greatest.
I have very full outer labia and mons. It's kinda natural given my size but I think I've always been like this even when I was thinner. When I spread my legs, I still have to part my labia to access my clit. If that describes you at all, then the Fixsation will not work. You pretty much have to look like this Wikipedia photo, with minimal labia and a prominent clitoris. What happens if you should try to spread your labia around the vibrator so that the vibrator will actually be vibrating your clitoris and not your labia?
Pain. Pinching. Pain. Even if you like pain with your sex, this is not the purpose of the sex toy. The sides of the vibrator are a bit sharp-feeling to fleshy flesh since it is made of hard plastic. God forbid you should have pubic hair, because it will get caught up in the sides. This can happen to either one of you, by the way. Imagine a more-painful but less-complicated entanglement similar to braces locking together when kissing. A pubic hair or two yanked out at the root doesn't exactly keep the mood alive.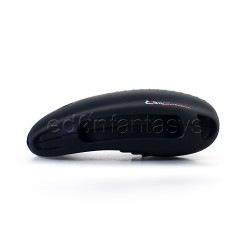 Photo courtesy of EdenFantasys
Fixsation is meant for the missionary position sex1 and is advertised solely to hetero couples. I can understand their motive for the audience thing, even though I don't exactly like it. This toy could work for lesbian couples…perhaps. But to design something just for the missionary position? Fixsation is meant to work with the pressure applied by your partner's pubic bone. It's been a long time since I first side-eyed this sex toy but I once ran across something that seriously irked me; I believe it was on the Fixsation website but I cannot find it anymore so I cannot be sure of where I read this but I remember this specifically: It was said that the Fixsation was never intended to be a powerhouse, because the point was to "help" bring her to orgasm at the same time as her partner2. It was purposely designed so that she did not climax from clitoral stimulation alone before her partner. *blinks* I have lots of feelings on that, and none of them are good. Be that as it may, you've likely guessed by now that the Fixsation is mediocre at best in the vibrations department. It is pretty buzzy. It has a little more power than the original Lelo Tiani, but not as much as the Tiani 2 or the We-Vibe 3.
Speaking of, since this is touted as a "couple's sex toy", let's discuss how it compares to the Lelo Tiani or the We-Vibe, two other hetero-centered PIV sex toys. Both the Tiani and We Vibe work by inserting part of the toy inside the vagina. If your partner is bigger than average or you do not like anything bigger, then you'd want the Tiani over the WeVibe. But the Fixsation proudly proclaims that it is "non-invasive" which could be a plus for some women. There is no remote with the Fixsation, the button is located on the vibrator. You have to press and hold for about 5 seconds to begin vibrations. One of the reasons I prefer the We-Vibe 3 over the We-Vibe 2 is the remote: it's awkward and not easy to fumble around a slippery vibrator with slick fingers in the middle of sex to change a vibration speed or turn it off. So the boast of "no remotes needed" for the Fixsation is not a plus in my book.
Moving along….the Fixsation is indeed quiet. Users who are in need of something quiet will find that in this toy. It is made from body-safe materials (plastic). It is water-resistant but not waterproof: Ok for squirters but not ok to wash along with the "panty"3. It is rechargeable, has various speeds of yawn, is fairly small, travel-friendly and "non-threatening" if you happen to have a male partner who is so insecure as to be intimidated by sex toys.
Fixsation would work best for:
Those who are a size 14 or under, despite the sizing of the XXL version
Women who do not carry much weight in their belly
Women whose labia are small and whose clitoris is easily accessed and visible
Those who do not require much assistance from vibration to help with climax
Those who prefer the missionary position
Heterosexual couples, however it could work for same-sex couples if the giving partner's harness isn't too bulky
Solo use if you truly hate holding two sex toys and fit the above descriptions
Those with cropped or shaved pubic hair
Please note that these aren't "or" statements, they pretty much all go together and you have to fit most of them. I do not.
I really, really dislike the Fixsation. In fact, I don't think I'd ever recommend it. There are many flaws, a lot of which are never mentioned in some other reviews. This is another reason why I wanted to get it – if you're thinking of dropping $100 on a sex toy, you should be fully informed. I am a bit irked that I paid 2/3 the retail for this sex toy because in a way it feels like a gigantic waste of money, but at least I was able to use EdenPoints to cover the rest of the balance after doing a buy-out assignment. I knew though, when I bought it, that it wouldn't work for me so it's not like I was disappointed and didn't have my own gut instinct as fair warning. I specifically wanted to review this item though for a retailer, and at that, one who doesn't mind a negative review. If I had had to hold my tongue after experiencing this awful sex toy I'd have been mighty pissed.
While I have indeed often wished for a sex toy similar to the Fixsation for use during missionary-position sex, Fixsation falls so short of the mark it's not even funny. Because we've yet to find a sex toy that doesn't get in the way during sex, he usually gets me off before PIV sex. Our favorite way is his hand plus my We-Vibe Salsa, resulting in an explosive orgasm that he was very much a part of, and it leads to a deliciously sensitive g-spot and therefore extremely pleasurable sex for us. That is what works for us. His cock is too long for me to enjoy rear-entry positions usually, or I'd be using a position pillow like the Liberator Wing, Axis Hitachi, Pulse or BonBon to hold the vibrator in place for me.
Since the Fixsation is technically in the strap-on vibrator category while still being a hetero-couple's vibrator for use during sex, it's a little difficult to recommend something else. Of course the Lelo Tiani 2 and the We-Vibe 3 are very decent for Hetero-PIV sex, I can understand that they're not everyone's cup of tea. They're not strong enough for me, personally. The Tiani is pretty darn unobtrusive vaginally, while the WeVibe 3 is quite a bit more noticeable. I would not likely recommend anything from the strap-on vibrators section that looks like a butterfly/bee/whatever. However, this pair of vibrating crotchless panties could work if you replaced the bullet with the WeVibe Salsa….except that it's "one size fits 45% of users", so not plus size friendly. The Black Rose Vibrating Panties are very femme and pretty and very adjustable but you'd need to do some cutting and sewing to change them into crotchless panties for sex. Again, I'd also recommend pairing it with the WeVibe Salsa or Tango for a huge upgrade to the vibrator.
ETA: I've already heard some pretty negative things about the inventor, Tiffany York, so as soon as I got the comment below I just knew it was her. She must think I'm pretty damn dumb, she used the same email address that is associated with the Fixsation domain! YES, pretending to be a satisfied customer and getting snotty in your comment will TOTALLY discredit my negative review in the eyes of all who shall pass here and doesn't look suspicious AT ALL. Yup. Yes indeedy. Sorry Tiff, not born yesterday:

Ok I think I've seen a few other positions named, mostly Tantra type positions and things that, frankly, the average vanilla couple doesn't do ↩
They use the term "Wegasm" GAG ↩
Truly I cringe and grit my teeth every time I refer to the ""panty"" and I cannot use enough quotes to accurately convey my reluctance in calling it such ↩
Read More
All text and images on this site require permission before they can be used anywhere. To obtain permission click here to contact me