Posted by Lilly | 5 Comments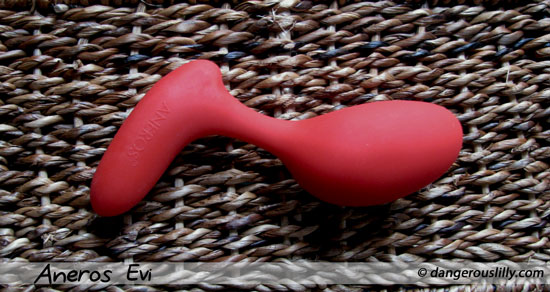 I've been acquainted with Aneros as a company for almost 10 years now; long ago hubs and I got him one of their first Aneros prostate plugs. It was great and all, with a couple flaws and a big learning curve. A few years ago I found the Nexus Neo for him and he hasn't gone back to his Aneros since. But suffice to say I've known about Aneros and the ground-breaking work they have done.
At last year's Momentum Conference, Aneros gave out postcards allowing attendees to get their hands on the first run of their new product for vagina-owners, the Evi. I was curious so I asked for one and received it a few months later. When I opened my package I was a little skeptical at the froofy large, red lace drawstring bag that the whole entire box fit into. It was pretty, though, if you like that sort of thing. The modern and sleek boxed opened to show this oddly shaped, bright-red thing – Evi. Instructions and platitudes were included. The shape looked 47 kinds of wrong to me to achieve what they promised, but I tried it anyways.
Where My Vagina Says "What the Fuck?"
The bulbous portion of the toy and the neck will go in your vagina. Yes, it seems to be pointing *away* from the g-spot. The handle bar looking bit rests in between your labia and should come in contact with the clitoris for many women. The handle bar portion isn't "T" shaped, it won't be tickling your ass (even if you would like it to). The handle bar portion combined with the weight and the angle made me constantly feel like the thing was about to fall out of me as I walked around. It wasn't painful, but it was uncomfortable. Sitting with the Evi in me felt uncomfortable/painful and frankly I have a lot more padding than some women – if I can feel the seat of my chair pressing up on the Evi in an awful way, I can only imagine what that would be like for someone 70 pounds lighter than me with a much smaller ass and thighs. I didn't last very long before I yanked it out and tossed it in a drawer.
A month or three later, Aneros sent me an email asking me to fill out a survey on how I liked it. They asked if I'd tried it standing, sitting, laying down, etc and I was soon growing as bored of the survey as I had the Evi. But I gave them the benefit of the doubt and I paused whilst filling out the survey to actually go try everything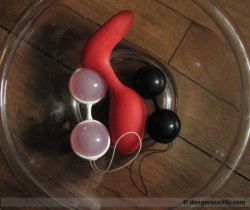 they suggested. I sat. I wiggled my hips. I humped the air1. I laid down and thought of England (what? I know a lot of hot English bloggers), I laid down and thought of Brad Pitt, thought better of it and thought of Angelina Jolie instead. I laid on the bed and thrust my hips up in the air like a convoluted yoga move2. I concentrated on doing my kegels properly, just to make sure. I could feel the external portion nudging somewhere in the vicinity of my clitoris but my g-spot was left totally out of the party unless I grabbed Evi by the handle and forced it to speak to my g-spot like a proper young lady. Er, wait.
And then…..
I felt it coming but I couldn't stop it in time…
I sneezed. While sitting in a chair with the Evi inside of me. AND IT REALLY FUCKING HURT3.
So if you get nothing else out of my review, please listen to me: Do not ever sneeze with the Aneros Evi inside of you. If you feel a sneeze coming on, no matter what you're doing you shove your hand down your pants and get that hunk of silicone out of there. STAT.
Moving on.
Here is where I become confused and therefore in turn confuse you. Evi is advertised with phrases like "designed to comfortably and effectively 'hit the spot' without the need for vibration." and "With correct insertion, Evi will alternately stimulate the G-spot and the clitoris with a simple Kegel exercise." so…is it a Kegel exerciser, or a sex toy? Both? "Mind-blowing orgasms"? I'm side-eyeing you real hard, Evi.
For me, it's neither. The front curve doesn't stimulate my g-spot, even with the most enthusiastic kegel crunch. The handle does not even come close to stimulating my clitoris. I don't require a jackhammer vibrator to orgasm, but I do greatly prefer vibration so that the internal portion of my clit can be stimulated. I have, a few times, been able to orgasm from manual clitoral stimulation. This is not even in the ballpark of a finger. Ok, so a slow-building orgasm is never going to happen for me with this. But couldn't I just use it as a unique kegel exerciser, and maybe get a little aroused at the same time?
Nope4.
Sex Geek Time
Unlike the Luna Beads which are passive kegel exercisers, the Evi is active. Look, I can forget I'm cooking something on the stove until I hear it sizzling two rooms away or smell it burning. Despite the fact that the Evi isn't subtle, I still forget to actively do something while wearing it. I think I'm preoccupied by how uncomfortable it all feels. or, ya know, SQUIRREL. After doing some more digging, I may have discovered one reason why it feels so godawful uncomfortable to me:
*put on Sex Geek T-Shirt*

Forgive the size, you'll want to click it to view it a little bigger
First thing I noticed was a very compressed rectal canal on the left. The second thing I noticed would explain why Evi isn't really hitting my g-spot – that tiny curved portion of the Evi that is near the g-spot area has very little surface area to actually contact the g-spot – and since there is no one set location of the g-spot (hence my drawing edited to show where the g-spot could be), if yours doesn't fall in the exact place that Aneros thinks it will, it's not going to work for you very well. My g-spot happens to be a lot closer to my vaginal entrance than Aneros' drawing shows.
Specs
Aneros Evi is about 5ish inches long, although it's really hard to determine length in something as oddly shaped as this. It only weighs a couple ounces. It is hard plastic covered in a red silicone skin. Most of the Aneros for Men are just hard plastic. If that might cut down on the price, I'd be all for it – with a Velvet PU coat, ABS plastic can feel almost just like the silicone skin. It's a matte finish silicone, the kind with the "silicone soft touch" added in like Lelo, Je Joue, etc5. It is all one solid piece so if you really felt the need to, you could add it to your dishwasher on the Sex Toy Cycle6, but I don't think you should boil this. I'm not really sure, since it's not 100% solid silicone. Anyways, it's non-porous and would be easy to sanitize. Other than the odd red lace bag that encased the box I received, they do not include a pouch for the Evi to store it in. The box is nice but it's not meant for discreet storage. It retails at about $70, and that right there is one part of my two-fold main reason why I won't be recommending this.
Bottom Line
Despite the fact that Aneros tries to specifically claim that Evi will fit ALL women7, Evi is not an every-woman sex toy. Hell, nothing is, this I know. And I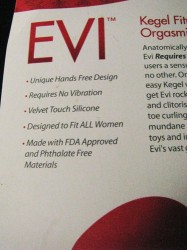 know that sex toy makers need to write up amazing copy to sell their wares; nearly8 everybody who makes something does this. But my experience of the Evi vs their shiny, promising copywriting feels quite a bit like advertised burgers vs reality burgers. First of all, I don't often have the time for an Aneros Experience. I don't have hours to lay in bed, contracting my muscles, waiting for the 2:00 Orgasm Train to roll in. I just don't have that kind of patience, frankly. In the pursuit of sex toys I have indeed spent up to an hour trying in vain to reach orgasm – the resulting orgasm was not 10 times better because of the wait. Aneros Evi is quite a lot like a rabbit vibrator – as a woman you could try out 20 rabbit vibes and if you're lucky, one of them will hit all your spots in the just-right area with the just-right amount of vibration to create your own personal Nirvana. And due to the (in my opinion) grossly inflated price, I'm going to stand by my recommendation of the original Lelo Luna Beads set for killer kegels. They're very much "set and forget" as they passively go about toning your kegels while you go about your day. I know damn well they work, because I once wore a set of the heavier beads for half a work day; the next morning I woke up with PC muscles that were sore like ab muscles get sore when you do too many crunches.
I'm trying to think up a good explanation for the type of person Evi would work for as advertised, and I really can't. Not because I think that Evi isn't right for anybody; but because it was such a complete and utter fail for me personally. After my third and final time (about 4 hours before writing this) of trying very hard to feel even 1/10th of the love that some people on my Twitter feed profess for Evi, as I pulled the Evi from my vagina I swear it said "thank you" to me and I apologized for putting it through that again. I promised to not do it anymore and it mostly forgave me; some weird unnamed spot in there is still quite tender as I write this.
One final tip if you decide to purchase: Evi, like anything Aneros makes, has a learning curve. You're not going to achieve tantric orgasmic bliss the first time out (if ever). Be prepared to give it a few tries. Carve out some quiet, alone time. But please, please don't lay there doing kegels like a bunny on meth for an hour just to reach orgasm or I promise you, you'll be in pain the next day and do you really want to tell your boss what happened or explain to coworkers in 2 days why you're still walking funny?
Read More
All text and images on this site require permission before they can be used anywhere. To obtain permission click here to contact me
Posted by Lilly | 2 Comments
Last  year I wrote up what I thought were the best & worst sex toys of 2011 and here I am again. My reviewing slowed down this year so I'm afraid I may have missed one or two that would deserve a spot on this list. If you can think of anything that I would consider worthy of this list, mention it! It will give me something to try in the new year. I've also included a few things on the list that I haven't personally tried (*), but my Spidey Sense tells me my hunches are spot-on. That and reading from reviewers that I trust.
Best Sex Toys of 2012
Last year I could rattle off a few really stand-out new products. This year I'm having trouble coming up with more truly "wow" items simply because my tippy top favorite wins by such a giant landslide that everything is just "good" in comparison.

Best Vibrator: Tango & Salsa by We-Vibe – (Some of my research says these came out Dec2011/Jan2012, some research says earlier.) It's no surprise to regular readers of my blog that this would be my number one pick as I have adored these vibrators for a multitude of reasons. They're one of the few "luxury" sex toys that I fully stand behind the price tag and I will recommend these to just about anybody. I pretty much compare everything to them now and they can sometimes be the only vibrator that I use for weeks on end. Solo, partnered, stand-alone or paired with a dildo…it doesn't matter. Best external vibrator, ever. Period. It is simply the most powerful mini vibe on the market – and it's rechargeable. Those two facts don't usually go hand in hand. It's more rumbly than just about anything else, too. Pick any external vibe and this will blow it out of the water. Don't let that scare off the sensitive girls though, because there are 4 speeds.
p.s. – Grab up the Salsa while you can at SheVibe.com if you prefer the red, black or white color, as it appears that We-Vibe has discontinued Salsa – Salsa & Tango are virtually identical except for the tip's shape and the colors. Tango comes in baby blue, pink and purple. I also feel that the Salsa is more versatile for replacing the RO-80mm bullets.

Best Dildo: This year's best dildo is also one of the more unique things. Tantus came out with three new dildos this year specially made for people with short arms. Um, I think. Actually I don't know what the idea was behind making dildos with handles, but I'd like to think the short-arms theory came up in the drawing room. The Anaconda is my favorite but for those that prefer a little more texture and a little less girth, the Echo and Goddess versions are awesome as well. While Tantus didn't pioneer the whole handle-on-a-dildo thing, I think they perfected it. I've only ever seen similar styles in icky rubber dildos. You don't want an icky, rubber dildo.
Sometimes Tantus has sales on these, so keep an eye on their site as well for the Anaconda, Echo Handle and Goddess Handle.

Best New-to-Me Find: Aslan Leather Harness – I'm one of those people who has a visceral reaction to the smell of true leather. Aslan Harnesses are made from the most awesome leather, ever. It's buttery soft and beautiful. The Cherry color is just so incredibly sexy. While I can't consider myself a harness expert, I've tried on a few and the Cherry Minx was the most comfortable one I've had on and that says a lot. I always used to think that being fat with hips and a gut meant I couldn't find a harness but this company proves that thought wrong. The Cherry Jaguar is better for slimmer-to-curvy women, as the Minx adds in a corset backpad that allows for a bigger size increase if you need it. Really though, I think you'll love any harness from Aslan. They're just beautifully made and look awesome.

Best Sex Toy Accessory: Vibrator Enhancer* – It doesn't cost much and it doesn't really do much but yet if you're really into anal play and like vibrations in your butt, then you need to own this. Nothing more than a stretchy hunk of silicone, it gives vibrators a flared base which is essential for safe anal play. Small, medium and large sizes will accommodate just about any sex toy on the market I think. I've read in more than one place that it can also turn a standard vibe into a dual stimulator, but I just don't buy that. Anatomy doesn't work that way for one, and two as we learned from the We-Vibe Touch, a hunk of silicone seriously dampens vibrations. The Enhancers are sold alone or in a three-pack; for the price, you should just get the three-pack, that way you're certain to get the best fit. You want the enhancer to fit pretty tight – a barely-there grasp will be useless as an anal-play-safety device. Also keep in mind depending on where you're able to put the enhancer, the all-around pressure on the vibrator might dampen vibrations on some toys. Just try to keep this thing on the handle of your favorite vibe.

Honorable Mention: Lelo Smart Wand Large – I love the deep, rumbly vibrations and feel that they are less numbing than the Hitachi. It's not as powerful but sometimes buzzy things like the Hitachi need to be more powerful in order to get some people off…..like me. I need less power when the vibrations are truly deep and rumbly. This doesn't receive a ribbon though because you really get the most out of it as a sex toy only by adding in a Hitachi-compatible attachment like the Gee Whiz…plus the price tag of everything is a bit of a hindrance. But for rumble-enthusiasts and lovers of the posh look of Lelo, it's a Good Thing. Heavy? Kinda. Much better as a back and body massager though than the Medium version, which earned a place down below.  If I could manage to keep this thing charged up all the time, I would use it more often than I do.

Best Re-Vamp Efforts: Lelo has revamped, for the better, the Tiani 2 (and I think anything else from the SenseMotion line), Tor II cock ring, Ina, Mona, and Elise. Lelo actually listened to the complaints of reviewers and while they obviously could not alleviate all concerns and please everyone, their efforts are worth mentioning. The Mona was never really a bad toy, but with a power boost to the Mona 2 and a change towards a more rumbly motor, it seems to be even better. They even addressed that demarcation line between silicone and plastic, making things easier to clean! The TorII cock ring (I'm told) was made more stretchy after my review, although it never really was the strongest contender in their line of revamps. Ina 2 gets a more flexible clitoral arm so that there's less clamping going on, plus more rumbly power.
Worst Sex Toys of 2012
Hold on to Me Kegel Exercisers from the Bedroom Kandi line – Some women will love how these look, some women will hate them. I actually preferred the color scheme to the Lelo Luna Beads but that was the only singular positive thing about this utter failure. I had the head guy from OhMiBod (the manufacturer) insisting up down left and right that the holder for the beads was pure silicone. My insistence that it was not led to my Silicone Flame Testing post and video. The fails on the HOTM begin with the name and end at "will snap your vag like a rubber band oh and the paint flakes off". Yeah.
Fixsation Couples Vibe – I knew the very second I opened the package that I was going to hate this item. Hate. It's worthless for women who need more than just a little vibration and generic pressure to get off. At best it was annoying, at worst it was quite painful. It's definitely not a "fat chick approved" sex toy, despite them offering the """panty""" (I cannot put enough sardonic quotes around that word to describe it) in plus sizes.
We-Vibe Thrill – Part of the reason I hated the Thrill so badly was that I was expecting it to have the same motor as my beloved Tango/Salsa. It might, buried somewhere in the confines of the Dumbest Sex Toy Design This Year. It didn't do anything for any part of my genitals, but hey my thumb got quite the buzz! Wait. Thumb? This toy would be great for women who require feather touches to their clit and a little buzz to the g-spot. If you need anything more than that, keep on lookin.
Lelo's Smart Wand in Medium – As much as I enjoyed the Large Smart Wand, the Medium left a lot to be desired. Wimpy (equal to the original Mona), not at all living up to the "wand" name, worthless as a sex toy and more worthless as a body massager, it felt like an overpriced (but pretty) waste of money.
Duet by Crave – I didn't review this, Epiphora gave us that honor. It confirmed my fears and despite being a giant geek, I was not at all willing to shell out $150 of my own money to echo her review. When we first saw this sex toy it was in beta, and all that was talked about was the fact that it was USB storage AND a vibrator ALL IN ONE. Sure…..if you wanna pay something like $225. For 16GB of storage. I always thought that the Lelo Mia would be better if it had USB storage capability but Piph made a very valid point: Unless you were to copy the porn file to the computer in question, it's not like you can watch porn from the vibrator while you're using it. Unless you truly enjoy something clamping your clit in a pinch that could turn ugly at the wrong moment, the vibrations are paltry and frankly…Crave should be ashamed of themselves. The vibe was also a lot bigger than I had expected and not even the posh look and adorable black leather carrying case could charm me. * It should be noted that this opinion is based on the original version of the Duet, and since then Crave has re-vamped the vibe with more power and less pinchy tips. I haven't personally tried it, so I can't speak for the updated version.
Evi by Aneros – Aneros should stick to prostate toys. The idea behind the EVI is the same as their prostate toys – hands-free, it works by you clenching and unclenching muscles, basically. It may work for some (I've heard some glowing reviews, boggled as I may be) but it was an utter failure for me. It is supposed to stimulate both clit and g-spot in a back-and-forth motion via pressure alone. It doesn't come anywhere near my g-spot OR my clit. It's, quite honestly, a very boring sex toy. Just looking at the photos on the site again boggles me as the majority of dual-stim toys are C-shaped…and this is um, not. It felt like it was pressing into my ass.
Read More
All text and images on this site require permission before they can be used anywhere. To obtain permission click here to contact me