For a long while now, Tantus has had their signature strap-on harness play kits designed to get you right into the swing of things. The "Bend Over" kits are more aimed at pegging, with the straight, untextured Silk dildos. You could also get the Flame kit or the Curve kit, but what if you already had a harness-compatible dildo that you and your partner were enjoying but just wanted to dip your toes into the waters of wearing a harness? Strap-on harnesses usually come in two varieties: The high-end creations that will fit beautifully and look amazing, but come with a high price tag that frightens away the newbies OR the cheap, low-end harnesses that are sometimes made entirely out of dodgy plastics or harsh, stiff-edge leather that chaffs.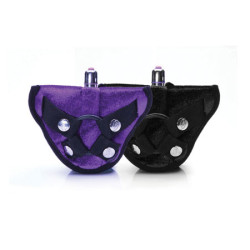 For an extremely affordable $35.99, however, you can grab a very versatile harness to see if this is your thing. The same harness that they offer in kits, the Vibrating Velvet, is now sold separately. It's pretty basic – mostly comprised of webbing straps, it fits in a jock-strap-style with two leg loops of strapping that you'll step in to and a velvet-like plush front pad. While this harness doesn't aim to fit as large a size range as the Divine Diva, I find that it's still pretty darn accommodating and will fit up to 60″ "hips" (or wherever you actually wear it).  I had room to spare when I wore it correctly (which would be so that the base of the dildo rests over your clitoris – if you're overweight, this means you put it under the belly…not on your belly). Not just for those with a clitoris, this basic style can also be worn by those with a penis; if you situate it just a bit above the natural penis, it will allow you to add on for double penetration, or pinch hit.
The vibrating velvety plush front pad can easily be removed when you undo the snaps that hold the o-ring. I personally found that the plush pad was so soft that it didn't stay in place for me as much as I'd like, so removal for me ended up being the way to go. Then again, the vibrating aspect of it isn't going to work for me and the way I'm built. The vibrations occur with an included bullet and a pocket sewn into the back of the pad. You can also remove that bullet and put in your own – for more oomph, the We-Vibe Tango would fit beautifully. Vigorous thrusting, though, and pressure at the right spot can push the bullet out of the pocket. A tiny round dot of velcro closure added in would fix this if you really like using the added vibrator.
This basic style can also easily accommodate the Realdo/Feeldo (when you remove the front pad), which I would have loved ages ago when I owned one of those. I never was able to gain kegels of steel enough to keep the Feeldo inside of me properly.
One aspect about this harness that I really love over the Divine Diva is the 4 straps securing the o-ring rather than just 3. 4 straps allows for a more secure hold, and can allow you to more easily use a dildo that has balls. It's damn difficult to accommodate a dildo with balls in a 3-strap design, but can sometimes be done.
Adjustments are easy enough and once you get the hang of putting it on a few times, it's pretty simple overall. The ladder-lock style plastic buckles make for easy cinching of the webbing straps to get a tighter fit, and lifting the ladder-lock buckles will get you out of the harness quickly, as well. For someone plus size, it's overall comfortable enough, but it's not the absolute best. Then again, to get that level you will have to be prepared to shell out a lot more for something like an Aslan leather harness. But that's not why you're buying a basic one, am I right? Everybody needs to start somewhere; you need to be sure that both you and your partner are into, and able to incorporate, strap-on harness play before you shell out the big bucks. Also? I'd hate to take the Aslan harness on vacation and risk having anything happen to it. The Vibrating Velvet Harness would also make a good travel harness.  It's also fully washable, did I mention that?
Get the Vibrating Velvet Harness on its own to accompany your existing collection, or create your own kit! If you're reading this during the month of November, you can also grab it all for 30% off with the code THEDIRTY30 at checkout!
I was provided this item by Tantus in exchange for an honest review. Thank you Tantus!