VibeReview: Lelo Gigi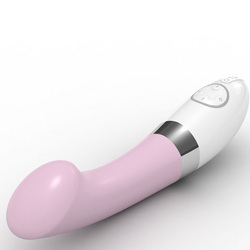 The LELO Gigi will make my third LELO product, and the first one granted by VibeReview.
There are a lot of similarities to other internal LELO vibes – the fact that it recharges. Comes in a nice sturdy black box. Has multiple levels of vibrations and pulsation patterns, and all accessible on the same type of "wheel" pad as the other internal LELO vibes. Made from silicone and hard plastic, both easy to clean and sterilize. That's where it ends though if you want to compare Gigi versus Elise.
Gigi is….pretty. And petite. In fact Gigi is a lot more petite than I expected. Elise is dark and hefty. Now don't be fooled by that photo up there – it's not really a babygirl shiny pink. More like….a matte dusty rose. Mia? Mia's a shiny girly pink. I'm trying to decide if Gigi's vibes are indeed stronger than Elise. They're a bit different and seem to be a touch more intense.
Elise has two vibration points – the tip and the middle. Gigi, being smaller, only has one at the tip. But Gigi is, I think, just as strong as Elise when both vibration points are on. It's hard to explain, not knowing the exact technical details, but Elise seems to vibrate a few pitches higher than Gigi. Gigi has the blunt end which is meant for better G-spot stimulation. Elise I think is meant more for fucking, for penetration, or perhaps more skilled G-spot accessers, lol.
Gigi would also make a good clit vibrator because of the flat end, versus Elise.
My only issue with these LELO vibes is the placement of the buttons. For me, personally, the way I hold it I keep accidentally hitting the buttons.
Should you own both if you can? I would. Personally Gigi is too petite for me to use and like as a thrusting/fucking vibrator, and Elise is too pin-pointed to be a specific G-spot or clit stimulator. Their purposes won't really overlap for you, they're pretty darn different!