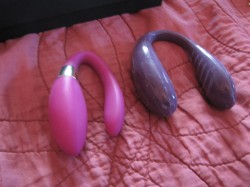 In the last few months we've seen two very similar, yet very different, "couples vibrator" on the sex toy market. While the We Vibe has been around for years, it lacked a remote control. When Lelo created the Sensemotion remotes for the latest Insignia line they introduced the Tiani which many have compared to the We Vibe because it is meant to be worn by the woman during penetrative sex with a guy and claims to provide hands-free clitoral stimulation. The shape is similar and comparisons can't help but be made. Please note: This post has been updated from the original to showcase the changes in the Lelo Tiani with the "Design" Edition, or Tiani 2.
Lelo marketed the entire Sensemotion line with dual purposes – the other reason for the remote was for someone else to control the vibrator. In public? Maybe, if you're discreet about it and manage to set it up properly. Lelo drastically improved the range and reliability of the remote control connection from the original Tiani to the Tiani 2 – the signal will transmit across a room, through most clothing, etc. Their remote requires a couple of regular batteries while the vibrator itself is rechargeable. The remote can get confusing with all the various settings and functions and if it loses connection with the vibrator, the person holding the remote doesn't actually know it – because the remote keeps on vibrating. With the original Tiani, the vibrator would stop working if the remote dropped a signal. Now, the vibrator will continue to work, you just will not be able to change settings until you are back in signal range. You won't know this is happening unless you communicate with your partner.  The Tiani 2′s internal arm is much smaller than the We-Vibe 3, so this is best for women who cannot tolerate much more girth than the penis inside of them. The Tiani 2 offers two different internal arms to choose best for your comfort level.
We Vibe just came out with the We-Vibe 3 and they included a remote this time because a common complaint was that the placement of the button coupled with it's size and the fact that the shiny silicone would quickly become slippery when wet made it damn near impossible for many to change the speed or pattern during sex. We Vibe is not marketing this remote control for any use other than to control it more easily during sex – they do not mention at all that you could use it while she wears the vibrator and you control it without sex being in the mix. Because the We Vibe has always been about enhancing hetero-coupled sex. And the remote isn't designed for the controller to not be right there – it doesn't light up, it doesn't do anything to tell you what setting it is on. However, the We Vibe 3 WILL still work if you lose the remote because there is a button on the vibrator. And the remote does not require any batteries or recharging, it is a permanent 5-7 year lifespan battery.
The We Vibe, any of the models, is actually for both clitoral and g-spot stimulation during sex.
The Lelo Tiani 2 has vibrations on the clitoris, with the arm for placement or slight g-spot pressure.

Both claim though to provide clitoral stimulation that doesn't get in the way during sex and requires little effort. Except, for some couples, it's simply a basic fact that a cock pumping in and out of a very lubricated vagina is going to provide friction and movement to the toy and it will move. It just will. Either one also may not be enough stimulation for you -  neither is truly all that powerful as a vibrator but they can be useful to some.
Price is certainly a decision maker for some, but the Lelo Tiani is priced higher than the We Vibe 3, for two reasons: 1) Lelo is cashing in harder every year on the reputation/hype that's built up around the company and every line that they come out with is increasingly more expensive and more disappointing 2)  Sensemotion technology is a reason for the $20-30 price increase of the Lelo Tiani over the We-Vibe 3.
Who will actually like either of these? Both Tiani and We Vibe 3 are best meant for women who do not need a lot of power in the vibrations of their sex toy to get off. Women who will be able to use either one successfully are those who need just a little help during sex. If your male partner is already pushing the boundaries of your comfort zone with the size of his cock, then the We Vibe will be added girth that you may not tolerate. While the Tiani would excel there due to the small arm it also will not add anything to the party for g-spot stimulation during sex.
| | | |
| --- | --- | --- |
|   | We Vibe 3 | Lelo Tiani Sensemotion |
| Vibration Type | Rumbly | Buzzy / surface only |
| Intensity (1-10) | 4 | 4 |
| Remote: Pros | Small; requires no batteries or charging; Remote is not required for vibrator to work; Works well during sex; Vibrator does not turn off if remote signal is dropped | Remote holder knows what setting it is on; various functions allow for unique uses; Remote holder is "in control" |
| Remote: Cons | Single button; remote holder does not know what setting it is on; range less than 10 ft; Doesn't transmit through much clothing | Requires 2AAA batteries; requires special tool to access batteries; remote often vibrates and isn't exactly the most discreet thing; remote is fairly large |
| Intended Use | Hetero, coupled PIV sex | Hetero, coupled PIV sex |
| Other Uses | none | stimulation for her from afar, possibly public |
| Body: Pros | Vibration stimulates both clitoris and g-spot; completely sealed and 100% silicone and 100% waterproof; button on body that turns it on, off, changes settings; easy to clean | Silky matte-finish type silicone doesn't attract dust/fur, creates less friction; smaller internal portion gets in the way less for him and creates less added girth inside; waterproof; 2 options for internal arm, body will work without remote. |
| Body: Cons | Silicone attracts lots of dust & fur, creates friction; larger internal portion can be too much added girth for some couples | Plastic portion creates seams that can make cleaning more difficult; no added g-spot stimulation for her; |
| Prices | $129-$149(MSRP) | $108-$159(MSRP) |
Wondering how I rank vibrators in intensity? There's a guide on my sex toy reviews page. Not everyone will agree with how I rank the vibrators listed, I'm sure, but I try to be as accurate and fair as possible while still acknowledging that I'm not a scientist and my opinions are skewed a bit towards my preferences.
We Vibe 3 vs Lelo Tiani Sensemotion
We Vibe vs Lelo Tiani
Read More
All text and images on this site require permission before they can be used anywhere. To obtain permission click here to contact me
Posted by Lilly | Comments Off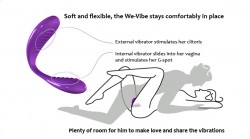 I was sent one of the newest couple's vibrators to review, the We-Vibe 3. Long ago I reviewed the original We-Vibe which had only 2 settings (low and high). That one has been replaced by the We-Vibe II which featured a change to the control button and added in pulsation functions. All of the We-Vibes have been the same size and shape and all intended for the same use: Hetero-coupled PIV sex. The latest We-Vibe has "40% more power" and a remote control. Given my disappointment with the Lelo Tiani Sensemotion remote and vibrator, I held high hopes for the We-Vibe 3.
We-Vibe 3 New Features
WV3 has claimed 40% more power than previously – 40% more is a little bit hard to measure. If it were 100% more power than previously that would mean it is twice as strong and that could be definitively felt. I charged up both models and until I actually inserted them the power difference was barely discernible. Once inserted I could tell that the We Vibe 3 is more powerful than We Vibe 2 but for those who have tried out the other model, and found the vibration intensity extremely lacking, this increase will not be enough to seal the deal. The vibrations are diffuse throughout each "pad" so if you do best with pinpoint stimulation then this won't exactly work for you. Personally I had to press down on the clitoral portion and massage my clit with it to get the most out of the rumbly vibrations but it still wasn't quite enough to push me over the edge – but then again 98% of the time I can't orgasm from just fingers on my clit so there's that to consider. 

Remote Control – I think that a complaint of the other WV models was that it was difficult to change the vibration speed/function during sex easily. That is the purpose of the remote. Since it has a short range of about 10 feet and the remote is extremely basic, I don't think it will work well as a public/wearable remote control vibrator just for her. It doesn't transmit through clothes very well, either. There are no lights or anything on the remote that would tell the person handling the remote if the toy is on, or what setting it is on. There is only one button – click to turn it on and continue clicking through the cycles. Quick-release "off" by pressing and holding the button for a few seconds. There is still a button actually on the WV3 like the previous versions in case you misplace the remote. The We Vibe 3′s remote control does not have to be charged. There is no battery to replace. It has a special battery that is tested to last 5 years but is manufactured as a 10 year battery. If you should ever find that your remote might be dead you can get a replacement remote from We Vibe. *The manual does not tell you this fact. I was pretty clueless about what the hell was going on with the remote until I asked.

High Tech Charging – previously you had to plug the We-Vibe in to charge. Charging the We-Vibe 3 is much more simple now and since it does not require that you puncture the silicone it means that the vibrator is safely 100% waterproof. They don't tell you how it works so process of elimination says that it is induction charging. It takes 24 hours to charge it up at first and a full charge gives you 2 hours of use (about an hour of that at full strength). The base has a tiny yellow LED light to let you know that the toy is situated in the charging cradle properly but it won't tell you when it is fully charged.

Travel Case – Apparently they did away with the case that came with the original We-Vibe for the remake of We-Vibe 2. The original case looked pretty and didn't have a logo until you opened it – but it highly resembled a hard-shell eyeglass case which would be cause for an unsuspecting person to open it up if they were snooping. The new travel case is actually the charging cradle – it just has a lid that, while it doesn't snap on, stays on the cradle fairly well. If you were traveling though I think some jostling and such could dislodge the cover from the base. The base also has a spot for the remote control and if settled in properly it doesn't rattle around. There is no place inside the case, however, for the charging adapter. Of course the original case didn't exactly fit both the toy and the charging adapter easily, either.
If you really love pulsating patterns, you'll be a tad disappointed because the WV3 has 4 patterns while the WV2 has 7.

All in all, the changes made ARE beneficial to the use of the toy as intended. If you've used a We Vibe in the past and liked it but didn't quite love it, you might very well love the We Vibe 3. This is no powerhouse of a vibrator, so keep that in mind. However the vibrations are pleasant and manage to go beyond the surface.
Thanks to We Vibe for letting me review this [blogger disclosure here].
This is a silicone vibrator, please be sure to read about the care & cleaning and lube requirements for silicone.
Read More
All text and images on this site require permission before they can be used anywhere. To obtain permission click here to contact me