Posted by Lilly | 0 Comments
I was lucky enough to be able to try the entire kit from Revel Body, thanks to the glorious Shevibe.com. Since the four extra tips, and travel case, are sold separately I wanted to talk about them separately.
Accessory Tips "Sold Separately"

Nico is a nipple-shaped tip that I thought would work best for me, but still didn't – it's a little too pinpoint and didn't transmit as much oomph as I needed.  I thought that the decreased surface area would mean that the vibrations would concentrate more, but this somehow didn't happen. The Nico and original tips almost feel like they have the same level of intensity, just the Nico is more pinpoint with the stimulation. The fact that it sticks out a little might make it more user-friendly for some – for others who are inclined to apply pressure and movement, this isn't the tip for you. It's very sensitive to being "knocked off balance" so to speak, and the vibrations will stop easily if any pressure is applied to the side of the tip.  The design flaw is baffling to me, but I think it's the nub of pliable silicone on top of the solid core that dampens the vibrations down to compensate wrongly for the concentrated tip.

Fawn is the dreaded "bristle"1, which I think should never be mixed with a vibrator, as it's either a tickle or a painful itch, but Fawn managed to transmit the most intensity on levels 3 & 4. Unfortunately, it was the wrong sort of intensity. It was too much. Lower/higher levels of vibrations with it were too little intensity for me. The bristles (I don't know what else to call them, but I know bristles just sounds harsh), despite being a pliable, soft silicone, don't translate to a softer feel in use. That's why it delivers the most intensity. I would say that it feels 2 times more intense than the included tip – it should, since you're feeling 26 tiny little heads needling you. It's very ouchy on levels 2, 3 and 4. Level 1 is somewhat intense and thuddy; this tip transmits the most sensation on level 10 when compared to all the other tips, but it still isn't much to write home about.

The Ever tip is like a shallow, inverted Devo hat, and just awful with my buried clit and fat labia. I don't quite understand the design. It is  softer tip, though, than Nico but not really enough to matter since you'll never be applying enough pressure in use to appreciate it. In fact, on the lower end of the scale, the more pulsating levels, Ever doesn't feel soft at all. It feels more intense than the included tip. The concave design might be designed to gently surround a clitoris, but it's too shallow to really achieve that for me.  The ridges are confusing to me, because usually ridges on a sex toy are provided for extra stimulation during rubbing/movement. You can't do that with the Revel Body so……moot point.

Cona is frightening to someone with a buried/innie clit. If you have the patience to be super-exact with your vibe placement, and the ability to hold it suspended in the exact same position all during masturbation, then Cona might work for you. Well actually, that statement technically applies to a lesser degree for the Revel Body on the whole, but Cona needs you to be more exact. And the silicone is pliable, but just not quite soft enough to work out for surrounding the clit and burying in flesh.  Since the silicone needs to be firm enough to stand up, so to speak, the soft and squish that it does have is lost when considering how the piston moves and such.  It feels like a cop-out, like I'm trying to spin gold out of straw by using the "great for nipples" line, but it seems that this tip would work better for nipples than clits.
Travel Case

The gray material reminds me of school backpack material. Textured, thick, a bit shiny. There is a layer of padding, too, and I think that the case is probably water-resistant. I'm not exactly sure why….in case you need to pack it away while it's still damp from cleaning, I guess? That would explain the air vent thing on the bottom of the case. The inside is hot pink. If you're not a fan of pink….well…..you're shit out of luck with the entire Revel Body line, I guess. The drawstring pouch is actually built in to the top portion of the case and is meant to hold the travel charger cord and plug.
The case would make a lot more sense to me if it contained a magnetic barrier of some sort. Jewelry did still want to cling to the case if I added in an extra accessory tip, but only with that added tip. Still, though, with all of their warnings about not having the Revel Body near anything electronic, a safety lining would have made me feel a lot better.

Since you already have the base unit, and it comes with the same USB wall charger bit, I'm not sure why they include an extra one. The cord is really nice, an industry first – covered in fabric, which really increases the durability of it. Unfortunately, all the problems I had getting the unit to make contact consistently and properly on the large base charging unit are worse with just the little fob. Even when holding the orb, I have to try a few times before the lights blink. And then if I set it down, it get easily gets knocked off course by just a hair, just enough to cut the charging connection.
I remember that one thing that drew me to wanting to review something from the Vida line from Topco was the included packaging2 – the roll pouch and the zippered case. Until I got it in my hands and saw the Topco shitty quality screaming through every aspect of it. Many aspects of the Revel Body Travel Case are well done – the lining is nice, there is padding, the drawstring pouch portion is nice. The zipper is a bit on the thick and clunky side, but not as bad as the zipper on the case of

the Vida Lussaria. My main issue with the quality of the construction of this case is at the bottom. See how it looks uneven? It doesn't want to sit upright when the vibrator is in it. It's crushed down on one side. I thought at first it was just from being packed in a box, but it hasn't worked itself out, it was poorly constructed. This could just be my case, and very well may not happen for you. It doesn't truly affect the purpose, just how it stands on its own.
Some aspects of these accessories (and the RB itself) leant better to video than just photos and words, so if you're curious still, check it out:
Currently, the tips retail for $19.99 each on Shevibe. I'm told that the travel case will be for sale very shortly!
Once again, thanks to Shevibe and Revel Body for providing me with all of this review for you all!
Although it is a very soft bristle, made of nothing but little soft tentacles of silicone, it still turns evil under extreme vibration ↩
and the fact that, at first, I didn't know that the Vida line was, in fact, a veiled Topco creation line to appear like it was a luxury sex toy brand, but in wolf's clothing ↩
Read More
All text and images on this site require permission before they can be used anywhere. To obtain permission click here to contact me
Posted by Lilly | 3 Comments

I wouldn't say that the Tantus Raptor XL is the absolute largest dildo I've owned (the Vamp Greta and Njoy Eleven win that title) yet somehow, at first, the Raptor XL still managed to look and feel as intimidating as those afore-mentioned 2″ dildos. The Raptor XL is 1.75″ wide, and made from a pretty damn firm silicone. The "what sets it apart" factor is the design of the base & balls – which isn't something I personally care about since I won't be using this in a harness, just on myself. But of course, the question remains… is it awesome to use?
I'd have to give a hearty "Absolutely!" on that one.
I've discovered over the years that I, personally, prefer my dildos to be pretty damn firm. That's just how I like it. If you've already determined that that's not how YOU like it, then you won't love the RaptorXL (or even the Raptor) like I do. If that's the case, please let me point you to some lovely Tantus O2 products or even Vixen Vixskin items. That being said, for those who enjoy a firm material, the Raptor XL is quite lovely if you can handle the size. It's not dwarfing-a-Coke-can like many Bad Dragon dildos but it holds its own in the larger sized category. When it comes to vaginas, a firm 1.75″ is usually quite tolerable for size queens, but requiring a little warm-up for many.  You can sort of see in the photo below the difference in firmness; I'm comparing the ridged head of a Tantus O2 dildo in black to the purple, firm Raptor XL by pressing in on the material with my finger.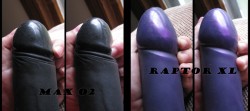 The pronounced ridge on the RaptorXL looks perhaps intimidating to some, wonderful to others. Tantus constructed this ridge to be something you will feel, but it is not sharp and ouchy. It's enough that it can be felt at the entrance and definitely felt on the g-spot, but the chiseled edges ease you around it, it's not a sudden occurrence. It's just, simply, really well done. I LIKE IT A LOT. It turns what would be, for me, a ho-hum straight dildo into something way more interesting.
The head is a shiny, polished and more slick texture while the rest of the body has a very slight texture to it. 95% of you will want/need to use lube with it. There's a little drag to it, but nothing excessive.  I also wouldn't say that the base performs very well as a suction cup alternative, but I wasn't expecting it to, either. The design is, of course, phallic but it's not super-realistic – there's no foreskin wrinkles, not much to speak of for raised veins, the balls are high and tight. Since I'm not one to care for a super-realistic approach, this design meets in the middle, in between "looks nothing like a human penis" and "makes me feel like Lorena Bobbitt".
Also interesting is this newer take on balls. Tantus has kept them, to aid in the "realistic fantasy" aspect, but positioned them so that it's easier to use this dildo in a harness. The balls will sit outside the harness. I personally think that "realistic" shouldn't apply when the dildo comes in midnight purple and Tantus Orange, but that's just me. The Raptor XL is a hefty sucker, so you're going to need a well-made, well-fitting harness, preferably one with 4 straps securing the o-ring rather than 3.  The harness needs to fit you securely and snugly, because the weight of larger, heavier dildos will try to pull it away from your body a bit. Shown below is the difference in a harness between two Tantus dildos that have balls. There are a few problems with both, and I'm thinking that it's also due to the harness I have. While I fucking adore the Aslan Leather Cherry Minx harness, I've found that a 4-strap base is much more practical and secure for larger, heavy dildos. Also, the fat, leather o-ring straps take up too much precious room. To use the Raptor XL in a harness, you'll have to first make sure that the o-ring is rubber and not metal, as you'll have to stretch it and angle it to slip over the base – I suggest you pick the 2″ o-ring rather than the 1.75″. I'm also not sure that using the heavy RaptorXL in a "shorts style" harness like RodeoH or even Spare Parts brand would work. 
So if you like firm, girthy dildos that aren't too over-the-top and not overflowing with texture, I think you'll love the Raptor XL. It's great for vaginas and butts, is super easy to keep clean and sanitary and could be used in a short-notice dildo-duel. En garde!
Looking for something……
…bigger, that is still harness-compatible? Look at the Tantus T-Rex
…smaller, but similar to the Raptor XL? Skip to the original Raptor
…more realistic, and girthy? Consider the Vixen Lonestar
…less realistic, and maybe a little softer? Definitely the Tantus O2 Cush
Thanks to Shevibe for providing me this Tantus item in exchange for my honest review (and for tolerating my lateness on this)
Read More
All text and images on this site require permission before they can be used anywhere. To obtain permission click here to contact me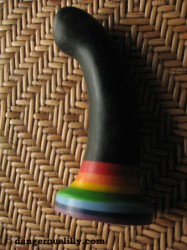 "BS Is Nice"  is a newer silicone company making hand-poured 100% pure silicone products in Madrid. SheVibe.com has started to carry some of their products and graciously sent me one to try out.
BS has a lot of interesting color schemes and designs; some (not on the SheVibe site) are a little less fun and are just single or dual colors. Others are much more interesting. There's a cow print, one that looks like a sports sock, crazy asymmetrical stripes and zebra stripes. You can see roughly what it'll look like on the site, but since it's hand-poured they're not all going to be exact. The rainbow levels on mine are not quite as uniform as the one photographed for SheVibe, but they're unique. I've seen photos from BS on Facebook where the rainbow levels were more uniform and more thick, going a little farther up. I'd say that the only thing I would improve about the designs where it encompasses the base, is to bring that design farther up from the base just a bit, maybe a half-inch or so more than mine show? When I put my Rainbow G-Spot in my Aslan Leather Harness, most of the colors were hidden, and it didn't quite fit right in this particular Aslan style. If you want the BS dildos for use in a harness, I'd suggest that they will look best and work better with harnesses that are more minimalistic, or at least don't have you pushing the dildo through fabric or leather.  The Aslan Commando harness would be better, as would the Sportsheets ones since the dildo only goes through the o-ring, not the fabric. This might fit RodeoH or Spartparts styles, it's not oddly small or wide, but you'll cover up most of the design by using those types of harnesses. 



The G-Spot style is the only BS dildo style that SheVibe currently carries, but I happen to think it's a pretty good choice. I'm not usually a fan of perfectly straight dildos (unless the girth is the factor) and this heavily curved design combined with a slightly-flat more snub-nose tip (reminiscent a bit of the Lelo Ella, shown below to compare) will be great for g-spots and even prostates. I happen to have the Medium size, which looks like it'll give you an extra inch in length over the small, and a little bit more girth. Honestly the girth is hard to measure. The shaft seems to be 1.3 inches wide and the head juts out a little to be more like 1.4, 1.45 inches wide, but the base widens a little bit on a slope, making it sit less flush against a harness o-ring than I'd like. SheVibe does a pretty good job of measuring the items they list, especially when there are multiple sizes available. For size/shape comparison below, I've shown the BS alongside the Tantus O2 Cush in blue, and a black Tantus P-Spot dildo.


The G-Spot design is just flexible enough for me to be able to straighten it out fully, so for those that really like and almost require a firm curve and specific pressures/angles for g-spot or prostate stimulation might not love this line. The silicone isn't quite as squishy as the Tantus O2 outer layer, but is quite a bit softer and more flexible than very firm Tantus pieces. BS silicone is about on par with Vamp silicone in firmness. For those that like some give and dislike rock-solid materials, you'll really like the BS silicone. It does of course gather up fur/dust/link like crazy.
I actually really like the BS packaging design. It's minimal, yet reusable. It comes in a clear, plastic pouch but it is a very thick mil of plastic, more like heavy plastic sheeting than the bags that a Tantus dildo might come in. And yes, I said reusable. It comes to you like a food item – you tear off the sealed portion of plastic up top and then it has a "Ziploc" style closure for the bag. It's not discreet since it's see-through, but it's great for people who don't have a lot of storage space options and want to put the dildo in something to keep it clean in between uses.


Since it's pure silicone, you'll probably need to use lube with this, the silicone dildos usually tend to naturally create a little more resistance (unless they're super glossy in finish). I'd suggest a water-based lube, pure natural coconut oil, or you can try to spot-test your favorite silicone or hybrid lube on the base. If it gets gummy/tacky in a minute, scrape it off right away. If there's no change, leave it there an hour and see if there's any further change (like the lube gets absorbed). To clean these, you can pretty much do anything. Soap and water for most situations, dishwasher, boiling water, or 10% bleach solution if you're going to use it both anally and vaginally (although never in the same session, please) or share it.
SheVibe.com is becoming known for showcasing the smaller companies, and I think that BS Is Nice offers a few really great choices that are unique. I have a feeling that this rainbow-and-black color scheme will be a big seller. Thank you, Shevibe!!

Read More
All text and images on this site require permission before they can be used anywhere. To obtain permission click here to contact me