Posted by Lilly | 3 Comments
I never owned the original Tor because I'm not a cock ring kind of girl and my husband never was impressed by them either. We were, however, given the Lelo Bo to review a few years ago and while it was seen as an improvement upon the ubiquitous jelly/TPR stretchy, sticky watch-battery jobs the Lelo Bo was underwhelming. The vibrations were surface-buzzy and moderate at best. The design was a bit cumbersome on the Bo: To turn it off and on, you had to slide the hard plastic vibrating portion. This wasn't easy and had the unfortunate side effect of occasionally clamping a pubic hair in. Ouch, to say the least. From what I can see, the Tor model 1 no longer required the vibrating portion to slide for it to be turned on. It had buttons on the side but then pushing one of them meant that it dislodged the movable portion. The other purpose of the movable bit was to conceal the charging jack. Bo and Tor came in a unique and neat little case just big enough to hold the ring, be able to close the lid and have it plugged it to charge (if you set it up in there just right – it was often tricky to get everything lined up "just so"). The Tor II that I have now does away with that plastic case and instead you get the standard Lelo satin drawstring bag. That is a little bit disappointing because the case offered a unique element – the cock ring could be charging while covered up and protected, and then it had a protective yet small case that was great for travel. Of course if you planned on using this for more than 2 sessions then you would have to bring the charger with you on your trip but for an overnight getaway it was perfect.
 Comparing the Lelo Cock Rings: Bo vs Tor vs Tor II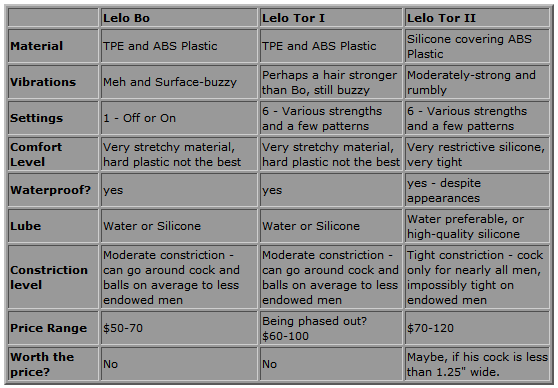 Lelo made a lot of improvements in the design of the Tor II over previous versions. Every complaint I've had or read about (almost) was addressed. More power, yes. Finally getting in line with the rest of their products and made in body-safe silicone? Yes (albeit to its detriment). The plus and minus power buttons are still located on either side of the vibrating portion and do require a little finesse to push. More effort than I think I'd want to deal with, frankly. The design of the ring itself at its core hasn't changed – it's still wide and not really made to work with a clitoris (unless you change your sex position and leave out thrusting) but the vibrations are vastly improved. On the site, the copy says "TOR 2 is the world's first waterproof and rechargeable couples' ring, boasting 100% more powerful vibrations than any product of its kind." Any product of its kind? What does that mean? That's a pretty bold statement to make; are they trying to get you to believe it's more powerful than any cock ring in existence? Or just any "luxury" rechargeable cock ring? Or, as it says on another section " 100% MORE POWER THAN BEFORE". Ok, now we're getting to something quantitative and realistic. Yes I can confirm that the Tor 2 is at least twice as powerful as the Tor 1 or Bo cock rings. If we were to have sex in a position where my clitoris was in contact with the vibrator portion 95% of the time then this vibration strength could be enough to get me to orgasm. It doesn't look like it would be waterproof since there is no cover to the charging jack but it is indeed waterproof.
The deal-breaker on the Lelo Tor II?
It is too tight for my husband – in fact we couldn't even get it on him. He is by no means porn-star huge but he is probably considered thicker than average (I haven't measured him recently but I believe he's around 1.6-1.75″ – eta: scratch that, we measured, hehe. He's not perfectly round like a dildo, more oval-shaped so my estimate was actually right. Circumference would be more telling but I didn't have that tool on me at the time). Lelo clearly needs to take lessons from companies like Tantus and find a softer, stretchier silicone. There is no way in hell that this cock ring will ever be used around both cock and balls, which many men find to be helpful in delaying orgasm. The guy would have to be shaved and possess a thin cock and great hand strength. Otherwise, an average-endowed man who genuinely likes a good deal of constriction at the base of his penis might like this. The photos below show the Bo (in dark blue, shown first in each set) compared to the Tor II in terms of constriction around my fingers. The final photo shows the red marks left on my fingers from the Tor II; also note how red my fingers are overall in the photo showing the constriction of the Tor II.
Care to try this, still? I highly recommend that you keep a small pair of EMT safety shears on hand in case things get dicey and you can't remove it from him and his erection will not subside – after all, the way a cock ring works is by restricting the blood flow, it keeps the blood in the penis so if it is extreme enough it might prevent his erection from subsiding irregardless of arousal. I will also caution you to not dare wear this cock ring for more than 30 minutes absolute tops. When I told my contact at Lelo that the silicone was nice except for the tightness factor, Lelo claimed that their test group had no issues with the tightness factor. If that statement by them is true then their test group was not very diverse in penis size.
So far, this cock ring is relegated to "comparison drawer": The drawer in my office where I keep sex toys that I never use, but like to keep around when I want to compare something to it in the future . I suppose that this could be used if you wanted to turn your favorite dildo into a possible dual-stimulator toy but that's a bit of a stretch (no pun intended). This is indeed made of a pure silicone and it passed the silicone purity flame test; it also passed the silicone lube test with some Wet brand Synergy lube, but please cautiously patch-test with your own favorite, high-quality silicone lube before using it during play.
Read More
All text and images on this site require permission before they can be used anywhere. To obtain permission click here to contact me
Recently I asked you all what you wished you would have known before you bought your first sex toys. One of the biggest things I'd touched on was that back when we first started buying toys there were no bloggers reviewing toys. I could see that a customer named Maria loved it and had great things to say about it, but I couldn't ask Maria a follow-up question. I couldn't ask ANYbody a question on a particular toy. I couldn't really find out if one person's "Wow that's strong!!" was my "Meh…it's so-so".
Now I want to express here that I mean no disrespect to MyPleasure.com and especially Garnet, who works with us irritating bloggers ;)  – it's just that in my sex toy noob days we probably dropped around oh….$300-$350 over a couple months buying sex toys and accessories at MP that ultimately left us disappointed or frustrated or both. We were too afraid to drop $75+ on a better toy and I was still figuring out what type of vibrations I liked, along with being able to tell if something really was "powerful". It's nothing against the site; it's simply what they happened to carry back in oh….2005? 6? And quite frankly, their selection was less iffy than Adam & Eve's selection at that time but also much much smaller; yet both were already leaps and bounds better than they'd been even just 3 years prior. I think it's only been in the last 4-6 years that sex toys have really taken off into the "premium" realm – yes? no?
Anyways. So there we were, looking to make another batch purchase from MP in the quest for more exciting orgasms and we're trying to find things for me and for us. Enter: The vibrating cock ring. In theory it's good. In actual practice it requires two things: for the woman to not have full outer labia and to have a prominent clit; and for the couple to be engaging in sexual positions that maximize body contact  – i.e. something more tantric, maybe, or woman on top with very little thrusting. The key there is: very little thrusting. Because for every outstroke……AWAY goes the vibrator from her clit!!!
We quickly learned two things: A small watch-battery powered bullet vibrator was not going to vibrate his cock enough for me to confuse him with an actual vibrator. And two, half-second collisions with my outer labia wherein 1 out of every 6 thrusts might have landed the bullet in the vicinity of my clit did not have a prayer, not even halfway there, of giving me a clitoral orgasm during penetrative sex with him.
I can't find the exact cock ring that we bought back then, but I think that this one is pretty close, ours was clear. I think it was TPR because I don't remember a jelly stench, but clear stretchy TPR acts like jelly – kind of tacky, it sticks to itself, and it picks up dust/lint/fur. Once I went to pull it out of our toybag, the bullet wasn't inside the little bullet sleeve, and it was this…..unrecognizable mass of clear sticky material in a ball. We finally figured out that if we stuck it under the faucet the water temporarily de-stickied it so that we could untangle it and maybe use it again. I must have tried the thing at least 3 times before it took up permanent residence in a pocket of the toy bag. Long ago I reviewed Lelo's answer to a more premium vibrating cock ring, the Bo. Their updated version, Lelo Tor remedied one or two of my issues with the Bo, but in the end it's still the same concept as the $16.99 TPR jobs – it's not going to provide the clitoral vibrations that I personally need in either strength, type or time length of contact (can you orgasm with a black fly? that's what it's like) so it's something that is more for "him" than "us".
Vibrating cock rings. *shrugs* I just do not get the appeal. At all.
Read More
All text and images on this site require permission before they can be used anywhere. To obtain permission click here to contact me