Posted by Lilly | 4 Comments
Backstory:  I like to flame test my silicone sex toys, and pretty much do it to every item. When the JimmyJane Hello Touch failed my flame test, I first showed it to some other industry professionals and peers at CatalystCon who agreed with my thoughts that it didn't appear to be pure silicone. I then contacted JimmyJane. Due to their response filled with PR fluff-n-stuff, I publicly mused that I wished I could get a real lab test done to see who was right. When a few of my followers responded that they would contribute, I asked a few peers to confirm/deny my sanity and was told to go for it. I very crudely rounded up enough funding to get a basic test done, "FTIR", which would tell me if the polymers were just silicone, or silicone plus something else. This action spurred on something a lot bigger….To those who donated to fund this test, I thank you from the bottom of my heart. Without that initial support I don't think this would have gotten off the ground so smoothly.

The lab test results for the JimmyJane Hello Touch came in on Friday, April 26th. I really didn't think that the test results would show that it is pure silicone, since there were 4 cases of the product being subjected to the flame test with 2 different results. As I mentioned before, I even showed the torched product to a few others at CatalystCon and they also agreed that in their dildo-torching experience, it didn't appear to be *pure* silicone. However, the FTIR test told us that the product contained no other polymers than Polydimethylsiloxane (silicone) with "No evidence of additives or plasticizers". In other words, the flame test failed us – what we had previously believed to be true, which was that a pure silicone item would not go up in flames, is clearly not always true. The flame test is not quite as accurate as we've thought – while I knew that the flame test was never 100% accurate and that it could not serve as the one true answer, the results I received on the Hello Touch really seemed to indicate to the contrary of the purported material listed. I still don't believe that the flame test is completely worthless; I believe it can still weed out the items that some places like to call "silicone" but are clear and jelly-like in appearance. However, in some cases, you won't be able to tell if your item is pure silicone and the only way to truly tell would be to obtain a lab test result. The FTIR told us about the polymers and that there were no additives, but a more expensive test (similar to what CATT ordered) using a GC-MS would tell us better perhaps *why* our flame tests gave varied results.

So in the absence of a truly accurate Home Dildo Test, what is a sex toy geek to do? Call the Dildologists, of course.
I'm not the first person in this industry who has wished for access to a lab to test for material purity, phthalates, etc. I'm just the first sex toy reviewer who actually said "I'm doing this, NOW". My dear, darling Crista has been part of this industry longer than I have, and she even worked in a sex toy store years ago, from clerk to Buyer, so she's seen it all. She knows first-hand, much more than me, the horrid crap that is out there. Around that time is when CATT came together and did their test, and Crista thought how much she, too, would love to do that. TEST ALL THE TOYS! But the time wasn't right.
The time is now right.
The universe said "Do it now" and Crista's partner, Val Orenda, heard it. He saw "PinkSexGeek" in her prime when they went to CatalystCon together this year, and wanted to help her realize her dreams, and be a part of this world of hers. So before I even knew what was happening, as I was asking Val more questions since he is far more intelligent than I could ever hope to be, it all started coming together. Quickly. A name. A site. Registering as a business. A freakin' Wiki. A forum. etc and so on. Val made Crista's dream come true, and their plan will hopefully change the sex toy industry in time.
I proudly introduce to you, Dildology.org.

From their Mission Statement:
The sex toy industry is on the rise, yet it remains largely unregulated. Dildology.org intends to provide material verification services and maintain a public database of the results, adding transparency and oversight to the industry while educating the public about the science behind pleasure products. We stand on our own, unaffiliated and uninfluenced, and we are dedicated to protecting the health and well-being of the dildo-loving population at large through education (and maybe a little entertainment).

We will:

accept monetary donations.
accept product donations from third-party retail stores.
purchase products from third-party retail stores.
choose products to test based on community feedback.
send products to accredited labs for testing.
compare the material composition of products to the manufacturers' claims.
share the results of lab tests with manufacturers.
record the results of the lab tests in our wiki.
make our wiki available to the public.
provide other educational resources to the public.

We will not:

accept product donations directly from manufacturers.
test second-hand products – only those acquired randomly from retail stores.
test any product manufactured more than one year ago.
publish opinions about products or manufacturers – only facts.
falsify data, for any reason.
suppress or fail to publish the results of any test.

Read the whole thing here
Dildology.org is a non-profit organization run by broke-ass people who care, and they need the help of lots of other people who care. So they will run by donation. If you want to help make a difference in this industry, then please donate what you can. Since this will be a years-long endeavor, you can donate a little now and a little later. They don't have any plans to stop. Ideally, they'd like to get 25 toys tested this year, and have a pretty good idea on what most of the 25 will be. You can see the list in the Product Directory section on the Wiki. As you can see, they're not focusing on any one sector or company. They're even going to have a Tantus item tested. They're not always going to be testing things that are suspect. Rather, they are going to be testing a wide variety of materials and manufacturers to amass a directory that will give consumers a pretty good idea on which companies to trust. If you see that more often than not a manufacturer has lied about their material, then you can make an informed decision not to trust their products, if you want. They're not in this to persecute any certain company. They're in this to provide a much-needed service for consumers and the hope is that they will help a few misguided companies as well (in case the results are a surprise to them and they choose to take action at their plant to correct it).
What can you expect from Dildology.org? Everything they do at Dildology will be in the name of science, and science cannot have a bias. All personal affiliations, opinions, etc will be tossed out the window. We will simply acquire the data and present the data, nothing more. The data will be available for sex-positive boutique stores to eventually use to help their customers feel safe in choosing reputable toys, and help the retailers feel safe in recommending a great dildo. The data will also be there for bloggers and reviewers to refer to, as well as the average consumer.
~  ~  ~  ~  ~  ~  ~  ~  ~  ~  ~  ~  ~  ~  ~  ~  ~  ~
We can cry out for the industry to be regulated by our government, but really what will that get us? A higher priced dildo. A "luxury sex toy" that costs double what they do now, and their current costs are already prohibitive to many. Sex toys that take twice as long in development resulting in fewer, quality new sex toys being introduced to the market every year. When you bring the FDA to the party, you get mountains of paperwork, costly fees and annual 3-4 week-long audits to retain your FDA classifications. The better solution just might be to let the industry self-regulate, but with a little help from a neutral party.
I encourage you to share this post, write about Dildology.org on your own blog, link to it, follow them on Facebook and Twitter and just in general spread the word to as many people as you can. The bigger the media attention is from bloggers, the better chance they have of being written up in larger online mags, which betters the chances of raising the money  needed to get started on testing toys for you.

 ~  ~  ~  ~  ~  ~  ~  ~  ~  ~  ~  ~  ~  ~  ~  ~  ~  ~
Want to make a difference? Dildology.org could really use your help:
~ Donate money* – without it, they won't be able to test much
~ Spread the word – the more media attention they can get, the more donations they can get
~ Incentives for donations – these can be "limited quantity" but please, no sex toys
~ A lab – the current lab is small without the ability to cut a price break. Currently an FTIR costs $200, while a GC-MS costs at least $400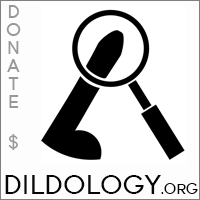 Read More
All text and images on this site require permission before they can be used anywhere. To obtain permission click here to contact me
Posted by Lilly | 15 Comments
Before I even write anything about CatalystCon, I'm writing this post because I feel that this information is too important to wait.
We all were once ignorant about sex toys, because the truths were never talked about. Truth, fact and education is slowly being spread around in the hopes of a revolution. I'm playing the small part that I can, and sharing with you everything I learn. Many fellow bloggers know this now, but a lot of consumers do not so I will say this for the benefit of all: there are no regulations on sex toys. None. You have one method for safety, and that is to buy only toys made by a trusted company. But this whole unregulated thing goes far deeper down the rabbit hole than I realized. I learned so much at the Toxic Toys panel, and this post is about EDUCATION. Is it scary? Yes. Does that mean it should be covered up? No. Never. On this blog, I'm sorta like The South:
"I'm saying this is the South. And we're proud of our crazy people. We don't hide them up in the attic. We bring 'em right down to the living room and show 'em off. See, Phyllis, no one in the South ever asks if you have crazy people in your family. They just ask what side they're on."
— Julia Sugarbaker, "Designing Women"
I'm bringing this crazy, and scary, information out to the front porch, not just the living room, and giving it a cocktail. I'm waving the banner high and I'm asking that you read it, learn it, and make changes to keep yourself and others healthy. Because there are wonderful, safe sex toys out there: Silicone, Glass, Stainless Steel, even hard Plastic. And wood!
The 10% Myth
There is a "fact" that has widely been spread around between reviewers, blogs and social media, like a game of telephone to the point that we don't even know its origins, that a sex toy need only contain a minimum of 10% in order to garner the use of the word "silicone" on the packaging. During the Toxic Toys panel at Catalyst, Metis and Jennifer of Smitten Kitten confirmed to us that the 10% thing isn't even true. There is NO regulation, so why would there even be that? But really, regardless, whether there is 10% or 50% silicone, there is still a percentage of that item that is something like elastomer and is therefore porous to some degree; and while it's not likely, it may even contain phthalates or heavy metals or VOCs. Might. If they can and do lie on the 100% silicone claim, what else are they lying about?
Bottom line: A company could have the manufacturing plant in China put "silicone" on the label when it's far from silicone. Nothing and no one can stop them.
Except…for us. Consumers would have to file class-action lawsuits against a sex toy company who mislabels.  WE CAN START THE CHANGE.
April 8th: Edited to add: In research trying to find out what exactly is the bizarre material that Screaming O calls SEBS I happened upon my old review for their unfortunate Studio Line MakeUp Brush Vibrator, which was my first foray into the world of failed flame tests. On my review at EF, another reviewer noted that while I was panning S.O. for calling it plainly "silicone" when it is not, that she was told it was "SEBS", I contacted Screaming O and received this response: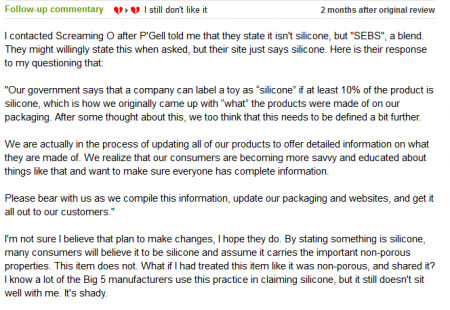 No, Screaming O, "our government" doesn't say SHIT about sex toy material listings. You can see, then, how easily this myth got spread around.
Phthalates-Free! Really?
So if there are no regulations on the silicone thing, can they lie about the phthalates-free claim, too? YES. Nothing on that packaging has to hold a grain of truth. NO REGULATION. I asked because my Sex Nerd Spidey Senses went up a year or so ago when I was doing some work for a new sex toy retail site and saw that a lot of cheap, crap jelly, PVC, UR3, and Cyberskin sex toys made by the big companies all of a sudden were labeled as phthalates-free – simply because this had become the big buzz word that consumers were responding to. It is not the only toxic element that can be present, but it is the one getting all of the attention because phthalates are banned from children's toys, dog chew toys, etc.
The Brand Thinks it is Silicone
It's simply a fact of the industry that the vast majority of the sex toys are being made by a third-party plant in China because this is where it is the most affordable to do so. This is mostly true for vibrators, anything containing electronics, moving parts, etc. So the brands/companies go to China and find a plant and they agree on a material and formulation, etc. They can tell China that "Hey I do want this to actually be 100% silicone.". The big companies are going for price point – a low one- so unless there is someone in the plant regulating and watching over the plant, that plant may not make the sex toy out of the exact same materials the subsequent times after buyer approval isn't happening.
Phthalates are Not the Worst Thing Out There
Pigmentation can be an issue. The Danish did their big study on sex toys (Tantus Inc. kept a PDF of the study so that you can read it yourself). They took 16 random sex toys and analyzed them. Metis summed it up here:
In 2006 the Dutch EPA did a study where they randomly chose 16 adult toys from a store. Out of those 16 tested 3 had arsenic, 6 had antimony, 12 had lead and 7 had cadmium. Cadmium is a heavy metal. Every time you expose yourself to those toys your cadmium level increases. One of the cadmium toys had levels so high that the EU would have required a radioactive sticker on the product had it known this had been imported into the continent. So what was it? The radioactive sex toy was a Chinese made Slimline vibrator made of safe ABS. The issue wasn't what the toy was made of but what it was pigmented with. This toy was yellow and cadmium was its pigment.
Should you avoid ALL yellow sex toys? I don't know the answer. Cadmium is also used as a plastic softener, so it's not necessarily tied to the color yellow. I also want to point out though that this big test was done in 2005. The sex toy industry has come a very long way in the last 8 years. I would be especially interested to see the same testing done again, now. 
So Now What
NOW how do we, as consumers, protect our bodies?
1. Call the Dildologists. After the writing of this post, a new organization as been formed to serve as an industry watchdog, who will raise money and independently acquire material validation from accredited labs through funding.
2. I can point you again to the flame test; however, this test is not 100% accurate. You can perform this on a tiny little section near the handle, near a part that doesn't touch your body and the results will be quick and obvious. If there is a different method that will be more reliable, I'll tell you. At Dildology, we're also currently working on "Kitchen Tests" that you can perform on materials using items that you may have in your house; when we formulate the tests we will pass the information on to you.
3. Here's a weird test recommended by Ducky Doolittle, also part of the Toxic Toys panel: Lick it. Your lips are very sensitive. If your lips tingle, go numb, etc? Do not use that toy. Your mucus membranes absorb things so quickly, both the good and the bad. A mindframe of "It's just a sex toy that I only use occasionally, and I just really prefer jelly!! But I don't use it much, and it doesn't burn me, so I'm fine!" is not going to keep you safe. A lot of bad things in cheap sex toys won't give you a clear cut reaction, but can indeed slowly cause damage to your body that you don't even know about until it's too late and no one will be able to pinpoint it.
I think you might be reading this and freaking out. I don't want you to stop using sex toys. Just be careful on which manufacturers you buy from – in this post I have listed out the brands that I've researched and found to be reputable. That isn't to say that each one makes only non-porous toys but I believe that, as an example, Evolved, is  trustworthy that their porous TPR toys are still non-toxic. If this changes, I'll let you know. If you get a sex toy that has an odor? Ask the manufacturer/brand. Call them out on it (Consider the packaging, sometimes a smell can be from the packaging – if so, the smell will dissipate after separating it from the packaging for a few days).  Also keep an eye on the Coalition Against Toxic Toys for their recommendations and to Dildology as they begin to build their catalog of results.
This isn't the end, the information here isn't finite. Things are changing, education is being passed around, and reporting will continue to happen. I will keep writing. I want you all to do your research and keep writing. Take off your blogger hat sometimes and put on your journalist hat. YOU CAN DO IT! We can be the revolution, we can be the change.
Read More
All text and images on this site require permission before they can be used anywhere. To obtain permission click here to contact me
Posted by Lilly | 12 Comments
Silicone sex toys are heralded as the most superior sex toy material to many people. Silicone dildos can vary through a range of densities and silicone vibrators can feel plush without the potential for harm (like jelly or rubber). I picked the brain of Metis Black1, the fabulous woman behind Tantus Inc, makers of some very awesome silicone sex toys. She is one of very few sex toy manufacturers that I fully trust to tell me the truth. Get your sex geek on and find out some myths and facts about silicone sex toys!
Myth or Fact: Silicone sex toys will "melt" or degrade if they touch each other while in storage
I own a lot of silicone. Scratch that; I own a lot of quality, true silicone. And I'm not diligent about storage. So if there's anybody who can say that this is a myth, it's me. And Metis. I asked her about this and she said:
I think this came from so many toys that were TPR or TPE that were (and continue to be) mislabeled silicone. Thermoplastic materials melt because they are unstable (they have free electrons that try to bond to other materials). As these electrons leave the toy, the toy disintegrates. No silicone is going to melt. At 600 degrees F it turns ashy. A silicone toy like the O2, with extra soft silicone, may burn off some of the dimethicone – flaming a little and becoming sooty- but still not melting.
So in other words if your silicone sex toy has any issues in your toybox, then it's either not truly silicone or some rogue silicone lube from another toy got on it.
Myth or Fact: Silicone lube should never, ever be used with a silicone sex toy!
99% of the time you will be told that you shouldn't use silicone lube with a silicone sex toy. I've parroted that info as well because it's all I know. However a couple of manufacturers, Fun Factory for one, used to2 advertise that you could use silicone lubes with their silicone sex toys. 
The Metis quick-n-dirty science geek answer:
The only thing that links silicone molecules is silicone so that's why you may need to avoid lubes. The quality of the silicones in the lubricant and in the toy make a lot of difference.
Let's say you really like your silicone sex toys and you really like using them in the bath or shower. Water-based lubes will fail you here. Are you out of luck? Not quite. A higher quality silicone lubricant won't mess up a silicone sex toy - usually (Metis recommends Sliquid and Pjur brands)
Even with these brands we recommend you do a patch test (just like you're supposed to with hair dye): on the base of the toy put a dab of lube and see if the lube gets gummy (it doesn't ever melt). If it does get gummy it will happen pretty quickly and with only a small patch, you can clean it off with your finger nail.
So if it's possible that yes, the two CAN meet, why the drumbeat of "Use only water based lubes!"? Litigation.
It became a liability issue when someone claimed it "melted" the toy as they were playing with it and so the customer went to the hospital. The companies who made the lubricant and the dildo paid that hospital bill and made a settlement; they also started publicizing that their materials were not compatible.
If you purchase both high-quality lubes and sex toys3 then you should be safe to mix, but test it first. I can tell you that the Fun Factory Body Fluid was smeared all over a Fun Factory and 2 Tantus silicone items with absolutely zero reaction that damaged the toy. There was a little bit of a "machine shop" odor though (see really-long-footnote #2 if you haven't already).
Silicone is perfect, it is non-porous and the ultimate in safety! Right?
A few weeks ago I pulled out some travel bottles called Go  Toobs that are a soft, silicone body and plastic flip cap. They boast as being really great for travel. What they don't tell you is that they're using a lesser grade of silicone. It's food-safe grade, which is still pretty good quality, but everything in my travel tubes dried up. I thought, how is this possible? And the woman from the company tells me that silicone is porous. Wait, what? This went against everything I've been told and have told others about silicone sex toys. They're non-porous! Body safe! Yes, they are. For the most part.
Technically silicone has very tiny pores and is virtually non-porous. The pores are smaller than virus' and bacterias- but some smells can be absorbed4. With time those smells will go away- you can try putting lemon juice on it (though I haven't tried it) and see if that helps.
Ok so they can still be sanitized. They're not going to hold onto larger-spored things like mildew, viruses or bacteria. This is the important stuff. An odor can be gotten rid of. Just keep an eye on your anal toys consider 10% bleach washes more often on those.
ETA:Super-soft silicones, like the outer layer on the Tantus O2 dildos, can absorb small amounts of dye depending on the situation. A few years ago it was reported that ForYourNymphomation sex toy cases had a lining with a dye that could transfer to certain toys. The more solid silicones will not take on any dyes but really soft types can. They're still medically non-porous, however.
Myth or fact: If you see a clear (or stretchy, i.e. a cock ring) "jelly-like" sex toy that claims to be silicone, it really isn't
This is fact.
Contact Lenses can be made from silicone so yes it can be ultra clear- however silicone that clear is really hard, brittle and about 10 times as expensive for raw materials. It's beautiful but I've never been able to figure out an application in toys where I could justify charging that much. If it's clear and super stretchy- there is no way it's silicone. Tantus is shortly introducing the first super soft c-rings- they are nicely stretchy. Every buyer who's seen them has been really excited- they are coming out later this month, in about a week. As you'll see however, these rings aren't clear.
Which leads me to the next question…..
How can the consumer tell if their sex toy is truly pure silicone, and not a blend?
Really it's still a buyer beware situation. After we burned "silicone" in Australia a few years back, another vendor friend said his stuff was silicone- I told him it wasn't. I saw this friend's website recently telling me and you that all their crystal clear super stretchy cock rings were silicone. They aren't. China told them they were though, and they seem to be sticking to China's authority. Remember most "manufacturers" don't manufacture anything but package design and sales strategies. Sometimes they do some engineering but often they don't even do that. This allows companies to rapidly enter the market- all they need is a warehouse for storing boxes.
Now, Metis isn't recommending that we all turn into pyromaniacs, but the infamous "lighter test" will work to melt TPR, Sil-a-gel, silicone blends and other silicone-look-a-like materials. I've recently added a post all about the flame test for silicone sex toys which includes video so that you can see exactly what happens with true silicone products vs silicone blend products (which are marketed as merely "silicone") when you light them on fire (or try to).
What do all these words mean, isn't silicone silicone? What makes Japanese silicone better than medical grade and what is platinum? Why do they have to confuse us??
Because they're salesmen? Platinum isn't just a word used for high-selling albums and expensive wedding bands. Metis said first to me, in part replying about the lube compatibility issue that "It's about different chemistry, some lesser grades of materials bonding. Originally it was a Tin not a Platinum silicone (this refers to chemicals that are in the silicone which make the two liquids into a solid– vulcanize it)." But of course you'll never see Tin used to describe a sex toy.
The refining process of making silicone was originally created by GE back in the 50′s and they sold the patent to Dow. Then GE apparently figured out the value of it, and created a totally separate method of processing it. There are several other raw processors who make the base materials from sand, 'silica'. One is a German company Wacker, another a Japanese company Shin Etsu. The only reason to reassure people that it's Japanese or German is because there is inherent quality believed by consumers to belong to products coming from those two countries.
So apparently the general public has been heavily swayed by cars. Awesome. Also? "Wacker". *snickers* Yes, I'm 12.
But on the other side of the naming coin is the trickery used by lesser quality manufacturers to make us think that something is silicone. You may see things called TPR-Silicone, Silicone-Elastomer Blend, SEBS, Cyber-Silicone. These are all terms meant to confuse you, and are likely not real. What would be the point in adding in some (much more expensive) silicone to a cheap and porous material? It won't suddenly make it non-porous. It won't actually provide any benefit. Sex toy companies started to learn that many people want silicone, so they started to come up with clever ways to make it seem like they're giving you something special, when they're not. This material categorization is like cafeteria mystery meat, and hopefully Dildology.org will soon figure out the true nature. It should also be noted that sex toy retailers copy from each other, and that they don't quickly update their information – so if a manufacturer was once using the false "blend" term, and then stopped, the retailer likely won't change. I have seen a lot of sex toys on EdenFantasys labeled as "TPR Silicone" and when you look at the manufacturer's site, they usually refer to it as "TPR"..
Is there a difference between the shiny silicone, the matte silicone, the stuff they stretch over vibrators, etc?
Yes and no. I started off comparing things like the shiny and hard Feeldoe to the matte texture of the soft-exterior Cush O2. Metis said:
Matte silicone just has a different finish on the master or the mold. Molds on the Feeldoe, for example, are highly polished. The difference with the Cush is that the super soft silicone has a different chemistry- it has more of the silicones that are in lube, making it a little less stable (with silicone lubes). 
Ok but what about the silicone that gets stretched over mechanical vibrators?
The silicone on a Lelo, or a WeVibe, etc, is an injection material that needs heat in order to cure. You can make dildos with this material too but it's a process that is much more effective with thin small amounts than with larger amounts.  You can tell a silicone toy that is injected like this because the molds have parting lines with small tolerances. Most of Fun Factories designs are made this way. Vixen and Tantus' products mostly aren't. The silicone again for both processes is very safe and stable.
I've also recently (after writing this post) read about Lelo's silicone process. They coat their items with something called SST (Silicone Soft Touch) which aids in lending that powdery-silky feel. I know that a lot of other luxury silicone toy companies use this product (it's basically a liquid silicone that is also body-safe) and so when you flame-test these toys you'll get a different result than when you flame test the shiny/sticky silicone products. You can see in my video of flame testing that items coated with SST will show a scorch mark that rubs off whereas other non-coated silicone products develop a pale ash, from the dimethicone burning.
Myth: Silicone doesn't feel as "realistic" though as Cyberskin/Jelly! Silicone isn't as fun/sparkly! Silicone is expensive!
I hear too many people trying to defend lesser quality materials with arguments like these. Silicone doesn't mimic a realistic feel or look? Sometimes it does, sometimes it doesn't. Mentioned before, the Tantus O2 line is a dual-density that has a really firm core with a layer of plushy silicone over top. Vixen Creations also makes some very realistic dildos. Two things though that these manufacturers won't have in the "realism" department that a gross rubber/cyberskin dildo will have: multiple colors for a realistic skin look (i.e. painted-on veins and a pink cock head) and/or fake pubic hair. I mean, if you really have a burning need for that dildo to fool you into thinking it is a magical, dismembered human penis then I can't stop you. But that fake pubic hair will trap all kinds of gross shit and the painted-on realistic features? That will wear off after awhile. Where is it going???? Think about that one. Silicone might not be clear and gem-like, but they can certainly add glitter to it. I've seen both Tantus and the almost-defunct Jollies LLC do it.
People will also complain that silicone toys are too expensive. I know, they can be. Some manufacturers exploit the whole "luxury sex toy" angle. But there is a valid reason why silicone sex toys cost 2-4 times the prices of jelly, rubber or TPR. And frankly if after reading this whole post you don't understand why……then I give up! But if you are on a super-strict budget, just watch for sales or keep an eye on the closeout bin at Tantus.
 ~ ~ ~ ~ ~ ~ ~ ~ ~ ~ ~ ~ ~ ~
So have you learned a lot or are you more confused? For me this reinforced my thoughts that when you're buying silicone sex toys (which you always should, in lieu of jelly, rubber, cyberskin or PVC/vinyl) you should be purchasing them from a reputable company who isn't just going to trust what China is telling them. Is China bad? Sometimes. Not all the time. It's more on the manufacturer to do their quality checks. And, by the way, Tantus isn't made in China. They're made in the US, in their own shop and Metis knows everything that goes on. They are never in the hands of an unknown mass production company. Thankfully Tantus is not the only sex toy manufacturer that is knee-deep is quality checks, but sadly they're still in the minority.
Read More
All text and images on this site require permission before they can be used anywhere. To obtain permission click here to contact me