Posted by Lilly | 10 Comments
About 3 or 4 months ago I was looking up something on the We-Vibe website and I noticed that while some of the icon links to the Salsa/Tango still existed, you couldn't see the Salsa on their page anymore. Just the Tango. I had my suspicions that this meant they were discontinuing my beloved Salsa. I reached out to them first on Twitter for confirmation, and didn't get a response. After about a week, I tried Facebook, I posted my question on their page. No response. I let it go for another month or so and decided to try asking again. Yet again, both inquiries on Facebook and Twitter were just flat-out ignored. What is the point of having social media accounts if you ignore people?
Last week then I decided to contact them directly, and sent an email via the site.
Hello. I have tried numerous times to reach out to your company on social media sites like Twitter and Facebook. All 4 times I've been ignored. I see on your site here that you do not show photos of the Salsa anymore, you just talk about the Tango. Since the shape of the Salsa is the one I recommend slightly more (it is versatile in replacing anything that uses an RO-80mm bullet, for example), I am wondering if you have discontinued it and if so, why. The colors are great!! Many users are not feminine and appreciated the gender-neutral color scheme. 

I'm a sex toy reviewer/blogger and  I'm probably one of your loudest supporters of the Salsa & Tango. I recommend them to nearly every person who contacts me for sex toy help; I tell retailers who want to work with me to carry them, and I compare every other clit vibe (and sometimes even internal vibes) to the Salsa & Tango. They've quickly become my only vibrator needed and Holy Grail. Suffice to say, I'm quite disheartened that my simple questions about product discontinuance are consistently ignored on social media. I'd like to properly alert my readers to purchase Salsa wherever they see it if my assumptions are correct. Can you please respond and let me know??

Thanks
Lilly
Their response was quite….lackluster.
Dear Lilly,

Thank you for contacting We-Vibe Customer Care.

We have consolidated our product line and as such the Salsa is no longer in production, though it is still widely available in many retail stores. The Tango and the Salsa are virtually identical with the only discernible difference being the shape and the colour. The Tango proved more popular than the Salsa, though the decision to stop producing the Salsa was not based on gender preferences but rather on sales.

Best Regards, 
Customer Care
*blinks* No apologies for the lack of response time and again on social media sites, not even a "Thanks for recommending our product, glad you like it" half-hearted attempt at giving a shit. Call me naive but I'm surprised. Hell I've had a more personal and heartfelt response from Doc Johnson. I think Tantus is likely a bigger company than We-Vibe but Tantus goes out of their way for superb customer service.
I'll still continue to recommend the Tango, although it will be with a tiny bit less enthusiasm than the Salsa (even though, yes, they are virtually identical, the only difference being color and tip shape). However I will recommend the Tango only because I love the vibrations, not because I love the company.  I'm so damn sick of "girly" shades of blue, pink and purple – the red, black and white of the Salsa were such a welcome change.  So buy up the Salsa when you see it if you think you prefer the color and/or tip shape. At least on EdenFantasys, you'll be able to tell if they're truly out of stock or finally discontinued – I've shown examples below, the left is the Salsa out of stock til Feb 4th, the right is a Liberator product that they no longer carry.
RIP, Salsa.
On that note, I'd love love love to giveaway a Salsa or two to my readers as a proper send-off for my most-loved vibrator ever. If anyone would be interested in sponsoring such a thing, please contact me. 
~ ~ ~ ~ ~ ~ ~ ~
Update:  Standard Innovations Marketing has contacted me and apologized for the lack of response on social media sites and has said that they will be improving their online presence drastically. I really do hope so; in this age, social media is huge and it's often the place where many people go to first for customer service.  Unfortunately our collective sadness over this discontinuance can't stop the 'wheels of progress', we can't save it like a petition for a TV show. SI said: "With regards to the Salsa, we too are sad to see it go, but as our brand evolves we needed to make space in our line up for future products. We also appreciate your feedback with regards to colour. This is something we will seriously consider when developing new products." So I do hope that they continue to expand into more gender-neutral colors. In regards to the Salsa, I will be sent a whole case to give away as I see fit! I'm still sad that I won't be able to recommend it to all my lovely readers BUT I'm thrilled that at least a few more people will be able to own one. I just need to figure out how best to go about doing it. I'd really like to see the Salsas end up with people who are like me, who have been searching and searching for a clitoral vibrator that has the power and depth we need. I've reviewed or owned over 100 vibrators and the Salsa/Tango wins, hands-down, above everything that I've tried.
Update 2-7-13: EdenFantasys has it back in stock finally, and until the 15th you can get it 25% off (use couponcode Hot4YOU). Who knows how long they'll have it or how many they have/can get. I wouldn't wait.
Read More
All text and images on this site require permission before they can be used anywhere. To obtain permission click here to contact me
Posted by Lilly | 5 Comments
Regular readers of this blog have likely noticed that there was a sudden rash of sex toy reviews recently posted. Yeah it's my blog and I can do what I want, but I do want to mildly apologize because I don't like it being that way, that high ratio of reviews to regular posts on my blog. MY blog, not other blogs. Just sayin', I'm not saying I hate it when other blogs post that way.
K?
K.
I do have good reason though. Part is due to my writing funk in April, I couldn't fucking review toys. I just couldn't be arsed to do my usual reviewing. And since I fully believe that the whole damn point to me reviewing them is to cover all pertinent information so that a potential buyer has all the information they need, I didn't want to do a short post or a half-assed review. Yawn, right?
The other part of the reason is that I'm changing who I review for. I know personally quite a number of other bloggers who review and they review for a number of companies – anywhere from 2 or 3 up to 6 or 7. But I'm getting picky. My god am I getting to be a picky little bitch. No jelly/rubber toys. Nothing from Doc Johnson, or Topco, or the awful California Exotics. And I won't bother to review a toy that others have reviewed and have said it wasn't powerful enough. If nothing else I have learned that if ANY other reviewer claims that the toy isn't powerful enough to get them off, it surely will not get my clit-o-steel off.
The manifestation of my pickiness then is coming out in multiple ways.
VibeReview – while I still think they're a great company, just doesn't have a decent selection of things *I have not tried*. I don't want to imply that they don't stock much in general. But it's time for me to move on from them for now, with fond memories of them being the first ones to let me review toys.
Babeland and Sextoy.com – I had a lot that I wanted to say, but the diplomatic polite side won out. I will leave it at this: I had minor "affiliate/reviewer" issues with both companies, multiple minor things over time and it all added up to "stop". Also with Sextoy.com, they have not become the site I thought they had the potential to be, back when I first reviewed the site. Too many products, from too many suppliers, and not enough focus on quality over quantity.
There were other retailers that I had sporadically reviewed for or reviewed for once, that I'll also not be continuing with simply for the fact that I wanted to pare down.
While I decided against publicly airing my issues, if anybody, reviewer or buyer, wants to know more about the whys – email me.
I plan though to stay on as affiliates of these companies, so I will still get credit if you buy things via my links.
The other side of this change now is that I'm only going to be reviewing for one retailer exclusively, and that is EdenFantasys (didja notice the cool banner that I MADE over there in the sidebar, eh eh?? I think it rocks, frankly, and that I was able to make it change photos. I liked doing it, it's personalized to my site). I know that a couple of bloggers had major issue with them last year. While the company is still owned by the same person, there were TONS of staff changes and other changes, and I'd like to give them the benefit of the doubt, clean slate, etc etc and so on.
I'll also be occasionally reviewing items directly for Liberator.com.
This change up means that I'll be doing fewer reviews over all. For those that don't care much about reviews, it's good news! You can also expect that some reviews will be in a more fluid format, less "inside the box" kinda like this (awesome. hot. steamy.) review that Sinclair did recently.
Read More
All text and images on this site require permission before they can be used anywhere. To obtain permission click here to contact me
Posted by Lilly | 36 Comments
As you can see, I still am lacking an erotic muse (ahem hint hint). There are no good-quality HNT pics this week. I haven't even posted since Friday. I just can't write. I have a wisp of an idea or two but the words won't come.
I've filled my time up with attempting to muddle through CSS code, I'm working on a new theme for the blog. I can't create one from scratch so I picked a "good enough" one and then made some Photoshop magic – it looks nothing like the original, graphics-wise. The CSS tweaking is font and color and so on. I screwed up a bit earlier, one damn "}" messed up the whole deal for awhile until Coy Pink's hubby Alec found it. I always did suck at programming.
Another thing I've filled my time with is getting the ToySwap Network up and running. This is something Sinclair Sexsmith and I created over at Ning.com, which allows you to create your own group/network that can be public or totally private and hidden (the route we went) and it works a lot like Facebook. So far things are going well and it's my little pet project. Ever since the ordeal a few weeks ago at Swap-Bot, we've been cautious but not given up and now the project is seeing the light of day! Our peers are joining and soon we'll be happily swapping away our unwanted review items.
So anyways, on to my half-assed HNT. Or should I say, half-boobed.
Most of my sweaters/shirts/tops are V-neck. Yeah I like to show a lil cleavage, but it's also a more flattering neckline for me and my size of tits. Some days though….well, the office gets an eyeful if I am not careful with the combo of what top and what bra I wear.
Monday was the prime example. A sweater that's too big and baggy on me, and my pink bra.
So I twittered a pic of my cleavage, and then I was privately dared to twitter a more risque office pic. You guys know I don't like to turn down a dare so long as it's feasible! Most of you know how busy this office is and how frequently people walk by my desk. Thank fuck there's no one accidentally caught in the corner of this photo!!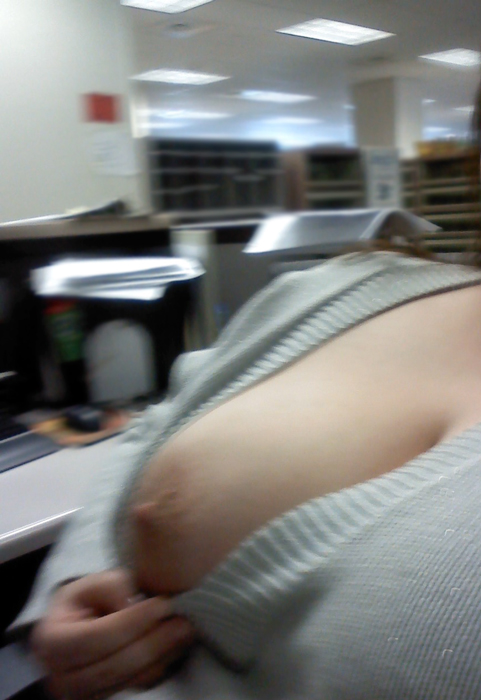 {click for another flashing – that elevator moves quick when you only are travelling 3 floors!!}
Read More
All text and images on this site require permission before they can be used anywhere. To obtain permission click here to contact me