Posted by Lilly | 6 Comments
"Lip plumper" products exist to add a supposed extra little bit of fullness to your lips. Many don't work very well. Some, like this one that I own, work almost too well but only for a short period of time. It's the Too-Faced brand Lip Injection Extreme and ooohhh boy it is extreme for a few minutes. I have never had the nerve to apply this elsewhere – actually I never thought to apply it elsewhere until my mind went in the gutter today – but I have to wonder what would happen. I tried the product out on the back of my hand and it didn't do anything. On my lips however…well you can see the difference below. It's not so much an added fullness that I'm paying attention to here (because that's minimal), it's the color. See that color difference? That's not lip gloss coloring. That's the effect of the lip plumper – it "increases blood flow". And it fuckin HURTS. I have to take caution not to apply too much at a time (despite the label saying to apply generously) because it can get to be too painful for me. The pain only lasts a couple of minutes but it's a burny/tingly pain that can alarm you at first.
Ok so it doesn't work on the back of my hand. But I bet it would have the same effect on similar skin tissue….say…clitoris? Oh if it did that would be deliciously evil to do to someone. The ingredient that causes this rush of blood flow is all natural from what I can tell so it shouldn't cause any harm. But if you enjoy pain…..this could be interesting.
Please do check out the other Wanton Wednesday players and show them some love. Join us, we don't bite ;)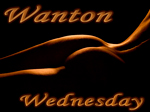 Read More
All text and images on this site require permission before they can be used anywhere. To obtain permission click here to contact me