Posted by Lilly | 4 Comments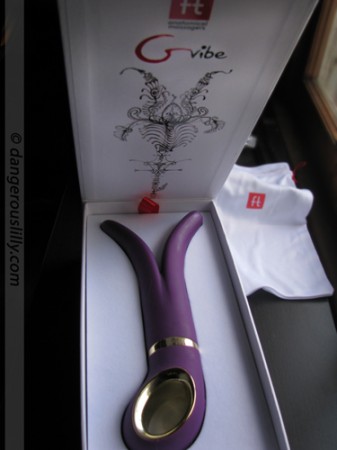 A few years ago a new concept in dildos arrived, called the Split Dildo. The reaction was as split as the sex toy itself. I've read polarizing reviews of both adoration and contempt, so when I was asked to review the Funtoys G-Vibe I figured I would land firmly in love or hate. I was a little nervous at first. I expected a lion, however, and got a kitten. 
I've never tried the Split Dildo but it seemed that the dildo was not modest in girth, and according to Kara Sutra required quite a bit of pressure to keep the "ears" together and was something you definitely felt. Unfortunately, the G-Vibe is….boring. It looks like a nice luxury vibe; in fact the stylings look a lot like the first Lelo Insignia line. The silicone is even the same as Lelo, with a matte silky finish to it. The buttons are nearly identical to the Lelo Insignia line and the vibrations even remind me of early Lelo and the Insignia Isla – very surface-buzzy and moderate at best. More bark than bite, actually – sure it's "quiet" but it's not "nearly silent", yet even so the noise is more intense than the vibrations. There are two motors, one in each tip. At high speed the vibrations may fool you into thinking that they have potential, if you barely touch the thing, but any pressure at all gives you faux-vibrations. I've experienced this before in toys: the Extase Liberte, the original Lelo Tiani, and the Picobong Honi to name a few. It has the sort of vibrations that force you to try the patterns hoping, in vain, that the rapid-fire changing of the motor will give you something that maybe feels like a little more oomph. And in fact the final pattern does. Those staccato every-3-seconds bursts of just enough more intensity end up frustrating you more than anything.  It tells you that the motor might have had the potential to ekk into the realm of rumbly but stopped 2 miles from the border.  Funtoys describes the G-Vibe as having "six modes with changeable intensity from light tremors to intense vibration". The "intense vibration" part of that statement couldn't be more wrong.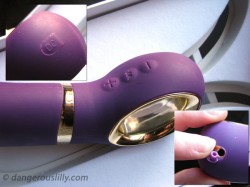 The "intuitive controls" are just fairly average. An increase button, a function mode button to change between patterns, and a decrease button. Standard. The buttons are in a good place on the handle, maybe that's what they mean? There is no button-lock feature, either, like Lelo and a few others. Also take note of the fact that the G-Vibe is merely water resistant. This confuses me greatly. The charging port cover is a silicone plug in the hole – a similar design to Lelo and many other makers of luxury vibrators. Hell, the Lelo Tor II has a completely open charging cover and it's labeled as waterproof! Be that as it may, I'm not one to doubt what a manufacturer says. But if they want to get into the luxury sex toy game, then they need to make it waterproof. It's one of those features that people who don't masturbate in the shower/bath (like me) don't care about but it doesn't take away from what we DO like; and there are plenty of people out there who do really enjoy their playtime in the water. Speaking of the charging port, you should initially charge the G-Vibe for 8 hours. It's said that you will get 4 hours on a single charge, but I would imagine that for at least 2 of those 4 hours the vibrations will be greatly decreased from the pittance they already are. 
The ears might look intimidating, especially if you use both of them internally, but they are very very pliable  and soft. In fact, I'm almost willing to say they're just too wimpy.  The design is flexible and Funtoys thinks that you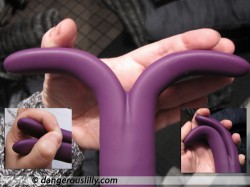 can use this design for lots of various methods of stimulation. But the fact is, the vibrations are not enough and the split portion doesn't do what it should – which according to their site, it should "create a sensation of fullness without stretching the vaginal entrance" and "Simultaneous stimulation of 2 spots:  G-spot and the opposite side of the vagina" – which, in case you were wondering, the "opposite side of the vagina" spot1 has a real name: perineal sponge. But since the ears are so pliable and the split requires very little pressure to stay closed, I don't really feel what the company  advertises. Perhaps it was because I wasn't aroused enough for the PS-Spot to want any attention but the bit of vibrations that I felt on the posterior vaginal wall just made me feel a little like I had to poop. My g-spot requires a decent amount of pressure OR an intense level of thuddy vibrations, neither of which the G-Vibe could ever come close to offering. 
With my skepticism firmly intact I tried to use this as a dual-stimulator in the traditional sense. While the upward-facing ear did actually touch my clitoris, the vibrations, lack of pressure and slim profile meant that I felt very little externally or internally. I decided to go about trying the other suggested uses Funtoys came up with.Sure, it feels slightly different from a straight dildo of the same width, but I don't feel any sense of fullness nor do I feel enough pressure on either the G-spot or Perineal Sponge to register as anything special in my brain. Despite this, it doesn't mean that it's easy to insert. You still have to hold the ears together at the tippy top, you cannot just jam Squidward here into your hole and hope for the best. This maneuvering means, for me, awkward and uncomfortable positioning contortions.  In fact it was damn near impossible for me to insert this. I had to contort and reach to basically shove my fingertips, along with the tips of the vibe, up inside of me to get it started.


Drawn images are property of Funtoys.info


No? Well how about…..


Drawn images are property of Funtoys.info


First of all, my nipples don't meet up like that. Second, when you try to hold it like oversized chopsticks or the JimmyJane Form 2, something curious happens. It sounds like the same "fatal flaw" that was described by many Form 2 owners – when pressure is applied disproportionately to the two ears OR applied mostly equally and the toy is held handle facing the sky, the vibrators in the ears get kicked out of cycle and almost form their own bizarre pattern. It's no longer a steady vibration. 
Ok then.
Moving along.
 The G-Vibe comes in 3 colors – if you don't like pink or purple though, you're out of luck. The packaging is indeed very lovely to look at, even if it's not very discreet for storage. When you open up the box the vibe sits in a foam-like cutout – the glue that is used in this bit (my best guess anyway, is glue) has a subtle but offensive odor to me. I can smell it on the vibe despite washing, and I can smell it on the included storage bag. The bag is drawstring and made of white nylon, it feels quite nice. It does have the Funtoys logo, "ft", which is discreet.  The included charger is USB-only. I enjoy the *option* of USB, but I don't want it to be the only way. Luckily I have a couple USB-to-wall-plug thingies and that works too. 
 At the end of the day, I just couldn't get into this sex toy nor would I recommend it. The vibrations would have to be more like the We-Vibe Tango or hell even the Je Joue MiMi for me to even consider recommending it.  Perhaps with truly thuddy-rumbly vibrations that have more power, the stimulation of the G-spot and PS-spot could be felt but as it stands now it was nothing to write home about.  While a few people did seem to enjoy the intense pressure from that Split Dildo, the G-Vibe takes caution to the extreme and instead leaves you wanting something more from the split internal portion. 
Until I did my research on split sex toys, I had no idea about this arousal spot. OF COURSE it must be added to the litany of Alphabet Spots. Most often it is referred to as the PS-Spot.  Sadly in their drawings, Funtoys just lists it as "P" to which I first thought "um….we don't have a P-spot". ↩
Read More
All text and images on this site require permission before they can be used anywhere. To obtain permission click here to contact me
Posted by Lilly | 2 Comments

Entirely too long ago I received the Spirit vibe from Leaf to review. I sometimes wonder why it takes me so long to write certain reviews while others seem to write themselves, and I realized why: When I don't love or hate a toy, I find it hard to know what to say. And that's the problem here; I don't love or hate the Spirit.
Spirit is tiny; smaller than I expected. For some reason I expected it to be more along the lines of the Layaspot in size, but it's actually a little smaller than the Je Joue MiMi and definitely smaller than the We Vibe Touch. Which means that for some people it could easily get misplaced. Of course that bright, spring-green color would make it more difficult to lose it.
Green Squared
The entire Leaf vibes line is touted as being "green"; not just green in color (as it's the only color option available) but environmentally-speaking a "good idea". The thought is that silicone rechargeable vibrators are more "green" since there are no disposable batteries. Of course, one argument is that disposable batteries can be recycled or simply tossed in the garbage with no serious effects to the landfills  while very few people would ever recycle the rechargeable portion of a vibrator (mainly because you'd have to recycle the whole toy and there aren't a lot of sex toy recycling places out there, plus it's a bitch to get the battery out of the toy). Another way that Leaf is pushing the green aspect is in their packaging, which gets met with some argument as well. The box is all recycled cardboard; it's heavy and sturdy cardboard though, with a magnetic closure so it would be great for storage. It's not a 100% discreet storage option but yet it doesn't use the words "sex toy" or "vibrator" anywhere on the box. Instead it says "Natural Pleasure". The included storage pouch looks like hemp but is probably just cotton canvas. The only plastic to be found was the plastic bags used to contain the vibe and the charger. I think that overall there is a step in the right direction for being more environmentally conscious and not just for being a silicone sex toy.
Powered by PowerBullet
The reason I was so interested in the Leaf line was because the motor is "Powered by PowerBullet"; The Jopen Vanity line is also made with PowerBullet motors and since I adore my VR6 so, so very much I had high hopes for Leaf Spirit. After I did some research, though, I found out that only one other vibrator (not something made by a US-distributed company) powered by PowerBullet is as strong and rumbly as the VR6. Ah well. This isn't to say that the Leaf Spirit is weak; it's not. It's really got quite a punch. In fact I'd easily compare it to the Je Joue Mimi. I'd say that the We Vibe Touch is perhaps a bit more powerful (there is one caveat to all three of these, which I'll get to in a minute) but the We Vibe Tango & Salsa are more powerful than any of the aforementioned three vibes. The reason for this is because the Spirit, MiMi and Touch all have what is, to me, a fatal flaw: as soon as pressure is applied to the vibrator or it is surrounded by flesh (hello, fleshy labia) the vibrations greatly decrease. They go from deep and rumbly and powerful to almost surface-buzzy and moderate. It's a huge let-down. This could be happening with the Spirit because it is so small. Perhaps a larger model would fare better because there would be more space to hold it (holding it firmly is also "pressure" in terms of muting the vibrations). But if I had to quantify the difference, I would say that the Leaf Spirit is 3 times more powerful when you're just barely holding it compared to if you have a good grip on it and/or are applying pressure (you'd likely require a good grip on it if you get it slick with lube or body fluids).

I'm also a little disappointed that when it's not in use the Spirit doesn't hold a charge very well. It has an impressive Run Time vs Recharge Time ratio: 2.6 hours of run time for only 2 hours of recharge time (according to the company). Many rechargeable sex toys require more charge time than you'll get in play time.

Like all luxury sex toys, the Leaf line is covered in pure medical-grade silicone and is very body safe. It's waterproof, great for travel and the curved shape of the Spirit would work well laying against your pubic mound during penetrative sex.  Due to the small size of Spirit, the whole toy vibrates but the motor is located in the tip. There is a seam in the silicone skin but only the most sensitive people would feel it. Spirit has only one button so it's easy to use, yet if you want to go down a step in power you have to cycle through and turn it off, first. I'm not a huge fan of that. I also think that the vibe itself would be more aesthetically pleasing without the abundance of required markings on the top, but they are sadly required to be there by law. They do blend in and might even add just a hint of texture for holding on to it. The silicone skin covering the hard plastic toy is the silky soft type and so it's not a huge dust-magnet like We Vibe silicone can be.
Final thoughts
Would I recommend this? Eh. It depends. If you don't like pressure with your vibes, or you don't require a very powerful vibe and you adore the smallness and the green-ness, then yes. Otherwise? I'd probably recommend something else for the money. Cute only goes so far in my book.
Click here to read about the properties of silicone sex toys and care & cleaning  |  This toy was provided in exchange for an honest review
Read More
All text and images on this site require permission before they can be used anywhere. To obtain permission click here to contact me
Posted by Lilly | 3 Comments
Subtitled: When you're right, you're right or I should listen to my gut more
Once long ago in Babeland I fondled a few JimmyJane vibrators and was summarily unimpressed. I read a litany of mixed reviews from the entire spectrum of "LOVE IT" to "DIE IN A FIRE" and had figured out that JimmyJane's Form line was largely overpriced "luxury" crap.
I was right. At least I got that goin for me.
I had an opportunity to grab the Form 6 and Form 3 from Red over at ToySwap (along with the now-defunct Cone vibrator and a Metal Worx "steel" dildo) and even though I knew I was probably going to hate them I JUST HAD TO. The things I do for you guys.
JIMMYJANE Form 3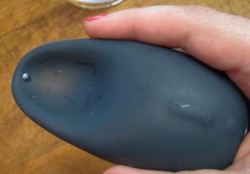 In case you've been living under a rock, the innovative design of the Form 3 is supposed to combine your finger with the vibrator for "enhanced touch"1. Except…it really doesn't. The motor is in the body of the vibrator, which is the lower half. Then the silicone forms a scoop that is just a silicone extension, sort of like a Rabbit Vibrator on steroids. The material vibrates but the portion where the motor resides isn't what you press to your clit. You can put this "lip" or tongue or whatever sideways between your labia for a meh amount of vibration. But the design's intention is for you to push your finger in the center there. The silicone in this section is a membrane and it feels like pushing in on a balloon. The problem is that as soon as you do this….and you touch your silicone finger to your body….the vibrations are practically nil. It's a pretty simple theory as to why the vibrations are not being transmitted: it's a piece of silicone material being vibrated by a distanced motor and as soon as you apply enough pressure, the vibrations nearly stop transmitting through the material altogether. To push through the membrane and have your finger-via-silicone touching your clit or your partner's clit requires a lot of pressure. If you have any strength issues with your hand, any physical disabilities, etc you will probably not be able to use this. Arthritis? Carpal Tunnel? Tennis Elbow? FORGET IT.
So you turn the Form 3 on and you're thinking "Hey…this seems pretty powerful!" and then you lightly touch the thicker sides of the scoop/lip/tongue and they're "ok" but then you add a little more pressure and 60% of vibrations have left the building. You then awkwardly push your index finger through the silicone and suddenly 90% of the vibrations have left the building. I found myself grinding the rigid body of the Form 3 against my clit just to feel something. Except that it's surface-buzzy for the most part. Definitely not deep or rumbly like the We Vibe Touch. The controls on it though are easier to use than those on the Form 6. Press "+" to turn it on and go through the 5 levels of vibrations; press "-" to turn it down or off, there is no "quick off" though. The bottom with the "~" symbol controls the pulsation type functions.
Even more frustrating is trying to charge the goddamn thing. It sits there, easy and cute in it's charging base. The contacts must touch and they must touch just so. It's more difficult to align than your average rechargeable computer mouse. Since it's not magnetic it doesn't snap into place and since the vibrator has a rounded body and the metal contact isn't flat either you have an irritating game of the Weebles: JimmyJane Edition. Form 3 will blink at you like it's laughing as you set it in the cradle and it falls over a little or slips down like drunken college kid trying to sit upright. After 15 tries and a few minutes you finally have the thing sitting just so and the charging light remains steady – forever. You won't know by looking at it when it's fully charged. No no, you have to pick it up and look at it for the blink pattern 2 and if you pulled it off too soon there we go again with the goddamn Weeble shit.
For all of the innovations packed into this little thing and the hefty price tag ($140-150) it is quite possibly a bigger rip-off than any Lelo toy when you rack up all the fails. If I wanted to sugar-coat it I could say that "it's a great tease!" or "great for foreplay!" but you know what? I don't come to vibrator-land looking for a fuckin tease. My fingers already have that job. Foreplay? Tongues are the VP. The job of my vibrator is to get me from any state of arousal to orgasm. Vibrators are my CEO, President and Head Bitch of the Orgasms Department. I am not willing to pay $145 for TEASING. I get that for free.
The JimmyJane Form 3 is a clitoral vibrator made of silicone and it is waterproof and rechargeable and a large disappointment.
Who will like this: Anybody who enjoys buying luxury sex toys and requires barely any vibration added to pressure and massage of the clitoris for orgasm; if you require no pressure with your vibrator and like vibrations on the side of clit
Try this instead: We Vibe Touch – same size, rechargeable, luxury, much better vibrations OR Leaf Spirit if you don't require strong & rumbly vibrations – moderate power, luxury, rechargeable, half the size of the Touch or Form 3, very unobtrusive.
This is enough venom and fire for one post, so the Form 6 will be talked about separately. OH HOW WE WILL TALK.
This toy was procured on my own time, however:
this post sponsored is by: EdenFantasys (What this means), a sex toy store


JimmyJane actually says: "Because your fingertips direct the vibration through a thin surface, your partner feels your touch, not a hard plastic device. Touch, stroke or tease your partner exactly how you typically would with your fingers (with new superpowers, of course)" ↩
1 blink means it's less than 1/3 charged, 2 blinks is 2/3rds charged, 3 blinks is fully charged and 4 blinks means you're too tired and seeing shit that isn't there ↩
Read More
All text and images on this site require permission before they can be used anywhere. To obtain permission click here to contact me