Posted by Lilly | 0 Comments
A few months ago I reviewed the abysmal Lelo SenseMotion Insignia Tiani. Insignia SenseMotion Tiani? What a mouthful either way! The fact is, I and other reviewers, had come to the same conclusion: Lelo's hyped SenseMotion was a total failure. For some reason though most of us assumed that the technology itself failed and Lelo hadn't actually tested it before sending it out into the world; we all assumed that it was another disappointment in the growing line of increasingly-expensive Lelo sex toys. Jaded, much?
Rumors swirled that someone had contacted the warranty department at Lelo, they had been sent a new remote, and lo and behold – SenseMotion worked like it was supposed to! After first chalking this up to a PR rumor, I finally looked into it and my contact at Lelo didn't so much as confirm as "eluded to" the fact that the first run had faulty remotes in some of the toys and a new remote would actually perform as intended.
I was skeptical. I admit it.
I was wrong! They DID fix the remote. I inserted the Tiani and then put pants on1. I was alone for my test so I changed the remote to the one setting where it did not vibrate and I um….well…I set it on the cat tree. What! It allowed me to walk 15 feet without barriers of walls! I found that I was able to get about 15 feet away before the vibrations cut out. However the difference now is that all it required was for me to move just a foot in another direction and the vibrations started up again. I was able to walk into another room and it still worked. I was able to sit down. And cross my legs. And effectively have the ENTIRETY of the Tiani covered in flesh.
And it still worked.
Given that this was the major complaint of many reviewers, having a functioning remote could very well change a lot of opinions. Heck as far as "public remote controlled vibrators" go, this change might technically edge up the Tiani over the We Vibe 3 for public use. The range on the We Vibe 3 is a mere 10 feet and while it works fine with flesh, heavier clothing requires the remote to be close by. Anyways.
Here's the bad news. You knew it was coming, so don't act all surprised.
The new remote makes the SenseMotion work as it should. Which is, I admit, quite neat. However it does not change the intensity or style of vibrations in the actual Insignia Tiani vibrator. They are still weakish and surface-buzzy as hell. If I were very sensitive, then this toy might serve as a great tease but I can't see how it could bring about orgasm. 2 The fact that the remote now has 500% better reception with the vibrator still doesn't take away from these negative points which still mean I don't like the Tiani and would hesitate to recommend it:
The vibrations are just piss poor
The slender arm meant for insertion simply doesn't stay put for me if used as a "public" vibrator, not during intercourse. I was not really very aroused so I can't imagine it faring any better if I were wet
The remote requires batteries
The remote requires a special tool to open the back – I tried to open it without it, and failed. As I said in my initial review of the Tiani, you could use a coin but that would end up scratching the metallic-painted plastic over time. Some people think that this is not a big deal and that some of us are big baby whiners. To them I say bravo: you have normal functioning in your hands/fingers/grip. I do not. Lube on your fingers? Fuggeddaboutit. You're not opening that back without the plastic key.
The remote is large and not discreet; if you put it in the non-vibrating mode then you still have to have it visible to know what setting it is on. If you leave the vibrations on, then it is no longer discreet enough for public use. The vibrating remote is also louder than the toy itself.
The price tag is around $150.
The bottom line is this: Lelo vibrators come with a warranty, and the faulty remote that you might have gotten is covered under this warranty. Simply contact them for a replacement remote. When you contact Lelo's warranty department, I must warn you that your replacement remote will ship out from China. This international shipping means that discretion is compromised – on the outside of the UPS International bag will be a ziploc-style bag for the documentation paperwork that is needed for customs. This is made so that anybody can view the paperwork without opening up your package. However, this also means that snoopy neighbors/roommates/parents can easily get to the paper and find out exactly what is contained in the package.
I will end this update on a positive note: It does appear that honest reviews are getting back to Lelo and they are taking them to heart. They listened to the honest reviews and they fixed the remotes. They claim to be making the SenseMotion toys more powerful, however, I cannot and will not attest to that without seeing it for myself.
They also claim that they made the Lily and Nea, two first-gen Lelo clitoral vibrators that were about as lackluster in vibrations as the Tiani, more powerful – yet unlike the Mia, they have not made this news public. Why not, I wonder? I suppose it would lead to customers who care about it wondering if the retailer they are purchasing from is sending old stock or newer, updated and more powerful versions. I don't know if the Lelo Tor cock ring had any increased vibration intensity of their first-run Bo cock rings, but I can say that despite initial concerns on the lack of stretch in the cock ring itself, their updated Tor II cock ring does have better vibrations – more powerful and more rumbly. If those vibrations in the Tor II that I have were in the Tiani? I might recommend it more.
something unheard of before with the old remote ↩
Then again, that's like me claiming that I could guess how a Fleshlight would really feel. ↩
Read More
All text and images on this site require permission before they can be used anywhere. To obtain permission click here to contact me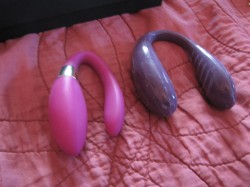 In the last few months we've seen two very similar, yet very different, "couples vibrator" on the sex toy market. While the We Vibe has been around for years, it lacked a remote control. When Lelo created the Sensemotion remotes for the latest Insignia line they introduced the Tiani which many have compared to the We Vibe because it is meant to be worn by the woman during penetrative sex with a guy and claims to provide hands-free clitoral stimulation. The shape is similar and comparisons can't help but be made. Please note: This post has been updated from the original to showcase the changes in the Lelo Tiani with the "Design" Edition, or Tiani 2.
Lelo marketed the entire Sensemotion line with dual purposes – the other reason for the remote was for someone else to control the vibrator. In public? Maybe, if you're discreet about it and manage to set it up properly. Lelo drastically improved the range and reliability of the remote control connection from the original Tiani to the Tiani 2 – the signal will transmit across a room, through most clothing, etc. Their remote requires a couple of regular batteries while the vibrator itself is rechargeable. The remote can get confusing with all the various settings and functions and if it loses connection with the vibrator, the person holding the remote doesn't actually know it – because the remote keeps on vibrating. With the original Tiani, the vibrator would stop working if the remote dropped a signal. Now, the vibrator will continue to work, you just will not be able to change settings until you are back in signal range. You won't know this is happening unless you communicate with your partner.  The Tiani 2′s internal arm is much smaller than the We-Vibe 3, so this is best for women who cannot tolerate much more girth than the penis inside of them. The Tiani 2 offers two different internal arms to choose best for your comfort level.
We Vibe just came out with the We-Vibe 3 and they included a remote this time because a common complaint was that the placement of the button coupled with it's size and the fact that the shiny silicone would quickly become slippery when wet made it damn near impossible for many to change the speed or pattern during sex. We Vibe is not marketing this remote control for any use other than to control it more easily during sex – they do not mention at all that you could use it while she wears the vibrator and you control it without sex being in the mix. Because the We Vibe has always been about enhancing hetero-coupled sex. And the remote isn't designed for the controller to not be right there – it doesn't light up, it doesn't do anything to tell you what setting it is on. However, the We Vibe 3 WILL still work if you lose the remote because there is a button on the vibrator. And the remote does not require any batteries or recharging, it is a permanent 5-7 year lifespan battery.
The We Vibe, any of the models, is actually for both clitoral and g-spot stimulation during sex.
The Lelo Tiani 2 has vibrations on the clitoris, with the arm for placement or slight g-spot pressure.

Both claim though to provide clitoral stimulation that doesn't get in the way during sex and requires little effort. Except, for some couples, it's simply a basic fact that a cock pumping in and out of a very lubricated vagina is going to provide friction and movement to the toy and it will move. It just will. Either one also may not be enough stimulation for you -  neither is truly all that powerful as a vibrator but they can be useful to some.
Price is certainly a decision maker for some, but the Lelo Tiani is priced higher than the We Vibe 3, for two reasons: 1) Lelo is cashing in harder every year on the reputation/hype that's built up around the company and every line that they come out with is increasingly more expensive and more disappointing 2)  Sensemotion technology is a reason for the $20-30 price increase of the Lelo Tiani over the We-Vibe 3.
Who will actually like either of these? Both Tiani and We Vibe 3 are best meant for women who do not need a lot of power in the vibrations of their sex toy to get off. Women who will be able to use either one successfully are those who need just a little help during sex. If your male partner is already pushing the boundaries of your comfort zone with the size of his cock, then the We Vibe will be added girth that you may not tolerate. While the Tiani would excel there due to the small arm it also will not add anything to the party for g-spot stimulation during sex.
| | | |
| --- | --- | --- |
|   | We Vibe 3 | Lelo Tiani Sensemotion |
| Vibration Type | Rumbly | Buzzy / surface only |
| Intensity (1-10) | 4 | 4 |
| Remote: Pros | Small; requires no batteries or charging; Remote is not required for vibrator to work; Works well during sex; Vibrator does not turn off if remote signal is dropped | Remote holder knows what setting it is on; various functions allow for unique uses; Remote holder is "in control" |
| Remote: Cons | Single button; remote holder does not know what setting it is on; range less than 10 ft; Doesn't transmit through much clothing | Requires 2AAA batteries; requires special tool to access batteries; remote often vibrates and isn't exactly the most discreet thing; remote is fairly large |
| Intended Use | Hetero, coupled PIV sex | Hetero, coupled PIV sex |
| Other Uses | none | stimulation for her from afar, possibly public |
| Body: Pros | Vibration stimulates both clitoris and g-spot; completely sealed and 100% silicone and 100% waterproof; button on body that turns it on, off, changes settings; easy to clean | Silky matte-finish type silicone doesn't attract dust/fur, creates less friction; smaller internal portion gets in the way less for him and creates less added girth inside; waterproof; 2 options for internal arm, body will work without remote. |
| Body: Cons | Silicone attracts lots of dust & fur, creates friction; larger internal portion can be too much added girth for some couples | Plastic portion creates seams that can make cleaning more difficult; no added g-spot stimulation for her; |
| Prices | $129-$149(MSRP) | $108-$159(MSRP) |
Wondering how I rank vibrators in intensity? There's a guide on my sex toy reviews page. Not everyone will agree with how I rank the vibrators listed, I'm sure, but I try to be as accurate and fair as possible while still acknowledging that I'm not a scientist and my opinions are skewed a bit towards my preferences.
We Vibe 3 vs Lelo Tiani Sensemotion
We Vibe vs Lelo Tiani
Read More
All text and images on this site require permission before they can be used anywhere. To obtain permission click here to contact me
Posted by Lilly | 3 Comments
Sexforums.com contacted me last month to see if I'd be willing to do a review for Lelo's newest addition (the Lelo Tiani) to coincide with their giveaway. Having already reviewed the Lelo Isla, their first line of "ultra premium" Insignia sex toys (and been one of the few people who couldn't find much good to say about it) I was skeptical. But I was terribly curious about this SenseMotion thing and dying to see if a company like Lelo could be the one to pull off a remote controlled vibrator that actually worked. Believe me, I really wanted the Lelo Tiani to work out despite my jaded skepticism.
Between vibrating panties and wireless remote control vibrators there's already plenty on the market that mainly don't work very well. Whether the complaint is that they lack power/intensity, or the wireless remote's connection to the vibe is wonky at best and doesn't live up to the range distance claims, or that the remote is so simple the wielder has no idea if the toy is buzzing away for the other person and at what level – they're all largely a waste of money and are all pretty expensive. This wireless stuff is pricey business.
Click here to read the rest of this review
Read More
All text and images on this site require permission before they can be used anywhere. To obtain permission click here to contact me