Posted by Lilly | 8 Comments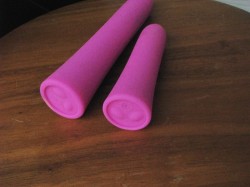 If you know that I love my powerful vibrators, then you know that only a few vibrators have been powerful enough internally to knock my socks off. One of those happens to be the Jopen VR6 – it's not tops as a dual-stimulator because the clitoral arm doesn't hit me perfect nor is the clitoral arm powerful enough for me, but the internal power makes up for it. So I waited impatiently for the Envy line to come out, since Jopen was calling it the most powerful, rechargeable vibrator in the world1. I had my doubts, of course, because hello it's me and I'm jaded now but I tried to have hope.
Unlike the entire rest of the Vanity VR line, the VR6 is the only one with the deep, rumbly powerful vibrations I love.  While the entire line of Vanity and Envy is "Powered by Powerbullet", it used to be outright stated on that Powerbullet site that the VR6 was the most powerful of all, along with 1 other vibe.  So the mere thought that I could get a regular ole non-rabbit vibe with the power that made my toes curl sent me into fits while waiting on the release.
I was slightly disappointed when I saw that the initial Envy line was merely 3 differently sized, boring straight vibrators. But hope sprang eternal because it may not matter if the power is enough!
It matters.
It really, fucking matters, to me.
I….HAVE….THE POWER!!! Or not.
First, while I can't speak for the Two, I can tell you that the One is a major disappointment. It arrived fully charged but I hoped that it wasn't, so I plugged it in to charge more. I turned it to the top speed and actually said out loud "That's it?!?". You see I'd already become acquainted with the power that is Three – and it is fairly impressive. SheVibe sent me the Envy One and I snagged Three with points from…somewhere else. The One that Shevibe sent arrived dead on arrival, my first ever. I used the Three a few times while waiting on the DOA issue to get sorted out. When I finally received a working One direct from Jopen, the difference in vibration power and depth compared to the Three was enormous. I fully expected all three vibrators to have the same motor.  The Jopen Envy One has nothing on the We-Vibe Tango.  The Envy One suffers greatly from "dampened vibrations"2 when it meets with any resistance, resistance being "surrounded by flesh" and not even just pressure. I could lightly wrap part of my hand around the Envy One and the vibrations would immediately dampen by at least half, in both intensity and depth. When nestled in between my labia, I could barely feel anything. That is NOT the marker of the "most powerful rechargeable vibrator in the world". I would say that if you do not touch the Envy One, if you just barely hold it in your fingertips up at the top by the controls, then the top level of vibrations is about as powerful as level 3 (of 4) on the We-Vibe Salsa. It's rumbly, but not quite as rumbly as the Tango (or Salsa, RIP).
While the Envy Three is actually just about as powerful as the internal arm on my Vanity VR6, it still manages to fall short. First as an internal vibrator, it is hella boring to me. I know that not all people like the curved design, so not all will agree with me. One reason why I loved the VR6 so much was that it combined a bit of girth with a wonderful curve and perfect vibrations. The VR6 measured at 1.6″ at the widest, while the Envy Three is barely 1.1″, despite all literature claiming it to be 1.5″. I thought that perhaps it would still make an excellent external vibe, but somehow it doesn't. Somehow, these vibrations that feel so powerful in my hand have been unable to get me off as well as the We-Vibe Tango. I think that part of the issue is that the motor on the Three overheats and while the heat isn't painful, it's distracting.  It is indeed rumbly and deep, and suffers less from "dampened vibrations" compared to the One.
I didn't bother to try the Two, since I figured that most people would go for One or Three. Envy Two is the same width as Envy One, but a little longer. Also according to literature, the Envy One is supposed to measure in at 1.25″ wide; mine is not even quite an inch, it's more like 0.9″. It's still a lot bigger than the We-Vibe Tango, though.
A note on the sizing: A rep from Jopen told me "As far as the width on the product, I'm not sure where you are measuring but I was told the product width is measured from the base of the unit, the widest part ,since the product tappers down toward the tip."  I measured in the center of the vibe. Not the tip, not the flare.
I replied: "As for the measurement…….for an insertable product it is standard to measure at the widest *insertable* point. Since the flare doesn't start until close to the base, that would mean that a woman would have to fully insert the vibrator like a tampon to realize that proclaimed width – With the Envy Two or Three, that would be a bit impossible not to mention highly unlikely. There is a large difference in interest between a straight vibrator that is 1.1″ wide and 1.5″ wide. I still really feel like these measurements are misleading."
I'm still confused on that one. So basically…..none of the width measurements are to be trusted from them if you want something logical.
The Envy Line Has More Issues Than…..
As I mentioned, I received the Three and the One from two different places. My Three was getting quite hot, and a rep from Jopen confirmed that that was not normal. My logic says that a motor that gets very hot is a motor that would burn out in a much shorter time than normal. And then my One arrived dead. When I plugged it in, thinking that it wasn't charged, the charging light blinked rapidly. It never did work. Again, Jopen told me to submit it for a warranty return. So I was instructed at first to register my vibes with their warranty program and proceed with doing a warranty return3. I held off on that, since the site said that a return would be sent out a few weeks after receiving my defective unit, and I really wanted to be able to directly compare the Three and the One; Shevibe.com was sending me a brand new Envy One so that the review could get underway. Then I received my second Envy One from Shevibe4….and it was DOA, too! At this point I went back to Jopen and updated them, and they wanted to send me a replacement One and Three from their warehouse, without waiting on me to first return the defectives5. They arrived just fine, but I must point out that the packaging direct from Jopen is not at ALL discreet. I'm lucky that it didn't matter to me, but it very well could matter to others. Is this how it would arrive if you did a warranty replacement? I'm not sure. Anyways, with a brand new (and tested by Jopen before it was sent to me) One and Three, I proceeded to get on the review finally. Disappointment on the power of One aside, I kept at it. And I found that the overheating issue was not solved. This time both the One and the Three were overheating at right around 15 minutes of use. While the temp gun did show temps in excess of the 109 shown below, I didn't catch an in-focus photo of the temp gun and just didn't feel like letting it get to that point again.
One other issue that I'm not certain is a true issue, but is weird nonetheless, is something that happened during a flame test. I didn't really suspect that these were anything other than pure silicone, but I wanted to run the test anyways. I'm glad I did! In the spot where I applied flame, I had no signs of it being anything other than flame-resistant silicone, however the coloring looks….bleached. Literally, like my hair-dying shirt. The pink turned to a pale orange. I ran to my VR6 and tried it, and had similar results. What does this mean? No fucking idea. But I'm going to mention it nonetheless.
From the Jopen rep: "We have our quality control department looking into all issues regarding the batteries and now the motors heating up."
Other Details
They're waterproof. They come with a USB charger (If you have a Vanity? Same charging jack, just USB instead of wall). If you want wall charging you'll have to snag a USB-to-Wall adapter from another toy, though. They're mostly seamless, and really easy to clean. Only two buttons which are also encased in silicone. Like the Vanity vibes, to increase the power you have to press and hold the button. It'll blink while you're increasing and will stay steady once you've hit the top speed (it stays steady when you've settled on a speed, too). You can only increase, not decrease. The"State-of-the-art memory chip resumes last function used" feature is nice, but it only applies to the function i.e. pattern, not the vibration level. There are 7 "functions" (patterns), but once you're on the Function side, you have to shut the vibrator off to get back to just straight vibrations….and then do the ramp-up to your preferred speed all over again – this took me a bit to figure out, as it's not spelled out exactly and I got very frustrated.  They do lock for travel, though.  The silicone is mostly dust/lint-proof, but not entirely. It is a very slightly textured matte finish, it's not quite as powdery soft as the Jopen Key line.  It completely charges in about 3 hours, but you'll only get 45 minutes on the highest setting. Just like the Vanity line, the Envy line is only one color. At least the Vanity line was a nice purple that I didn't hate, but the Envy line is this bizarre, dusty-rose-purplish color. If I put the Intensity, VR6 and Envy all next to each other, the colors all coordinate well. If you like the whole monochromatic thing. And pink. Purple. Pinple. Purnk. Whatever.
Expanded Envy Line
I'm not sure why they came out with only the "classic" straight styles first, but now I've seen on the site that there are more6. A few more tailored to g-spot, and two rabbits. I don't understand the rabbits….isn't that what the Vanity VR line is for?? Regardless of my feeling that the power of the Three would best work out for me in a more g-spotting style, I'm not about to recommend or try them.
Final Verdict
Avoid these. The price is astronomical and the "powerful" claim is a letdown, most especially with the One. If you were looking for a bigger, better We-Vibe Tango, forget about it.  The Envy line is still, at it's heart, a hard plastic vibe covered in a silicone skin. I'll take my hard plastic vibe that is unhindered by silicone any day, thanks, if it means more power. I just cannot at all recommend the Envy One through Three and I would suggest that you avoid the entire line due to all of the problems. With a price range (Shevibe.com pricing) of $109-$118, I expected a hell of lot more bang for that kind of buck.  With the problems I have had in mind, Shevibe is currently not even selling the Envy One or Three until they can see that the problems are ironed out; but you can still get the Two if you insist. 
Also, going on this month at Shevibe.com, an offer you simply cannot pass up if you don't yet own the Njoy Pure Wand: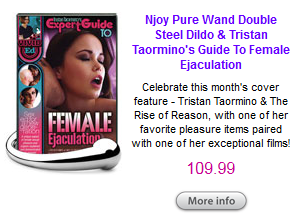 According to their press release ↩
Similar to the Je Joue Mia, the Leaf Spirit and the We-Vibe Touch ↩
There is also a fee associated with the warranty return; they were going to wave it for me since both of my vibrators were immediately defective but be forewarned ↩
Shevibe.com is very good about this; rather than having you deal with the manufacturer for a DOA or immediately defective vibe, they'll handle the exchange. I find that preferable to dealing with the warranty process at Jopen ↩
Which was nice; I had informed them that I owed reviews on these and that I felt time was of the essence, plus they felt bad that I'd had the bad luck to get 3 bad vibes in a row ↩
These are due out in August ↩
Read More
All text and images on this site require permission before they can be used anywhere. To obtain permission click here to contact me
Posted by Lilly | 5 Comments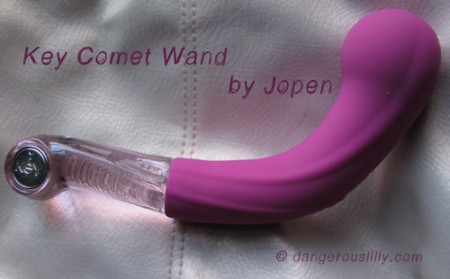 There are glass dildos and silicone dildos, but never have I seen a silicone-covered glass dildo. The Jopen Key Comet G is pretty unique in that aspect. It is a decidedly g-spot dildo and therefore….I (and others) cannot help but compare it to the Njoy Pure Wand. There is no shortage of g-spot targeting sex toys but it seems that the Pure Wand is king of the heap for most reviewers. So when I was told that the Key Comet Wand was just about as good as (or for some, better than) the Pure Wand I had to try it.
My one and only complaint about the Pure Wand is the weight. I'm no spry young thing and I have a disorder that affects muscle strength. It doesn't take much for my hand and/or wrist to be bothered by the Pure Wand if I'm going at it too long; of course the upside is that orgasms come fast and furious with the Pure Wand. The Key Comet Wand is quite a bit lighter weight than the Pure Wand, but still retains some heft thanks to the glass core. It's a nice balance.
However, the thing (one of the things) I love best about the Pure Wand is that it is made of stainless steel and I never, ever ever need lube. No matter what. It glides with ease and there is no trouble with insertion. The Key Comet Wand though is covered in a matte silicone that is silky smooth to the touch but has quite a bit of drag during insertion. I actually had to get out my old lube bottle to use the Comet. For once my own wetness wasn't enough. I'm not a person who normally uses lube; therefore I don't keep it handy and I'm pretty lazy. The fact that I have to drag it out is a bit of an irk for me.
Due to the drag and need for lube, at first I thought that the Comet Wand was bigger than the Pure Wand. The bulbous end of the Comet Wand is the same size as the large end of the Pure Wand (a ball with a max width of 1.5″), but the shaft of the Comet is a little bit wider. This is neither good nor bad but it's not a huge size. The shaft isn't the point, anyways, when you're targeting your g-spot. This isn't a toy for those who simply want girth.
Let's Talk About Materials – Silicone AND Glass in One
The unique part about the Key Comet Wand is the combination of two well-loved non-porous materials: glass and silicone. The handle portion is all solid glass and feels very substantial. Jopen says that the Comet is made from durable glass dipped in body-safe silicone. The "dipped in" leads you to believe that it's mostly glass. I got curious though. I pressed the bulbous tip against the corner of my desk and I was able (although I had to use a lot of pressure) to press in farther than I expected to and farther than I can on the silicone-covered portion of the shaft. I was also able to grab the bulbous head in my hand and move it slightly. My guess is that the glass doesn't go all the way down and into the bulbed tip.  There are very subtle raised ridges in the design that don't add anything you can feel, just something visual; the ridges start at the glass handle and appear to continue on down seamlessly through the silicone "dipped" portion.  I have to admit, the geek in me kinda wants to ruin this dildo and take a box cutter to the silicone to determine just how much glass is in the body. I won't, but I'm really damn tempted.
Of course I must also note that cleaning this dildo isn't quite as simple as you might think, based on the materials. Normally any dildo made of metal, glass or true silicone can be boiled (carefully) to sanitize. They're non-porous so technically it doesn't take much to sanitize but the Comet G cannot be boiled, cannot be put in the dishwasher top rack, etc. It needs to be simply washed in soap and water (a 10% bleach solution if you need it for sharing, a rinse after that please) because of the combination of materials but mostly that Key emblem glued into the handle.
If this g-spot dildo were made entirely of glass, it would turn off the many people who still think that glass sex toys will just shatter inside their Hulk-like vagina. If it were made entirely of silicone, it would lack the balanced weight and heft and firmness. The silicone also gives peace of mind to the glass paranoids and protects from chipping the internal portion. I can also appreciate that they finished the silicone with something similar to Lelo's Silicone Soft Touch, leaving behind a matte-finish silky feel silicone that doesn't attract lint, dust or fur. Jopen will tell you to only use water-based lube because of the silicone component, but as I've mentioned before, not all silicone lubes (nor silicone sex toys) are created equal. Some will be just fine when combining. I've successfully used Wet's Synergy hybrid lube and their Platinum all-silicone lube on all of my high end dildos and vibrators and never had a problem. I tried it on the Comet and it was just fine. How do you know? Apply a small dab to a portion near the handle or base, depending on the toy. Within a minute, if the two are not compatible, the lube will become gummy. If left on, the silicone of the toy will become sticky and weird, too. This has not yet happened to me with Wet lubes; Metis also recommended Sliquid and Pjur as silicone lubes compatible with Tantus's Platinum silicone.
The Boring Deets – Colors, Packaging, etc
Comet G comes in 3 terribly predictable colors: a candy-grapey-purple, an old-school-eraser-pink, and a turquoise-y-blue that some might call "robin's egg" blue. The glass handle is a pastel matching version of the silicone. The glass handle has a sort-of ball end with a bit of a curve to mirror the g-spot bulb; embedded in one side of the curved end is the Jopen Key logo that appears to be actual metal (an alloy mix) rather than Lelo's "metal" accents which are just metallic-painted plastic. The box is black and whatever color your dildo is; you could use it for storage but it's not a subtle and sturdy box like many luxury makers go for. You slide off the top portion of the box to reveal a book-style box inside; the Comet G Wand is nestled in foam which has a ribbon tab to lift up where the storage bag and manual is found. The storage bag is made from the same material that We-Vibe uses – a kinda stiff, crinkly water-resistant fabric that feels cheap (unlike the satin that most luxury toy makers use). The storage bag isn't padded. All in all, I'm not impressed by the packaging or storage bag.
Size Matters
As for size, at first comparison the Comet G and the Pure Wand look really damn similar. When it comes to curved dildos like this though there are two ways to measure, just like there are two ways to measure the distance between two addresses: "As the crow flies" or following the roads. As the crow flies, the two are about the same at 8 inches. But the true tip-to-tip tells another story and shows how much more curved the Pure Wand is: The Comet G is about 9.5 inches where the Pure Wand is a little over 11 inches. The widest width on both is that large bulbed end, at 1.5 inches. But where the Pure Wand is a true double-sided dildo offering you two differently sized ends to use, the Comet G Wand is only usable one way.

Now the tip-to-tip length may not seem important at first, but I found after my second use that it does matter to me. As I've said in the past I have short arms and a fat buddha belly and the C-curve plus the length of the Pure Wand is about the most ergonomic and easy to use design for me, hands down. The Comet G is mostly C-shaped, but that bulb on the handle tips back in an weird subtle S-shape. The handle tip also is more "fiddlehead fern" than true bulb and I found that it was a lot harder to keep a good grip on it than the Pure Wand. I found myself really need that extra inch and a half and the easier-to-grip bulb of the Pure Wand. While I was indeed able to finally get good g-spot stimulation and orgasm better than most other dildos, the clumsy grip means that I will still reach for the Pure Wand despite it's heft. Speaking of weight, the Comet G is 9.5 ounces where the Pure Wand is 1 pound 8.75 ounces – nearly a pound heavier.
Final Answer?
I can't totally discount the Comet G Wand, but I also can't say that I'd ever recommend it over the Njoy Pure Wand unless you absolutely need something under 1 pound in weight due to arthritis, injuries or muscular disorders – however on the flip side, the handle is a bit more difficult to keep under grasp but I think a creative person could come up with an add-on to the handle to make it larger and easier to grip. Sure, the Comet G is priced a little lower than the Pure Wand (on EF, $90 for the Comet G, $108 for the Pure Wand) so I wouldn't recommend the Key Comet G Wand as a more affordable alternative to the Pure Wand. There are lots of g-spot options out there, and not everyone likes or needs the firm pressure that I do. Many women have great luck with silicone dildos that to me are barely curved; there are also some decent glass options that have a partial C-curve and pronounced bulbous tip (for example, the B2B G-Spot is plain glass, double-ended, longer than it's nearly-identical cousins like Amethyst or Bent Graduate and hits a nice median price point of $60).
Read More
All text and images on this site require permission before they can be used anywhere. To obtain permission click here to contact me