Posted by Lilly | 2 Comments
The cool new g-spot / dual stimulation bendable vibrator that I reviewed recently, the G-Ki by Je Joue, is now on sale at EdenFantasys.com. It's priced at $98.99 currently – since it's over $80 this means that EF will ship it Express Delivery for free! As far as I know, for now EdenFantasys is the only retailer selling it, or one of very few. I don't see it anywhere else online.
I reviewed the black model but it's also available in an eggplant-purple and a soft pink.
Read More
All text and images on this site require permission before they can be used anywhere. To obtain permission click here to contact me
Posted by Lilly | 5 Comments
Well, this is exciting! (so exciting that I ripped into the shipping box before I even made it into work) I've never gotten to review a *brand new* sex toy before! As of this writing, the Je Joue G-Ki isn't even for sale quite yet, but when it is I'll update this post. Edenfantasys.com is one of the few retailers that will be selling this sex toy for the time being. You may or may not recognize the maker of this toy, Je Joue. To date they only have one sex toy out on the market but the innovative wonderment of it all created many waves in the adult industry and amongst toy critiques and addicts – That toy is the SaSi. SaSi is a high-end luxury toy meant to simulate oral sex and "learn" which moves you like. I wanted one for the longest time until I learned enough about it to know that it wouldn't work with my particular anatomy. But there is always that possibility with many sex toys.
So as not to leave out a vital part of a woman's potential for orgasm, Je Joue created the G-Ki. It's unique because it bends a bit. When I saw the manufacturer's photos and could tell that it bent, I originally thought that perhaps this was accomplished with a bendable wire core but that isn't at all the case. There are two joints that click through a few angles of bendiness. It can go from this gentle curve to a "J" shape. The purpose of bending it into the J-shape is in the hopes that while the tip is massaging your g-spot, the body is vibrating against your labia and clitoris. In order to make it bend you have to press on a button at the joint. This unlocks it from its current position. As you can see, the G-ki is not very big. The overall shape is more oval than round, so width is hard to measure. I would say it's closer to 1 3/8″ at the tip. The neck is maybe an inch.
Another very cool feature that I've only seen in Je Joue toys is that it recharges via a magnetic connection, much like your average cordless computer mouse. While the SaSi came with a smart looking base, the G-Ki just has a cord with a fob that magnetically clicks over the power buttons and begins the charge. You'll see a little red light glow from under the silicone skin to let you know it's charging. It blinks while it's charging. It takes 2 hours to charge it for 2 hours of play time. Although I didn't let it run for 2 hours, I would imagine that the last 45 minutes or so the vibrations would be noticeably weaker.
I believe that most of the toy is hard plastic covered by a matte silicone – except for the g-spot tip. It's pure silicone to the core for the 1/2″ or so, so there's a little give. Just enough. Neither the manual nor the site specifically says how many positions each joint can click to. The bending of the tip is more subtle that the mid-section. To bend it you press on a raised button at each joint to unlock it. Up at the tip, that unlock button has three dots on it. The mid-section button has 5 dots. Deductive reasoning tells me that this signifies the number of positions, but I could be wrong. I would not recommend this toy for someone with arthritis in their hands – I have it a little and I found those buttons to be just a bit hard to push in to unlock the joints. It's not a deterrent for me, but it could be for someone worse off.
According to the site/manual, women should start out with the toy at it's most "relaxed" position and play with the tip settings first. The instructions are very much geared towards women who are not experienced with toys or their g-spot. Not me, I bent the tip right away and even tried to make it into the J-shape right away until I learned that insertion wasn't very easy that way! I have short arms so it was a little tricky to press hard enough on the button to unlock the midjoint with the toy inside of me, but it was do-able.
As for the vibrations, there's two buttons, plus and minus. From any setting at all the toy can be shut off by holding the minus button for 2 seconds. You can click through 5 levels of vibrations and 5 different pulsing patterns. I don't think that the different levels of vibration are anything past a subtle variance, but the first level is not powerful enough to be a hindrance to more sensitive women. (after I made the video, I played with the vibrations more and found there is a more obvious difference if you go through the 5 levels in *reverse*. This makes the lowest somehow seem lower than when you first turn it on) The frequency/pitch of the vibration is a very pleasing low and rumbly sort. The motor is in the handle but the vibrations travel quite well throughout the entire toy. The focal point of the vibrations should be the point in the handle where it is closest to your clit. Since the vibrations are more diffuse than pinpoint, it's not a quick and easy O – it's more of a build-up. Which is a great way to go about it when combining clit and g-spot play because for many women a g-spot orgasm takes longer than clitoral.
I personally found that if I wanted both clit and g-spot stimulation at once from this toy, my best bet was pushing on the very tip of the hand in a sort of rocking-circular-rubbing motion. This amplified the vibrations a bit as it pushed against my pubic bone. I would say that this is comparable to the Layaspot in both frequency, intensity and noise level. The Onye bullet vibrator is louder, the frequency is the same, but doesn't feel much more powerful. The power level of the vibrations feels less intense because the vibrations are spread out in the handle, more diffuse than say a remote-handpack bullet vibe. I would still say though that my bullet vibes are stronger than the G-Ki. However, that's comparing apples to oranges. I no longer have my Lelo Elise but I think that the G-Ki would also line up in comparison quite similarly. This wasn't as powerful of a dual-sensation as a rabbit vibrator but this toy worked my g-spot much much better than any rabbit vibe could.
All in all, the G-Ki by Je Joue is an enjoyable, innovative toy. If I were to make changes, the first would be to add a few inches to the handle portion. But that's just because I have short arms and a big belly, so most other women won't need the handle to be longer. I'd also (of course) up the vibration intensity just a tad but again….that's me (hi….clit o'steel here…). The intensity is probably enough for most women. It won't be a dual-stimulation toy for every woman, but that is to be expected due to variances in anatomy. My clitoris is smaller and doesn't protrude much and is nestled down between very full outer labia. If that does not describe you, then you would enjoy it even more than I have. If you'd like to read about the technical specs such as exact size and a list of the vibration functions, see my review on edenfantasys.
Read More
All text and images on this site require permission before they can be used anywhere. To obtain permission click here to contact me
Posted by Lilly | 5 Comments
This has only happened once before, and at least then it was lunchtime.
By "this" I mean that I picked up a sex toy shipment from a carrier before work. Previously it was at lunchtime because I didn't want to trek out to UPS after work. Today, it was in the morning before work. I actually didn't go there to get the sex toy; I went there to bitch at the postmaster at my local post office because my douchebag mail carrier didn't leave a slip saying that I have a package to pick up at the post office – he didn't leave the slip because he was too fuckin lazy to see if I might be home. And I was! Little worm tried to lie to the lady at the counter this morning when they were searching for my package (that actually arrived Tuesday); he said he left me a slip. Liar liar pants on fiiiiiire! I was upset because it was my makeup bag. I left it at my moms over the weekend (I can't seem to leave without forgetting something, it's inevitable) and it contained all my main makeup powders – foundation, concealer, eyeshadows and liners, etc etc. I've looked like crap all week because I've had to use odd scraps of sample shades mixed together. And if anything had happened to that box, I'd be in deep shit because to replace all the makeup would have cost over $100 and I didn't think to tell my mom to insure it.
ANYWAYS.
So I got there before my mail carrier left for the day, and they handed me the box that was supposed to be delivered today.
Woohoo!
What was in it?
Muahahahaha only the coolest, newest sex toy! So cool that I had to rip into the box the moment I was in my car. And unwrap it while waiting in snowy morning traffic.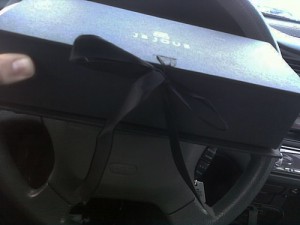 Pretty packaging for the G-Ki! Yup I got a Je Joue G-Ki to review, and that review will be coming out very soon.
It's a rechargeable that arrived uncharged, as most do, but did I wait till I got home?
Pffft fuck no!
And then after lunch when most people were already gone, I decided to check out the vibrations on this baby. *note to self: be careful and make sure you know how to turn shit off and on!! I got it turned on and then couldn't quickly turn it off at first.Anyways, just a few quick cell-phone pics to show the size. It's a little smaller than I anticipated.
Since we got a 3-hour reprieve from work, I decided to run errands. Well, first, I had to try out the G-Ki. But you knew that, right? ;)
Read More
All text and images on this site require permission before they can be used anywhere. To obtain permission click here to contact me