ETA: The Comet G is actually growing on me a little. But now they have out a VIBRATING version which I've got high hopes for.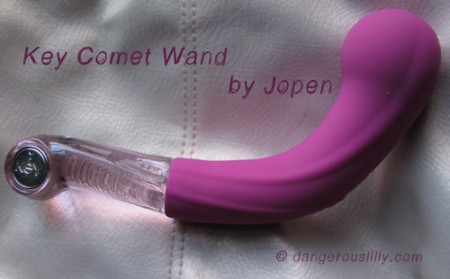 There are glass dildos and silicone dildos, but never have I seen a silicone-covered glass dildo. The Jopen Key Comet G is pretty unique in that aspect. It is a decidedly g-spot dildo and therefore….I (and others) cannot help but compare it to the Njoy Pure Wand. There is no shortage of g-spot targeting sex toys but it seems that the Pure Wand is king of the heap for most reviewers. So when I was told that the Key Comet Wand was just about as good as (or for some, better than) the Pure Wand I had to try it.
My one and only complaint about the Pure Wand is the weight. I'm no spry young thing and I have a disorder that affects muscle strength. It doesn't take much for my hand and/or wrist to be bothered by the Pure Wand if I'm going at it too long; of course the upside is that orgasms come fast and furious with the Pure Wand. The Key Comet Wand is quite a bit lighter weight than the Pure Wand, but still retains some heft thanks to the glass core. It's a nice balance.
However, the thing (one of the things) I love best about the Pure Wand is that it is made of stainless steel and I never, ever ever need lube. No matter what. It glides with ease and there is no trouble with insertion. The Key Comet Wand though is covered in a matte silicone that is silky smooth to the touch but has quite a bit of drag during insertion. I actually had to get out my old lube bottle to use the Comet. For once my own wetness wasn't enough. I'm not a person who normally uses lube; therefore I don't keep it handy and I'm pretty lazy. The fact that I have to drag it out is a bit of an irk for me.
Due to the drag and need for lube, at first I thought that the Comet Wand was bigger than the Pure Wand. The bulbous end of the Comet Wand is the same size as the large end of the Pure Wand (a ball with a max width of 1.5″), but the shaft of the Comet is a little bit wider. This is neither good nor bad but it's not a huge size. The shaft isn't the point, anyways, when you're targeting your g-spot. This isn't a toy for those who simply want girth.
Let's Talk About Materials – Silicone AND Glass in One
The unique part about the Key Comet Wand is the combination of two well-loved non-porous materials: glass and silicone. The handle portion is all solid glass and feels very substantial. Jopen says that the Comet is made from durable glass dipped in body-safe silicone. The "dipped in" leads you to believe that it's mostly glass. I got curious though. I pressed the bulbous tip against the corner of my desk and I was able (although I had to use a lot of pressure) to press in farther than I expected to and farther than I can on the silicone-covered portion of the shaft. I was also able to grab the bulbous head in my hand and move it slightly. My guess is that the glass doesn't go all the way down and into the bulbed tip.  There are very subtle raised ridges in the design that don't add anything you can feel, just something visual; the ridges start at the glass handle and appear to continue on down seamlessly through the silicone "dipped" portion.  I have to admit, the geek in me kinda wants to ruin this dildo and take a box cutter to the silicone to determine just how much glass is in the body. I won't, but I'm really damn tempted.
Of course I must also note that cleaning this dildo isn't quite as simple as you might think, based on the materials. Normally any dildo made of metal, glass or true silicone can be boiled (carefully) to sanitize. They're non-porous so technically it doesn't take much to sanitize but the Comet G cannot be boiled, cannot be put in the dishwasher top rack, etc. It needs to be simply washed in soap and water (a 10% bleach solution if you need it for sharing, a rinse after that please) because of the combination of materials but mostly that Key emblem glued into the handle.
If this g-spot dildo were made entirely of glass, it would turn off the many people who still think that glass sex toys will just shatter inside their Hulk-like vagina. If it were made entirely of silicone, it would lack the balanced weight and heft and firmness. The silicone also gives peace of mind to the glass paranoids and protects from chipping the internal portion. I can also appreciate that they finished the silicone with something similar to Lelo's Silicone Soft Touch, leaving behind a matte-finish silky feel silicone that doesn't attract lint, dust or fur. Jopen will tell you to only use water-based lube because of the silicone component, but as I've mentioned before, not all silicone lubes (nor silicone sex toys) are created equal. Some will be just fine when combining. I've successfully used Wet's Synergy hybrid lube and their Platinum all-silicone lube on all of my high end dildos and vibrators and never had a problem. I tried it on the Comet and it was just fine. How do you know? Apply a small dab to a portion near the handle or base, depending on the toy. Within a minute, if the two are not compatible, the lube will become gummy. If left on, the silicone of the toy will become sticky and weird, too. This has not yet happened to me with Wet lubes; Metis also recommended Sliquid and Pjur as silicone lubes compatible with Tantus's Platinum silicone.
The Boring Deets – Colors, Packaging, etc
Comet G comes in 3 terribly predictable colors: a candy-grapey-purple, an old-school-eraser-pink, and a turquoise-y-blue that some might call "robin's egg" blue. The glass handle is a pastel matching version of the silicone. The glass handle has a sort-of ball end with a bit of a curve to mirror the g-spot bulb; embedded in one side of the curved end is the Jopen Key logo that appears to be actual metal (an alloy mix) rather than Lelo's "metal" accents which are just metallic-painted plastic. The box is black and whatever color your dildo is; you could use it for storage but it's not a subtle and sturdy box like many luxury makers go for. You slide off the top portion of the box to reveal a book-style box inside; the Comet G Wand is nestled in foam which has a ribbon tab to lift up where the storage bag and manual is found. The storage bag is made from the same material that We-Vibe uses – a kinda stiff, crinkly water-resistant fabric that feels cheap (unlike the satin that most luxury toy makers use). The storage bag isn't padded. All in all, I'm not impressed by the packaging or storage bag.
Size Matters
As for size, at first comparison the Comet G and the Pure Wand look really damn similar. When it comes to curved dildos like this though there are two ways to measure, just like there are two ways to measure the distance between two addresses: "As the crow flies" or following the roads. As the crow flies, the two are about the same at 8 inches. But the true tip-to-tip tells another story and shows how much more curved the Pure Wand is: The Comet G is about 9.5 inches where the Pure Wand is a little over 11 inches. The widest width on both is that large bulbed end, at 1.5 inches. But where the Pure Wand is a true double-sided dildo offering you two differently sized ends to use, the Comet G Wand is only usable one way.

Now the tip-to-tip length may not seem important at first, but I found after my second use that it does matter to me. As I've said in the past I have short arms and a fat buddha belly and the C-curve plus the length of the Pure Wand is about the most ergonomic and easy to use design for me, hands down. The Comet G is mostly C-shaped, but that bulb on the handle tips back in an weird subtle S-shape. The handle tip also is more "fiddlehead fern" than true bulb and I found that it was a lot harder to keep a good grip on it than the Pure Wand. I found myself really need that extra inch and a half and the easier-to-grip bulb of the Pure Wand. While I was indeed able to finally get good g-spot stimulation and orgasm better than most other dildos, the clumsy grip means that I will still reach for the Pure Wand despite it's heft. Speaking of weight, the Comet G is 9.5 ounces where the Pure Wand is 1 pound 8.75 ounces – nearly a pound heavier.
Final Answer?
I can't totally discount the Comet G Wand, but I also can't say that I'd ever recommend it over the Njoy Pure Wand unless you absolutely need something under 1 pound in weight due to arthritis, injuries or muscular disorders – however on the flip side, the handle is a bit more difficult to keep under grasp but I think a creative person could come up with an add-on to the handle to make it larger and easier to grip. Sure, the Comet G is priced a little lower than the Pure Wand (on EF, $90 for the Comet G, $108 for the Pure Wand) so I wouldn't recommend the Key Comet G Wand as a more affordable alternative to the Pure Wand. There are lots of g-spot options out there, and not everyone likes or needs the firm pressure that I do. Many women have great luck with silicone dildos that to me are barely curved; there are also some decent glass options that have a partial C-curve and pronounced bulbous tip (for example, the B2B G-Spot is plain glass, double-ended, longer than it's nearly-identical cousins like Amethyst or Bent Graduate and hits a nice median price point of $60).