Posted by Lilly | 7 Comments
In the blink of an eye suddenly the sex toy world was treated to what is possibly a line of the most gorgeous glass dildos – Ever. They are hand blown by a little company out in California who named their line "Fucking Sculptures" and have possibly the best tag line ever: "where sex meets art, then fucks itself."  From their site: 
Fucking Sculptures are individually made pieces of fine, fucking art. Each piece is hand-sculpted, unique and perfect in its own way; crafted with intentionality and mindfulness to invite pleasure through all the senses. Fucking Sculptures are contrastingly playful and heavy, genderless and gendered, beautiful and crude.
I do have a tiny bit of a control issue when it comes to products like glass dildos because they are usually hand blown – whether it's done by an artisan or in a factory, there has to be an expected fluctuation in size, shape and color. In the past, all of the glass dildos I've reviewed were lackluster. They all were pretty enough, and decent enough, but never truly amazing to look at.  The designs and methods of coloring them were all the same: an internal "flower" or stripe coiling through it or just some sort of something in the center. They were all mostly clear glass with some embellishments. They were also all usually made from borosilicate or Pyrex glass. Crystal Delights is an exception to the lackluster; their products are beautiful, too, but they are not quite the pieces of art that is Fucking Sculptures.
Fucking Sculptures dildos are indeed art. Truly, no two will ever be alike. So while this may cause a little concern for those feel like they need a certain size, you are quite welcome to contact the company and tell them exactly what you need. If you see a style and color that you like but are concerned about the size, Maria from Fucking Sculptures assured me that they'll find you one that matches your needs as closely as possible. When I was looking at the G-Spoon, I knew I wanted a longer handle. This meant that I would get the Large size. I didn't fully realize that that would also translate to girth. While the "average" G-Spoon is 1.5″, mine is a little wider. It's hard to measure though because it's more oval shaped than round. You'll also notice that my design is slightly different than the photos on the site. While that little curly tip there at the small end means that mine can't lay "upright" on it's own like the ones on the site do, it ended up meaning that I had a very unique double-ended dildo. I've used both ends now and loved it. That little curly tip gave me very precise g-spot pressure; in fact I got a little too carried away after my first orgasm and kinda bruised my g-spot for the rest of the night. Oops. At first I thought that the width at the larger end would be too big for me, but it was not. The spoon sort of shape combined with the oval/tongue shaped shaft lent an interesting sensation to the mix….and it also made for some noisy self-fucking for some reason. Perhaps I was aerating my vagina. 
The color of my Sculpture is also a lot different than the photos on the site, and I'm actually ok with that.  I accepted the fact that these are basically art pieces and I was open to the experience. The "gold" color as shown on the site for the G-Spoon looks more amber and seems to show hints of other colors. The Gold that I have is very metallic for most of the dildo. If you are near a light source you can see that the glass is more amber colored all the way through but it seems almost "dipped" in this metallic gold. It's very cool, and really changes a lot depending on the lighting in the room. When I first showed my husband the room was very dim (we're cave-dwelling geeks and prefer low lighting at night, very low lighting) and he thought it was actually another Njoy stainless steel toy, the metallic looked more silver because there was no light to refract and pull in colors. You'll see below in a few photos where I managed to capture a variety of different looks. I don't know if you'll see quite as much variety from daylight to indoor lighting in their non-metallic colors but I'm betting you will see some differences. 
Fucking Sculptures has chosen to use soda-lime glass as opposed to borosilicate glass (Pyrex is one brand of that type). Maria says: 
Soda lime glass is old school. It's also the most common type of glass in use today, but most people are not particularly aware of this. Traditional "glass blowers"  that do all of their work by hand typically use soda lime glass. Basically the only difference between the two types is that soda lime glass is slightly more temperature sensitive. You can compare it to a pint glass. If you were to pour boiling water into a pint glass, it might crack. Same with your Fucking Sculpture. That's why we try to take particular care to inform people to gradually warm or cool their pieces and not to go suddenly from one temperature extreme to another.
Maria has quite the enviable job. You see, Lee is her life partner and business partner and he is the glass blower. They collaborate on designs and then she gets to go test them! I would love to be able to watch Lee make these, hopefully someday they will have a video up of him making one of the Sculptures. There's really not a lot else I can say about my particular dildo since your particular Fucking Sculptures won't look *just* like mine, so I'll let the photos do the rest of the talking.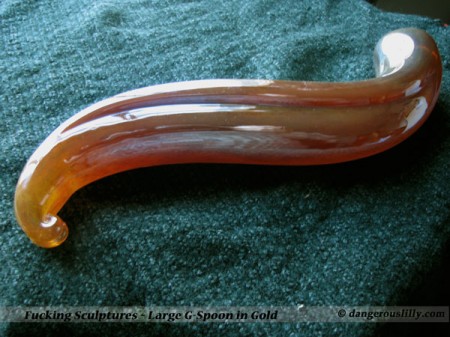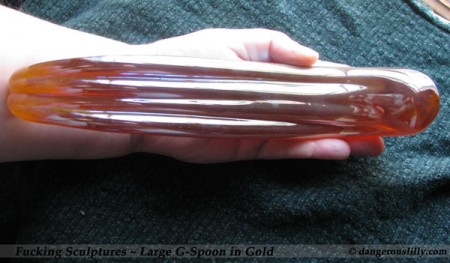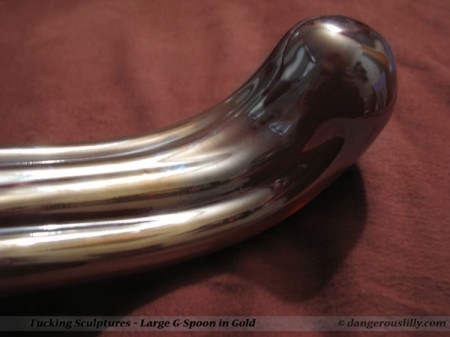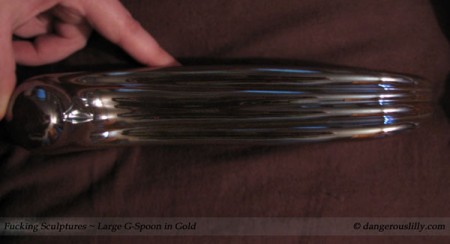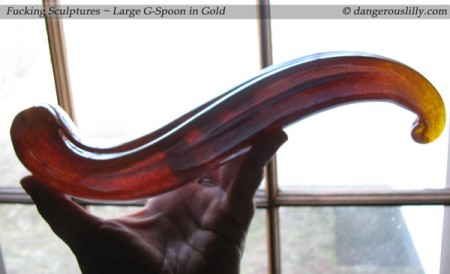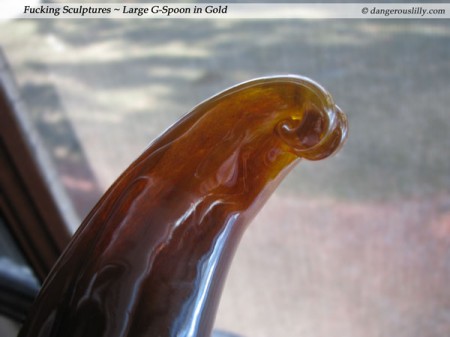 Quite honestly the entire line just eclipses any other glass dildo that I've ever lusted after. It makes the designs of Icicles from Pipedreams and even Steele Malone look…..pedestrian. Meh. But these? These are just amazing. Currently these are available from the Fucking Sculptures online store, or you can see them in person if you live near Berkeley, California (I think). She-Vibe.com will also carry some of their pieces. 
Thank you Maria and Lee of Fucking Sculptures for providing me with this beautiful piece of fucking art to review! 
Read More
All text and images on this site require permission before they can be used anywhere. To obtain permission click here to contact me
Here's a butt plug….Happy Mother's Day!
That's not something I'll ever say to my mother. But thankfully there are millions of partners and husbands and wives around the world who just might love to say that to the mother of their children! Flowers are commonly given for Mother's Day but what do you do when you want something more sensual and sexy? I say skip the floral-scented bodywash and give her the pink Crystal Delights Atomic Rose Plug. This gorgeous, glass butt plug is handcrafted here in the US and Shellie, the owner of Crystal Delights, inspects each and every glass sex toy that goes out her door so you know that you're getting something of high quality (did you catch my interview post with her?)
Giveaway Details:
You'll have your choice between the clear or frosted version of the Atomic Rose Butt Plug. The contest is open to anybody in the US or Canada and you'll talk to Crystal Delights directly to give them your personal info. Contest runs from April 30th until May 12th. The winner will be chosen on Mother's Day (May 13th). 
Entries will be gathered using Rafflecopter. If I can't verify your entry then it will get deleted – so if I ask for more information from you in entry details, you need to provide it for your entry to count!
Crystal Delights Plug Details:
Featuring the brand new Crystal Delights CAC Atomic Rose pink plug, available in your choice of a smooth or a frosted finish. The Atomic Rose plug is a Colors Against Cancer (CAC) Small Pink Plug adorned with a beautiful vintage glass Atomic Rose medallion from the Czech Republic. All Crystal Delights plugs include a custom made-in-the-USA bag for safe and discreet storage of your new Crystal Delights objet d'art.
Weight
oz

Length

Insertable Length

Bulb
Width

3.6

4.0

3.5

1.3
Read More
All text and images on this site require permission before they can be used anywhere. To obtain permission click here to contact me
Posted by Lilly | 5 Comments
There are two sex toy materials that seem to scare the uninitiated: Glass and wood1. It is ironic considering that the material you should be the most scared of is the one 50% of customers purchase willingly and gleefully. But glass is strong, non-porous, is not made with chemicals and is compatible with every type of lube.
The World of Glass Sex Toys
The glass we use is Borosilicate glass (often known as the trade name "Pyrex"). A 1-inch rod of Pyrex glass requires more than 3000 pounds of pressure to snap in half and has a crush strength of over 8 tons. Our glass pieces, after being formed initially,  are put back into the kiln and "annealed" (heated) almost back to melting point. This gives each piece its final smoothness and brings the glass back to its full strength because all the parts have been completely fused together into a single solid work of art.  This adds hours of extra time to the process and is one of the first places that will be scrimped on with the much less expensive glass products.  Knowing where the glass comes from is really important to help you understand that every piece you receive is a unique handmade piece of art crafted lovingly just for you!

Shellie, owner of Crystal Delights glass dildos and plugs
Not all glass sex toys are created equal, however. I've certainly been disappointed in quality issues with glass dildos I've received (the most obvious being the ugly one) – mainly because despite the "hand-blown" buzz word, the toys were mass-produced and failed to look like the photos provided. When you buy a glass sex toy you absolutely must be prepared to receive something that is not a perfect replica down to the millimeter of the photos and specs on the retail site you're purchasing from. But yet too much of an anomaly leads to surprises of the bad kind, disappointments, and sometimes leaves you with a sex toy you have no desire to use. I've owned glass dildos from Pipedreams, Joyful Pleasures, Dream Toys and SSA Glass. Joyful Pleasures was probably the best out of those but it still was a let down due to the size difference from their stats to what I actually received. The SSA Glass dildos were all huge disappointments in all aspects: quality, design and consistency. But then again the saying "you get what you pay for" is true; SSA Glass is cheap and it shows. The cheaper glass sex toys still won't break during sexual use but they might chip more easily. They certainly won't have the artistic beauty and careful construction like truly hand-made glass toys will.
One thing that all of the above sex toy manufacturers have in common is that their glass dildos are produced in a large plant in China. This isn't necessarily a death sentence but it depends on how involved the manufacturer is in their quality control – I've dealt with companies who manufacture in China and they turn out quality products that are consistent. But what if you knew that your sex toy was made locally by a skilled artisan and that it passed through only a few hands before arriving on your doorstep?
Crystal Delights – Small Manufacturer of High-Quality Glass Sex Toys
I have talked with Shellie, the owner, a few times about sex toy businesses and her glass sex toys. Talking to her always reinforces why we should make the effort to choose small sex toy companies over the Founding 5. Shellie designs the toys, inspects them and packages them up for shipment herself. You'll never receive a plug or dildo or paddle that she hasn't personally looked over to make sure it meets her standards. She uses just one local glass blower who is very adept at creating consistently high quality items. While you still see minor differences in size because there is no mold to fill, you can also do something with Shellie that you can't do with larger companies: Talk to her. I know, it's a novel idea! But let's say that you're eying up her small glass butt plug and you're still really new to anal plugs. You might feel a little nervous about the size and wish that it was a little smaller. All you have to do is email Shellie and tell her that you'd like a plug that runs a little under the normal specs. If you'd like to go even further you can contact her to make a custom piece!
I have my own glass plug2 courtesy of Shellie and I've seen all of her stuff in person a few times. The vintage plugs, the Swarovski crystal plugs and dildos, the glass paddles, the tail plugs – it is all, without a doubt, the most stunning and sparkly glass sex toy collection I've ever seen. Not one piece looked weird or wonky. In fact, I don't think I've even read a bad review on her stuff.
I asked Shellie a few questions because I'm a Sex Toy Geek!
How do you come up with your designs?
The basic design is the easy part!  You can get inspiration from almost anything, it can be the color, the shape, the attachment (crystal, medallion, tail) or even a customer request, can I have this but bend it this way or add a bump here, shorter, longer, you get the point.  But that really is the beauty of glass, it is very adaptable!
Do you do a lot of testing and revamping the designs before you list them?
That is a difficult question, sometimes things just come together and its fast and perfect right off the bat, but other times it takes months to get it just right, there is testing here before it goes out to my "product testers" and then feedback from them before it is ready to launch.  What I think is a brilliant idea sometimes isn't!
What sort of "quality control" things do you do that a large manufacturer overseas wouldn't do?
This is one of the things that I love about glass manufacturing, I touch and look at every piece of glass that goes out the door to a customer. And I am the second line that has done that, because the glass blower has already looked at it as well.  We want to be able to take those extra steps to make sure we are giving you the best possible product for your money.  We know that you have many choices and we want you to be glad you picked us for your business.   I try to be available as much as possible via social media, email, even phone to help with anything that might come up, we want you to know we take customer service, and our products seriously.
Can you work with people to create a custom design or size?
We can and do!  I have several custom pieces out there already and I often contact people when I get a special tail, or medallion in that I think they would love.  Again that is part of what is special about handmade glass from a small company; I like to know my customers and what they want and ,if there is any way possible, get it to them.  That isn't a possibility from the big box manufacturers importing from China.
Glass Sex Toy Pros, Cons and Myths
Pro

: Glass is non-porous and free of any chemicals that might be harmful

Pro

: Glass is compatible with any type of lube

Pro

: Glass is easy to clean (depending on the design, of course as some more elaborate designs can require more than just a rinse to get in the crevices) and can be sterilized in boiling water or the top rack of your dishwasher. Check with the manufacturer, though, before subjecting it to high heat.
Myth: Glass sex toys will break during use – I don't know what people think when they think of glass sex toys but the truth is that they're made out of a very sturdy and solid glass (borosilicate) that is resistant to cracks and damage. This isn't like your grandmother's antique glassware or anything. 98% of glass sex toys are solid, not hollow3.
Myth: Glass sex toys will cut/injure you – Unless you managed to chip it, that's simply impossible.

Before you use your glass sex toys you should always inspect them for damage.

While they are difficult to damage with normal use, it's still possible to accidentally drop it on the wrong surface at the wrong angle and incur damage. 

Pro

: Glass is a natural and reusable material. Have a glass toy that chipped? Safely smash it up to bits and use it in a mosaic somewhere; otherwise try to locate a recycler who takes this type of glass (Just ask if they recycle Pyrex-type glass).
Con: Glass is very sensitive to temperature – great for temperature play if you do it correctly (warm or cool water only) but you must be careful! You know what happens when you stick out your tongue and lick a frozen lamp pole, right? Yeah. Don't ever freeze your sex toys for sadistic play. Don't dunk them in boiling water for cleaning without donning silicone oven mitts or having another safe method of retrieval.
Con: One chip and you're done for. Yes, it can chip. It's not something that happens easily and I'm not saying that you should only use glass sex toys in a padded room but do be careful. When you're boiling it for cleaning, have a tea towel in the pot to protect surfaces and only do one sex toy at a time. Dishwashers are fine. I'd caution clumsy people against using a glass dildo if you're in a room full of concrete or ceramic surfaces (in case you drop it).

Pro

: You won't need as much lube for a clear glass (i.e. non-frosted) sex toy

Pro

: Can double as art! I've seen some stunning pieces that could easily sit in a china cabinet. Of course you should only do this if you're prepared for the "Ohhh that's pretty…..what is it?" question.
Just like with any other sex toy, you should be mindful of which glass sex toy manufacturers you entrust. Not all glass toys are made from damage-resistant heat-resistant borosilicate and not all borosilicate glass toys are annealed for extra strength! This is why I personally  recommend Crystal Delights and other small manufacturers like Simply Blown and Steele Malone who all use glass-blowers and keep things simple and local4. I've also seen some very unique glass sex toys on Etsy which are made by glass artisans and can range from the mundane been-there-done-that to beautiful, original works of art.
Do you have any more questions on glass sex toys? Ask and I will get the answers!
Already familiar with the joys and beauty of glass? Tell me in comments what your most favorite pieces are!
Read More
All text and images on this site require permission before they can be used anywhere. To obtain permission click here to contact me