Newsflash: Sometimes, I'm lazy.
Really lazy.
Sometimes? I get cranky AND lazy.
I know, you're shocked. I seem like such a sweet, brilliant, put-together person, right?
When you've stopped laughing at that last one, continue on. You asshats.
~ ~ ~ ~ ~ ~ ~ ~ ~ ~ ~ ~ ~ ~ ~ ~~
Sometimes I buy sex toys and then never review them. Lazy, right? I know. Usually I just bought them for my own damn curiosity. Like the OhMiBod Freestyle W. Quick review: Meh. and a little Yawn. Compared to other higher-cost sex toys, it's awfully noisy, sometimes sounding just like a blender on low speed. The shape and such isn't bad I guess. The silicone is weird – not quite matte, not glossy, a little texture to it, but not as much texture and drag as say…Fun Factory. The vibrations are firmly in the moderate camp and lean more towards buzzy.
I got the Touche Ice (small) free with an order and I picked it for non-sexual reasons: I have tendonitis in my elbow and one thing that I'm supposed to do when it gets really inflamed is massage the problem area with ice. I figured "hey, why not get it? it'll at least hold the ice for me, and maybe add in a little massaging vibrations"; I was half right. It has this little knob the sticks down into the ice so the ice will stay in place until it melts down more than halfway. The portion that holds the water and molds the ice actually is silicone, it passed the flame test. But the vibrations? I'm sorry, what vibrations? There's this tiny little bullet that may, on its own, do something for someone but when it is shoved firmly in the handle? The vibrations don't even travel to the knob, much less the ice. Oh well. It's useless for adding vibrations but great for those with injuries. I don't think I'd pay full price for it, though.
I'm not sure if I'll write up a full review on the Tantus Panty Play, or not. I've recommended it because a few others I know thought it was decent, and because of the three similar styles available Tantus is the company I trust the most but I have to admit that I hate it. I can see how it would work for some women. Your anatomy has to be just right for this one. My mons and labia are too full due to my weight (I think) and so the ridge that is meant to rest down in between the labia just doesn't reach my clit. The thing is way too long, too, for me. When I inserted the Salsa I was expecting that it would simply take it from meh to amazing….but instead it vibrated the crap out of the "tail" portion of it, the part that extends back past the vaginal opening, and turned it into something…annoying.
Speaking of the Salsa….it's out of stock again, but according to the site it'll be back in stock around March 14th. There is currently a site-wide sale going on that lasts through the 15th so if their estimations are correct, you may be able to nab a Salsa for $59!
OH HEY. One more thing. Did you know that I've secured a beautiful Fucking Sculptures dildo to give away during my 5 year blog anniversary giveaway extravaganza in June? Well now you know. It's preeeeetttyyyy. A mottled white and silver, curved, bloopy design that was originally called Bedpost but I believe is now Pussywillow. Oh it's lovely. But you shouldn't have to wait until then! SheVibe.com is giving away the Fucking Sculpture dildo OF YOUR CHOICE. Click that banner below to enter. It's really easy, the entries include Twitter, Facebook, G+ and Pinterest options.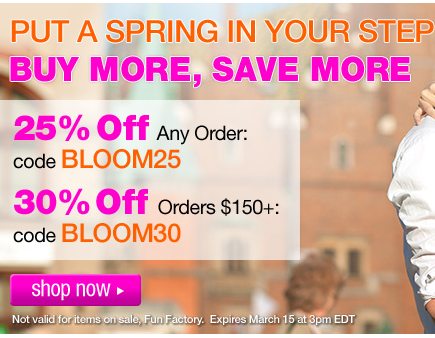 Read More
All text and images on this site require permission before they can be used anywhere. To obtain permission click here to contact me
Posted by Lilly | 3 Comments
Fucking Sculptures – Small Green G-Spoon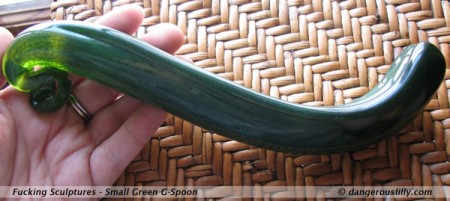 I'd be willing to bet that at least a few hundred people suddenly fell in love with Fucking Sculptures after my first review, of their Large Gold G-Spoon. And with good reason; these are probably some of the most artistic dildos we've seen!
But for those who were intimidated by the heft and size of the Large, take heart: they do make small and medium sizes. Of course, much like in the clothing industry, small isn't always small and medium isn't always medium. I have looked at the specs for some of the medium sized pieces up at SheVibe and I was surprised to see measurements that still seemed to be more on the "large" end of the scale. SheVibe was wondering if they should carry any of the Small sizes, and generously sent me one to review for them.

I won't keep you in suspense: Yes, SheVibe, please carry the Small sizes! The Small Green G-Spoon, shown here, is actually quite a good size for many people. Not too big, not too small, it feels like the Goldilocks of Glass Dildos. My Small is just a hair under 1.5″ wide from side to side, but it's more like 6/8″ from top to back; if I wrap the measuring tape around the fattest part, it's just under 4″. It's about 8-9″ in length, depending on how you measure. With a straight ruler it's closer to 8″; if you use a flexible tape and do tip-to-tip it's 9″. When you see a measurement on SheVibe.com, it means that they have measured the piece you're buying. They take an average between the two length measurements and use the widest part for the width.
As I said before, handblown glass dildos all will vary in size, color and shape from one to the next. Some brands more than others. I've seen Crystal Delights glass toys in person and while there is the expected bit of variance, they do stay in their projected range fairly well. So even though the dildos from Fucking Sculptures will vary, the benefit to purchasing them from SheVibe is that (for now, anyways) the photo you see on the site is the exact piece you will be getting. When you're dealing with artistic pieces like this, I don't begrudge them the variances but I do wholeheartedly feel that it would only help matters to list each piece individually (like you would see on Etsy). There are design differences, along with the obvious size differences, between my two G-Spoons and also between these and the ones shown on the Fucking Sculptures site and on SheVibe.com. If I were torn between, say, the red and the gold colors but I could choose between the exact red and gold dildos in this image below (the middle ones) then seeing the shape of the gold one would make my choice easier.
Where my Large has a very rounded and bulbous end to it, my Small is much more "tongue" shaped and flattened. The Large does have some grooves running down it, but the Small has grooves and then some….indented "holes" (which aren't holes but appear to be at first) that actually don't make sense. And they do make cleaning a bit difficult, to be honest. This could just be a design quirk that is purely unique to mine and it will never be encountered again, I won't know, but this is the only thing that could pass as a "complaint" from me on these beautiful glass dildos. While the Large was able to broadly target my g-spot and offer a full feeling with the girth, the Small allows a little more targeted g-spot pressure without quite as much girth. And, of course, the Small weighs a lot less (my Small is 12 ounces and my Large is 23.5 ounces) . I had first requested the Large from Fucking Sculptures because I prefer my dildos to be long in the handle, but even the small G-Spoon has quite enough length for comfort of use. You'll of course find different lengths on the various designs. This Green G-Spoon has a little bit more of what I called a "Dairy Queen" curl than the Gold G-Spoon, in fact it's enough to make this green dildo look a bit more like a vegetable! I found though that it does have a practical purpose: it gives my fingers something to press against for better grip on the handle. Overall I just really like this style and I enjoyed using both sizes. The Green glass is a little bit more consistent with what it looks like in various lighting, whereas the Gold (because it is so metallic) could look like steel in some lights or rich amber in others. The Green also has sparkles – not glitter, I'm sure, but in certain good lighting it's easier to see than in others. I managed to capture it in the evening setting sun the best. Both colors are really pretty so it's just down to personal preference; since green isn't really a color I prefer usually, the Gold is much more my speed. For the many who adore green? You'll love this. It was hard to capture the exact color and quite honestly in most light I could mistake this for a zucchini at quick glance!
So if you're more Type A than B, I would suggest looking at SheVibe.com for purchasing these beautiful works of art. It takes a lot of work on their part to photograph every single different Fucking Sculptures dildo that they put up on their site, but if I knew for 100% certain that the dildo in the photo was the exact dildo I was receiving, it would make me more likely to take the plunge. What do you guys think?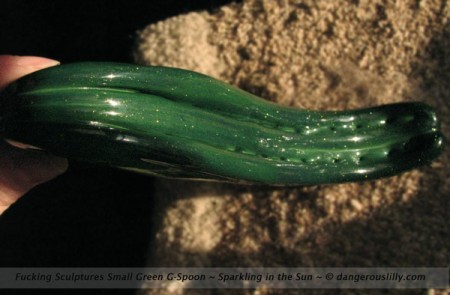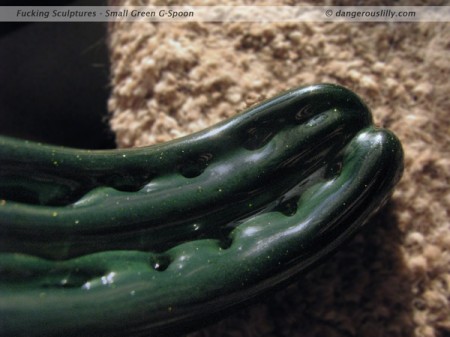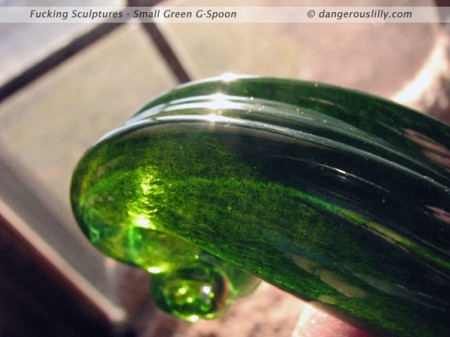 Read More
All text and images on this site require permission before they can be used anywhere. To obtain permission click here to contact me
Posted by Lilly | 7 Comments
In the blink of an eye suddenly the sex toy world was treated to what is possibly a line of the most gorgeous glass dildos – Ever. They are hand blown by a little company out in California who named their line "Fucking Sculptures" and have possibly the best tag line ever: "where sex meets art, then fucks itself."  From their site: 
Fucking Sculptures are individually made pieces of fine, fucking art. Each piece is hand-sculpted, unique and perfect in its own way; crafted with intentionality and mindfulness to invite pleasure through all the senses. Fucking Sculptures are contrastingly playful and heavy, genderless and gendered, beautiful and crude.
I do have a tiny bit of a control issue when it comes to products like glass dildos because they are usually hand blown – whether it's done by an artisan or in a factory, there has to be an expected fluctuation in size, shape and color. In the past, all of the glass dildos I've reviewed were lackluster. They all were pretty enough, and decent enough, but never truly amazing to look at.  The designs and methods of coloring them were all the same: an internal "flower" or stripe coiling through it or just some sort of something in the center. They were all mostly clear glass with some embellishments. They were also all usually made from borosilicate or Pyrex glass. Crystal Delights is an exception to the lackluster; their products are beautiful, too, but they are not quite the pieces of art that is Fucking Sculptures.
Fucking Sculptures dildos are indeed art. Truly, no two will ever be alike. So while this may cause a little concern for those feel like they need a certain size, you are quite welcome to contact the company and tell them exactly what you need. If you see a style and color that you like but are concerned about the size, Maria from Fucking Sculptures assured me that they'll find you one that matches your needs as closely as possible. When I was looking at the G-Spoon, I knew I wanted a longer handle. This meant that I would get the Large size. I didn't fully realize that that would also translate to girth. While the "average" G-Spoon is 1.5″, mine is a little wider. It's hard to measure though because it's more oval shaped than round. You'll also notice that my design is slightly different than the photos on the site. While that little curly tip there at the small end means that mine can't lay "upright" on it's own like the ones on the site do, it ended up meaning that I had a very unique double-ended dildo. I've used both ends now and loved it. That little curly tip gave me very precise g-spot pressure; in fact I got a little too carried away after my first orgasm and kinda bruised my g-spot for the rest of the night. Oops. At first I thought that the width at the larger end would be too big for me, but it was not. The spoon sort of shape combined with the oval/tongue shaped shaft lent an interesting sensation to the mix….and it also made for some noisy self-fucking for some reason. Perhaps I was aerating my vagina. 
The color of my Sculpture is also a lot different than the photos on the site, and I'm actually ok with that.  I accepted the fact that these are basically art pieces and I was open to the experience. The "gold" color as shown on the site for the G-Spoon looks more amber and seems to show hints of other colors. The Gold that I have is very metallic for most of the dildo. If you are near a light source you can see that the glass is more amber colored all the way through but it seems almost "dipped" in this metallic gold. It's very cool, and really changes a lot depending on the lighting in the room. When I first showed my husband the room was very dim (we're cave-dwelling geeks and prefer low lighting at night, very low lighting) and he thought it was actually another Njoy stainless steel toy, the metallic looked more silver because there was no light to refract and pull in colors. You'll see below in a few photos where I managed to capture a variety of different looks. I don't know if you'll see quite as much variety from daylight to indoor lighting in their non-metallic colors but I'm betting you will see some differences. 
Fucking Sculptures has chosen to use soda-lime glass as opposed to borosilicate glass (Pyrex is one brand of that type). Maria says: 
Soda lime glass is old school. It's also the most common type of glass in use today, but most people are not particularly aware of this. Traditional "glass blowers"  that do all of their work by hand typically use soda lime glass. Basically the only difference between the two types is that soda lime glass is slightly more temperature sensitive. You can compare it to a pint glass. If you were to pour boiling water into a pint glass, it might crack. Same with your Fucking Sculpture. That's why we try to take particular care to inform people to gradually warm or cool their pieces and not to go suddenly from one temperature extreme to another.
Maria has quite the enviable job. You see, Lee is her life partner and business partner and he is the glass blower. They collaborate on designs and then she gets to go test them! I would love to be able to watch Lee make these, hopefully someday they will have a video up of him making one of the Sculptures. There's really not a lot else I can say about my particular dildo since your particular Fucking Sculptures won't look *just* like mine, so I'll let the photos do the rest of the talking.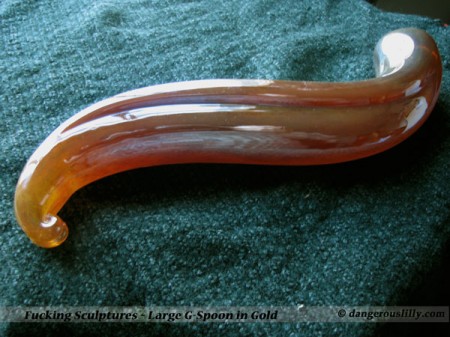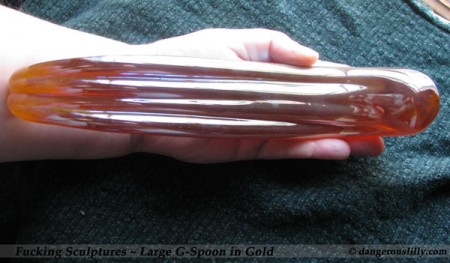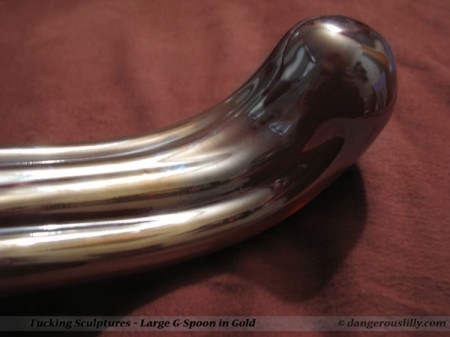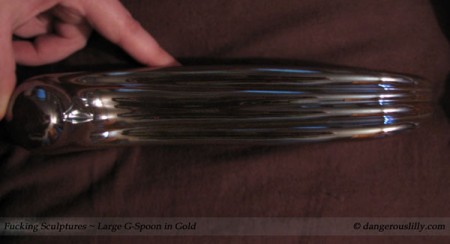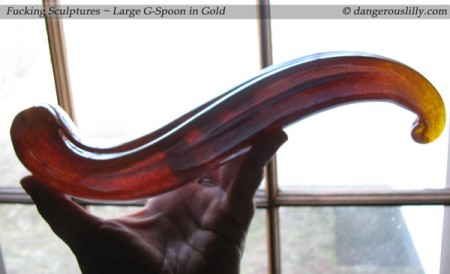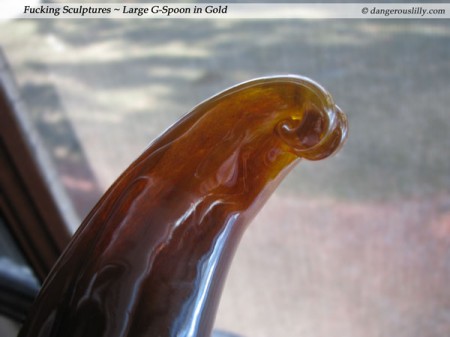 Quite honestly the entire line just eclipses any other glass dildo that I've ever lusted after. It makes the designs of Icicles from Pipedreams and even Steele Malone look…..pedestrian. Meh. But these? These are just amazing. Currently these are available from the Fucking Sculptures online store, or you can see them in person if you live near Berkeley, California (I think). She-Vibe.com will also carry some of their pieces. 
Thank you Maria and Lee of Fucking Sculptures for providing me with this beautiful piece of fucking art to review! 
Read More
All text and images on this site require permission before they can be used anywhere. To obtain permission click here to contact me