Japanese Bondage Rope |   Sex Toys |   More BDSM Items
Essentially, sextoy.com offers 2 different types of bondage rope. The Japanese Silk Love Rope, which has a shiny silky look and feel to it, and this rope which is cotton. I have found that the silky texture of the previous rope can make it a bit difficult on a beginner to tie a secure knot. Cotton offers better texture/friction for keeping knots secure and in place, without being scratchy like some hemp rope. Many people into rope bondage -like- the rough texture of hemp rope…..as someone who admittedly is ultra sensitive to texture and such, I find that hemp rope drives me to distraction. Too scratchy! Cotton solves that problem.
This rope is also thicker than the "standard" 6mm used by more experienced folks – it will require fewer passes for a comfortable and safe restraint, but the knots will be bulkier.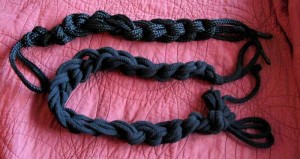 Top: Japanese Silk Love Rope, 16 ft length
Bottom: Japanese Bondage Rope, 32 ft length
This rope comes in a nice long length of 32 feet, which means you can do things such as a chest harness or other more intricate body ties. 16 feet is generally good for simple wrist or ankle restraints, or as an accent color / final pass on the more intricate bondage ties.
Better Bondage Rope Storage: I bet most of you are looking at the photo above and thinking….that doesn't look like 32 feet! And why is it braided? When I was trawling wonderhowto.com's 'sex education' section of videos looking for instructional videos on various restraints, I happened upon a video about some basics of rope bondage, which included rope storage – so I went hunting on YouTube for a specific how-to video just on the rope storage method. There is a special, easy way to "braid" it for storage. Much easier to transport/store a thick, stout braided hank of rope than a coiled mess which will likely tangle up. Once you watch the video and try it a few times, the technique goes very quickly even on 32 ft lengths. Better, undoing it from this is ridiculously easy – just pull and it comes apart! This method doesn't put kink or curl in the ropes I've done it on, either.
.
Link: No Tangle Rope Storage
Read More
All text and images on this site require permission before they can be used anywhere. To obtain permission click here to contact me
The first thing I received to review for sextoy.com is some bondage rope. I have to point out that on the site, there seems to be two different "japanese silk love rope", but they are both indeed the same even though the photos differ. They are both Topco brand. One thing that wasn't mentioned by the manufacturer and therefore couldn't be included on the site is the width of the rope. If you study up at Twisted Monk's site, width means a lot. 6mm is pretty ideal and standard, 8mm is wide and results in bulky knots.
The upside to 8mm, which this rope is, is that it's wider and requires fewer passes over the area. You want the area of pressure to be wider so that it's not damaging and cutting off circulation or otherwise too painful.
I'm going to assume this rope is nylon, it doesn't say. It is quite soft and "silky", but since I am a rope beginner I'm not sure that that's -great- for rope bondage….wouldn't there be less friction there, friction needed to maintain the knots? But if the person you're tying up is sensitive to scratchy things, this would be good. If you're new to rope bondage, the 8mm would be good also so that you ensure safety and comfort. This is the 16-foot length, and pretty versatile. Hopefully soon I'll try out more techniques and maybe get photos.
Sex Toys
TLC Japanese Silk Love Rope (16 feet, black)
Read More
All text and images on this site require permission before they can be used anywhere. To obtain permission click here to contact me