Posted by Lilly | 17 Comments
I can't recall what I was looking for one day on Etsy, but I came across some people who sell jewelry made from antique typewriter keys. I really like this necklace and I think it's perfect for me. I can wear it when I'm out as Lilly. I can wear it around family. While a computer key would be technically more apropos the typewriter key lends the class and charm I prefer.
Click the pic for a closer view of the necklace!
Check out all the other Wanton players, would ya please? Show a lil love!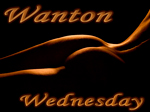 Read More
All text and images on this site require permission before they can be used anywhere. To obtain permission click here to contact me