Posted by Lilly | 41 Comments
But then again, that's a good thing. I'm not the sort of gal with the abnormally large tits and great figure combo. I live firmly in one-piece-suit land.
I recently had to move my physical therapy sessions to the pool; a few sessions and I knew that my old suit was just too damn small. Lemme tell ya, last week of summer before Labor Day is not a good time to go looking for swimsuits, particularly in the plus-size section.  Rather than go to a dozen stores I bought the first decent looking one I saw that fit. Well, it mostly fits. It's a size too big, and perhaps that's obvious up top.
Maybe it depends upon the style but I looked down and though "Shouldn't the girls be more uplifted and supported? They look kinda droopy!" And then my second thought was "I wonder if this is too low and revealing for something like physical therapy?"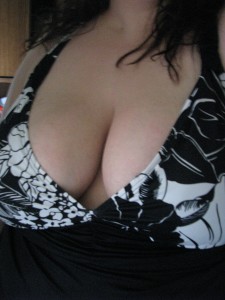 The general consensus of a few friends was that no, it wasn't inappropriate. Sexy, sure. But not skanky. The bff rated it "almost too perfect" (but he's admittedly got a thing for my tits) and the hub's first coherent thought was that it was a little too much. He stammered that out while staring. When I informed him that no one else thought it too much, he admitted that he only said that because the sight made him hard in half a second.
Well….
My therapist IS hot. Younger, sporting the perpetual 3-day growth of facial hair that I love and a head of short curls that I want to run my fingers through.
Sadly after I bought it he wasn't as present, busy with new people. But I notice now that the male therapists are the ones who check in on us in the pool and they now tend to hang out. Since their chair is outside the pool and up above, I imagine they get a real good view. Especially when I'm doing exercises in the shallow end, the water is right about tit-height. Just enough to provide the buoyancy needed for support and bounciness. I wish I could take a pic while I was in the pool but alas that's just not possible (and NO I'm not asking a therapist, the poor men are trying to at least appear professional). I'll do my best to simulate the effect though ;) When in water, in this suit, my tits become these round perfect flotation devices. At least 1/3 of my breast is exposed, if not more. Once I truly noticed the effect the water had, I occasionally checked (when alone) that the suit was at least covering my nipples. I wouldn't want to be *obscene* now would I???
(sorry for the quality of these but I snapped them with my phone while I was in the changing room at therapy yesterday)
Oh, oops….oh Mr Hot Therapist, I just don't know what happened, my straps fell down!!! *giggles*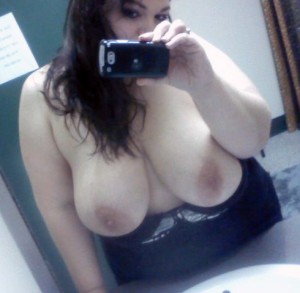 Read More
All text and images on this site require permission before they can be used anywhere. To obtain permission click here to contact me