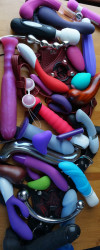 Over at Reddit I've been getting a lot of questions along the lines of "I/we want to try out sex toys, but have no idea where to start". It can be hard sometimes to recommend things for someone's first sex toy, since not even they really know what they want. And of course, they often are young or just reluctant to spend much money on the whole endeavor, since they have no clue how it'll work out. Too often, people recommend cheap and *unsafe* sex toys, or cheap and half-ass quality sex toys, for a sex toy newbie. I've been there, and that's mostly what filled my meager toy bag my first two years. It led me to wasting a decent chunk of money, but it also ultimately led to me creating this blog. I try to avoid recommending shoddy toys to the first-timers. So difficult, so very very difficult. They're cheap for a reason!
Two things I try to avoid: Porous/toxic sex toys, and vibrators that require weird ass batteries that can end up costing you more than the toy did a few months down the line (read: most vibrating cock rings). I've got a small selection of "under $50″ toys listed on my Best Sex Toys page, but I wanted to expand a little on the topic. Why the cut-off of $50? It seems to be a middle of the road price. It's so not horribly cheap that anything available is shit, but it's not going to break the bank. Go out for dinner and you'll probably spend nearly $50, unless your idea of out to dinner is Denny's because you're in college and prefer to spend the rest of your cash on weed or beer. Been there, done that.
Where to shop
I pretty much never recommend Amazon, because of their wacky policies and the abundance of counterfeit sex toys. The first place I recommend you shop at if you're in the US is Shevibe. They have great prices and are a trustworthy company. You'll get great customer service, too. They've been around for awhile and I adore them. For silicone dildos and butt toys, plus some harnesses and paddles, you can also go directly to the manufacturer I adore most – Tantus. They often have great sales. If you're in Canada or US, Pinkcherry is okay. They have good prices on some things, sometimes have great sales. They stock a whole lot of unsafe stuff, though, so pouring through their stock might be a little daunting. For UK peeps, try Lovehoney. They also stock a good deal of unsafe stuff, but you can find deals and quality toys there too. *Apparently this paragraph is not sufficient for some people. If you want the details on why I recommend these shops, read my long-winded comment below.
Deciding on sex toy size
Base the size of the toy, if it's meant for insertion, on what has already been inserted into said orifice. Nothing? A finger? Two fingers? A cock? Not all people seeking their first sex toy need something tiny and/or wimpy on vibrations. If you've never had anything inserted, ever, you're going to have to purchase two sizes – the warm-up and then the step-up. I realize it sounds like a waste of money, but you can't just jump head first into these things. Starting with a warm-up can be key to the whole experience going well.  I have a complete guide to choosing your first dildo that you should check out. For affordable silicone options, always check out the Tantus Grab Bag section.
Introducing the clitoris to a vibrator
The first vibrator you use on a clitoris is very dependent on the sensitivity level of that clitoris. Again, not everyone will need a subtle vibrator, but not everyone needs a Hitachi Magic Wand, either. If the clitoris owner in question has difficulty reaching orgasm from fingers and tongues, then you're looking for something powerful and rumbly. If you think that pinpoint but really strong stimulation is your best bet, you can't go wrong with the Wahl 2-Speed. If yours doesn't sound like mine, though, return it. Some people have gotten a defective model that is very loud.
For those who can orgasm anywhere from somewhat easily to rarely, to unsure about owning a vibrator I have one that I recommend across the board: Doc Johnson's Black Magic bullet. It's affordable, it has vibrations that are more rumbly than buzzy, and with 4 levels it can work for a large variety of people. It's versatile – can be used solo, together, and on any body part that might like some vibrations (external only, though please – I don't feel that most corded bullets are meant for vaginal insertion and I wouldn't trust them for anal insertion). 
G-spot for beginners
A number of the dildos in the choosing your first dildo guide are great for g-spot play, but some people are understandably curious about vibration. There's a number of better (over $50) options like the Lelo Mona 2 or the Je Joue Uma, but to see if you even like vibrations on your g-spot, start out with something more affordable like the Envie, or Picobong's Zizo or Moka.
A Vibrator to use during sex?
Often I hear from couples who want a vibrator that can maybe be used during PIV sex to help achieve clitoral orgasm. I find myself recommending the Fun Factory Layaspot for it's small size and curve. I'd prefer to recommend the We-Vibe Touch for it's small size and nice silicone, but that wouldn't fit in the $50 price limit unless you nab a seriously good sale. Another sort-of decent toy is the Doc Johnson Mood Frisky. It's cheap, it runs on AAA batteries, and it's got decent vibrations. They're not rumbly but they're not seriously surface-buzzy either. With a little effort, it's even enough to get me off. It can be loud, though. But the "tilted egg on a stick" style is pretty versatile. It can be used for the g-spot, but also it's great to use during PIV sex because the long handle keeps your hands out of the way of bumping pelvises (pelvi?). I tried a bunch of vibes of this style and the Mood Frisky was the only one I didn't hate. The We-Vibe 4 was designed to be used during sex, but the fit can be finicky and the vibrations don't blow your mind. 
I don't want something that looks like a sex toy
This is a common theme; often the people who can't afford much are people who don't live alone.  Wand massagers like the Mystic Wand are quiet and discreet looking; for the budget-minded you can try their Mini version battery-powered which is under $40 at Shevibe, or the rechargeable Mini which is just barely under $50.  Granted these next two ignore the $50 cut-off, but if you can save up for it you won't be disappointed: For pinpoint stimulation the We-Vibe Tango and Lelo Mia 2 both fit the "tiny & quiet" bill. Often you can find a glass sex toy that looks more like art than a dildo. Newbies won't want to drop the cash for Fucking Sculptures brand but it certainly passes for art.
Butts need love, too
If you're looking for plugs and dildos to prepare a butt for eventual butt sex, you should start out small and buy a few in graduating sizes, as I recommend in the beginner's guide to anal sex toys. If you're looking for something to stimulate the prostate, start out with the Tantus Pro Touch from their Grab Bag for something affordable – it has the tip and curve that tends to target the prostate. If you decide you like the sensation, consider the Lelo Bob, Tantus Neo, Lux LX1 or Fun Factory Booty for something under $50 or spend a little more to try the Nexus Neo or Njoy Pure Plug.
Going beyond a hand job
The world of sex toys for the penis is just so damn difficult to navigate for someone like me – I'm loathe to recommend very porous or toxic toys, yet 95% of the masturbator sleeves out there are porous. Very few are silicone – the ones that are, are very expensive or not awesome. I'm not against Fleshlight and Tenga brands, though, despite them being porous because I at least know that they're not toxic. I've not heard reports about people getting skin irritations. You do have to be super vigilant with cleaning them. A Tenga product that I really love, and a material that more companies should embrace, is their line of 3D sleeves. It's a porous TPR material infused with silver for its anti-microbial properties. They're extremely soft with a texture; they're open-ended too so it won't create vacuum suction (which also often is very noisy). Since there is no hard plastic shell around it, you can use your hand to increase pressure; you can also use your other hand to grip the open end shut to create some suction.
I read that "50 Shades" book…..
So you read one of those damn 50 Shades books and want to "spice things up". When people say this, they can mean anything from "let's use a sex toy" to "I have a secret kink I've held back on for years".  I'm not to be considered an expert on anything serious for BDSM/kink, but I can get you started.  Pretty much the whole entire "position aids" section at Shevibe will be enough to "spice-ify" the most vanilla of sex lives, or at least get you on your way to being able to communicate deeper kinks and desires. For a little restraint and blindfold experimenting, the Liberator Pro Cuff kit is nice, sturdy and has the best blindfold I've ever tried on. For less money, they also have a starter set, fewer restraints.  You can also consider things like sex slings and under the bed style restraint systems – this one fits any bed, while this more basic one will only work up to a Queen size bed.
But what about!
You'll see I don't mention vibrating cock rings or rabbit vibes here. That's because I think these are the equivalent to when a real estate agent tries to call a house "cozy" when it's really 700 square feet, or a "fixer upper" when it barely has a floor and a roof. I didn't get into things like harnesses because I don't think I've tried enough, plus my size limits my ability to really judge the less expensive ones – just stick to simplistic, o-ring and straps versions that don't come with a dildo already and you'll be okay. I don't get into gender expression items because that's totally outside my area of expertise.
 Final tips
Some quick tips to keep in mind include gems like: don't forget the lube; don't cross-contaminate anal and vaginal toys; make sure you clean all of your sex toys properly; and finally – go slow. Try different positions. Be patient. Sex toys aren't meant to replace a person, and they can't. Sex toys are about enhancing the pleasure. Vibrators aren't dangerous or addictive, nor will a large dildo "stretch out" a vagina. Have fun and check your ego.
While this guide certainly won't cover ever aspect, it should hopefully get you started from point A. If there's anything I haven't covered, please ask below!