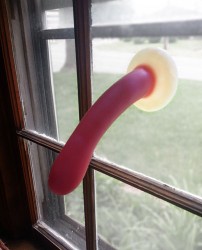 Like the rabbit vibrator, suction cup dildos are (for me) a great idea in theory but terrible in execution. I'm no spring chicken anymore and I have the knees of a person twice my age. I can't deny though that plenty of people love these things. One reason why I have trouble with suction cup dildos is the lack of a compatible surface. The surface has to be completely flat and perfectly smooth, no imperfections that would break the suction seal. Bathroom tiles can sometimes work, but they need to be at least 1/2″ bigger than the base on each side to have a chance at working. Mirrors and windows work, of course. Painted walls though, normally do not. Before you get it in your head that the suction cup is for you, make sure you have a surface that'll work with it. I see a lot of people buying the porous / possibly-toxic versions way, way too often so I'm providing a list of all known safe versions. There's a surprisingly larger selection than I expected!
Early2Bed carries a few that I'm not yet seeing in many places. Max, Fairy, and Astral. Max is realistic-looking but small while Fairy and Astral (Maia brand) are completely non-realistic.
It looks like SheVibe is now carrying a bit of the Maia brand, and using the manufacturer's naming they carry the Maia Porpora D1 in hot pink and purple and the D3 (lightly ribbed) in Blue or Purple.  For a moderately sized (7″x 1.6″ for the D1, 1.75″ for the D3) silicone dildo, the price ($30) is quite decent.
Blush, who makes a lot of crappy vibes and realistic cocks now has a dual-density pure silicone line out that is vaguely realistic. Every model in their Real Nude line at Shevibe has a suction cup. Prices range from $56 to $85 so they're priced lower than Vixen Vixskin, but right on par with the prices at SheVibe on Tantus O2 dildos – the difference being of course that the Real Nude line has the suction-cup base and the Tantus O2 line does not. The Real Nudes don't come in non-representational colors and there are only two representational color choices at that … "almond" and "toffee". Meh. The silicone is very shiny and attracts lint like crazy; I've been told that the squishy portion (all of the head and a layer along the shaft) is softer like Vixskin, but the core is very firm, like Tantus. However, photos have shown the Sumo (supposedly 2″ diameter) easily able to bend in half. I know that my larger Tantus O2 dildo can't do that.
 Of course with Tantus, there's the silicone suction cup attachment, which works with their vibrating dildos.
Fun Factory, usually known for the vibrators, have a few dildos. Amor, maybe the Boss (unconfirmed), Bandito and Tiger all claim to have suction-cup bases. The Amor and Boss are subtly realistic while the Bandito and Tiger are not at all plus are heavily textured.
Happy Valley vibrating dildos (Perk, Hottie and Little Hottie) might work with the Tantus suction cup attachment. When I contacted them, they responded with:
All of our dildos are designed with ergonomics and harness compatibility in mind. As the bases are shaped to conform to the natural curves of the body, this does not readily lend itself to suction cup styles. Whilst the Tantus attachment would definitely fit into the vibe hole for both Fuze and Happy Valley toys, I doubt that it would either be comfortable or function to its full potential, due to the different design criteria of ourselves and Tantus.
Pipedream Fetish Fantasy Elite line has a number of silicone dildos & silicone vibrating dildos with suction cup bases but you know they're not a company I trust. The price is pretty low for the dildos but I'm just in general unconvinced of their overall quality. I've not flame-tested anything from them; until I can get my hands on one to flame test and dissect, I'm reluctant to really recommend them but there they are. There's such a big line that I can't really ignore them, and they do offer the vibrating aspect which isn't common for this list.  I've never received any reports that they are not silicone, but they are "hollow" with a foam core. The silicone covering the foam core is thick and I can't see it really becoming a problem.  Silicone is strong and I can't see it ripping or anything. But, it is false advertising on Pipedream's part, reporting these as "100%" medical grade silicone. I don't believe it to be medical grade; why would they cut costs by adding the foam core and then use a more expensive grade of silicone? It's probably food-grade which is no less pure or safe. Regardless, that's a bit of false advertising that is slimy, but not surprising to me given Pipedream's basic reputation. Pipedream isn't a company I can see supporting at all, but the choice is yours so I'll list the option.
 The Colours line, from NS Novelties, has 2 sizes of suction cup dildos in 2 colors.  The overall styling is realistic, but the colors aren't (charcoal black and hot pink).
Vixen dildos sometimes have a naturally occurring suction cup base. I contacted Vixen to get the complete current line-up:
Vixskin: Tex, Raquel, Randy, Maverick (rumors have it that the Mustangs can be suction-cuppy, but Vixen didn't list it)
Original Formula: All with the exception of vibe versions, or anything with testicles (Johnny). i.e. All of the Realistic Bents, Randy, Leo, Mistress, and Woody.
 Available only from Lovehoney (US): LH-branded has a 7″ purple smooth dildo and a 5″ slender black smooth dildo. There's a realistic one from Adrien Lastic (?) and they carry only one Malesation dildo – but quite clearly, Malesation is made by Maia, they just felt the need to have two brands each bent toward a gender. How lame. So if the Maia Wavy D1 looked fun but you hated the pink and purple, pick up the Malesation Wavy in black.
BUTT TOYS! Not to be left out, there are a few silicone butt plugs with a suction cup base: Cocolicious from CalEx (might have a foam or bead core, like Pipedream); Colt brand Jumbo (over 2″!) plug, and Marc Dorcel's Ultimate Plug which also vibrates (but not much).