First, I hope that everyone who is celebrating Thanksgiving is having a wonderful holiday with the friends and/or family. I am thankful for all of you and for this part of my life, and those I've met because of it. I'm sad that due to having a very conservative family I cannot share this part of my life with them; it is fulfilling and fun and I have met some of the best people in the world because of it. I live a double life in some ways but I'd rather have that than none of this.

ARE YOU READY?? Not sure what to buy? Check out my Best Sex Toys page and this year's picks for Best Sex Toys of 2014 (posting later!). These sales will go into effect as soon as the clock strikes FRIDAY. Sleep? Who needs it. Unless of course you're in a mild coma from that turkey and alcohol and 3 pounds of filling/stuffing/dressing you consumed.
SheVibe!
First up, the most simple one: SheVibe.com. Starting at 12:00 am on Black Friday, through Cyber Monday, SheVibe is having a progressive sale – the more you spend, the more you save. 10% off of $75 / 15% off of $100 / 20% off of $125. Codes are TURKEY10 / TURKEY15 / TURKEY20, and these sales are only good for shipping to customers in the US, AUS, CA, and UK. And when you spend $75, your shipping is free in the US! Make sure you browse their current hot deals page to grab something for a super good price.
Tantus!
Tantus has a lot of deals, and will have a flash sale on a different item each day; that info will be updated as I get it.  The best part? None of these sales at Tantus require a coupon code; your discount for the bundles and individual items is automatically deducted when the items are in your cart, so you can use my code, LILLY, to save an extra 15%. And when you spend $100, you get free shipping in the US; spend $200 and get free shipping anywhere else! All of these deals are good from 12:00am PST Friday through Monday. 
There are 4 different bundle deals: 
These individual items are also on sale: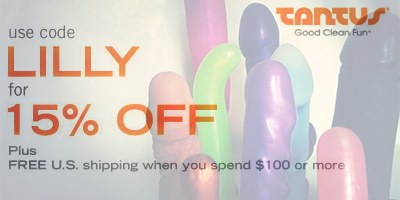 Lovehoney!
Lovehoney does stock a lot of porous toys. A lot. So please, pay attention when you shop. Unless it says "silicone" or stainless steel, aluminum, ABS plastic, or glass….reconsider it. I don't believe in "body-safe rubber".  There's a few decent items on their sale page, but otherwise you can save 25% off your order of $80 or more at Lovehoney.com when you enter code BLACKFRI14 here. Check prices between Lovehoney and Shevibe – I've often found that Shevibe is cheaper so even though their discount percentage is less, your total might be less overall vs Lovehoney.
There's one more, and I'm very reluctant to even mention it. I don't support EdenFantasys anymore for a large variety of reasons. I'd really rather you shop at Shevibe.com. EF isn't an ethical company, for one. Two, their stock sucks. They decided to mostly to sell their own branded crap which is cheap and shitty. But for example, in the 70% off section, is a small bright silver Tantus Sport for $17. That's pretty much one of the only items in the 70% off section I'd recommend. In the 50% off section there's quite a lot glass, and more discontinued Tantus items. If you're going to grab up any deals, do so with caution. Don't buy Eden's brand. And when you get your order if ANYthing seems funky or off….send it back. I am still very wary of the claims from a few years ago of used toys (since they do accept returns) because logically it makes no sense – why would a company who worked so hard, paid so much money to be seen on the internet as the #1 place to go risk it all by sending out previously owned and used toys? One report to the Health Department and they'd be shut down.  Anyways, I'm mentioning the sale because there are a few super good deals, but just be smart about your order.