Best Women's Erotica of the Year Volume 1 – Excerpt and Giveaway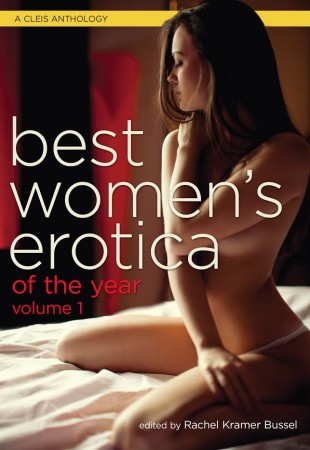 One of my first erotica books was a Best Women's Erotica of the Year. My local Barnes & Noble had two shelves for erotica books and BWE caught my eye immediately.  Back then, BWE had a year name in the title but apparently this caused book stores to send them back at the end of the year, thinking people wouldn't buy past year's books. I always wanted to find back editions because I liked the book so much. So Cleis Press now is starting over with Volume 1, and the lovely Rachel Kramer Bussel is editing (and contributing!). Rachel is a prolific writer of both erotica and editorial pieces. Her work spreads far and wide in print and Internet. If nothing else from this contest, let me introduce you to Rachel because you don't want to miss out on her writing1.
I don't really review books anymore because I lack the time and post scheduling resources, but I love Rachel so much that I couldn't say no to introducing my readers to her and Best Women's Erotica of the Year. I've had time to check out a few stories in the book and what I've had time to read has been *really good*. BWE Volume 1 has 22 very varied stories, including BDSM, heterosexual, lesbian and bisexual stories, stories featuring women with trans men, one sci-fi story and one historical story, several women in their forties and more. I've got an excerpt for you below from Rachel's story, but if you visit the book's website, you can find excerpts from 5 more stories!
I highly recommend this book! The stories I've read so far have focused on hetero, cis couples but I know from Rachel's info that there is a little more diversity. She is aiming to have more work by and about trans women in the next volume (which is open for submissions!). I have such faith that you will love this book too that I want one of you to win one, and you have tons of ways to gather entries. You'll notice a lot of people down there that can be followed on Twitter for entries – besides myself, Rachel and Cleis Press the rest all are authors who have stories in this book. If you're a fan of erotica, please consider following these very talented people! One lucky US winner will get a paperback copy. You can find BWE Volume 1 on Amazon in the US, UK, and Canada.
From Best Women's Erotica of the Year, Volume 1, published by Cleis Press, edited by Rachel Kramer Bussel
Flying Solo

by Rachel Kramer Bussel

I've made sure my camera has plenty of battery left for this trip, because you're not here to watch me. I wish you were, but life sometimes keeps us apart. You didn't ask me to, but I want to send you photos of me naked, turned on, wet for you. Even though you're not talking up a storm as you usually are when we travel, I feel you with me as I pass through security, and especially as I head to the gate and start casually, quietly, discreetly looking around, the way we did on our honeymoon. Has it really been four years? They've flown by.

I'll never forget sitting with you and hearing you whisper, "Find someone to take back to our hotel room with us." You didn't specify if it should be a man or a woman, and although I'd never considered it before, the idea of being pressed between you and another man made me so excited I almost spilled the medium coffee I'd just purchased. You took it from my hand and blew through the small opening in the plastic top for me, raising your eyebrows. I giggled, then started looking. I reached for your hand for support; you squeezed it but then let me go. I fiddled with my wedding ring, twisting around the new gold band over and over, afraid I looked like a kid in a candy store.

You'd whispered to me again. "I'm just so madly in love with you, and I think this should be a new tradition; when we travel, we find someone to join us. Just for fun, no strings attached." I'd spent the entire time before we boarded perusing every adult sitting around us, mentally undressing them, wondering who had piercings or tattoos, who was kinky, who was the best kisser. I pictured the tall man in a suit, speaking rapidly in Spanish on the phone, with his cock in your mouth. I pictured the short, curvy redhead with her head buried between my legs while you entered her from behind.

"Well?" you'd asked, as they started to board the plane.

"I can't decide. And I certainly can't go up to any of these people. What am I going to say? 'I just got married and my husband wants to have a threesome?'" Yet even saying those unspeakable words made me wet, made my mind and heart race. I'd told you that I was bisexual after our third date, wanting to make sure you wouldn't have that awful, frat-boy, "That's hot!" reaction that even most seemingly sophisticated men busted out once I revealed I went both ways. You just nodded and let me tell you all about Simone, the gorgeous woman with the smoky voice and beautiful, curvy body I'd most recently bedded.

I'd fallen in love with you in part because you let me tell you anything, and in turn revealed some of your fantasies. We'd tried out many of them—bondage, strap-ons, hot wax. We'd talked about threesomes and orgies but in a fantasy way, until that trip. For whatever reason, you'd never mentioned wanting to be with another man, but I liked learning new things about you just when I thought I knew it all. "Let's wait until we're on the plane," I'd said, and lucky me: my dream girl, the one whose face I kept returning to, was sitting next to me on the plane. You'd pretended to sleep while I made small talk with her, all the while working up the courage to say what I most wanted to. As it turned out, she'd been the one to whisper in my ear, "I wish I could be alone with you for an hour. I want to kiss you all over."

I'd stared right back at her, barely hearing the screaming infant behind us, or the  blaring music from the woman's headphones in front of us. I just saw her, Katia, her ripe, naturally pink lips, her jet-black hair, the tiny diamond glinting from her lightly freckled nose. When I reached up and traced her lips, you'd stirred, gently knocking my knee with yours.
 Rachel Kramer Bussel (rachelkramerbussel.com) is an author, editor, event organizer and writing instructor. She's edited over 60 anthologies, most recently Best Women's Erotica of the Year, Volume 1, Dirty Dates; Erotic Fantasies for Couples and Come Again: Sex Toy Erotica. She's the author of Sex & Cupcakes: A Juicy Collection of Essays and writes widely about sex, dating, books, pop culture, body image and feminism. Find her @raquelita on Twitter. ↩