This is a viewpoint of Catalyst from a person with serious social anxiety issues which sometimes manifest into mild agoraphobia. Add on top of my social awkwardness a "neutral face" that makes me look forever pissed off + food allergy issues turning me into a manic panicked individual minus the cool hair color….and yeah. I got through this as best as I could, albeit I wasn't at my best this year. It bothers me, it has made me feel like shit about myself, and compounded my self-doubts. I tried. I failed a lot. I fucked up. Hopefully next time is better?
I've been trying all week to put my finger on what went wrong for me at CatalystCon this weekend. I'm not saying it was bad. It just wasn't exceedingly awesome for me, as awesome as Momentum had been the two years prior. I think it was me. I mean sure, there were issues, we don't like in utopia. The restaurant, while being extremely willing to make me a safe meal, was still having the same major issues as last year: a 30-45 minute wait on your food. When the weekend is so jam-packed, that's a big problem. I didn't eat there much, and in fact snarfed down a sandwich alone in my room every day. There are the catacombs of Crystal City, under the hotel, but the fact is that they're large, confusing and not at all accessible to someone who can't do steps – or someone with a baby stroller (forget if you are in a scooter or wheelchair).
I wanted to attend Dirty Bingo, since it seemed to be the thing to do and I enjoyed it last year, but when we got there it was about 90 degrees in the room and jam packed. At least 3 times as many people as last year. I was NOT dealing well with overcrowded spaces this past weekend, which happened a lot. A "Sexy Soiree" party after dinner Saturday was the same – crowded, loud and too warm. I ran away fast.
Lest I sound like I took nothing away from the weekend, I want to sing the praises loudly of the session I'd waited for since CatalystWest had announced it last fall, Toxic Toys of course. This session alone made it worth my while and that session has lit a fire under me like nothing else. And even though I felt kinda invisible the whole weekend, I was still appreciate of the wonderful people that exist in this bubble of the world.
I decided to hang out this time and put that over sessions. There were sessions I had wanted to attend, but I only went to Toxic Toys. I tried a few others, which were popular and/or the room was way too warm (the panel that the Swingset crew did I saw about 1.5 minutes of before I had to either exit the room or pass out). 
Highlights included a truly lovely dinner with Tantus and fellow Tantus reviewers; hanging out with my beloved Crista and her wonderful boys; having my brain filled with geeky facts from Lorax of Sexand SexualScientist; chatting with MarvyDarling/Sarah – she is tiny and energetic and freakin cute, she is wonderful; I got to hang out with Sandra from SheVibe, and her crew, and I love her so hard; ohgodtoxictoys talk about my ultimate thing right there; Metis introducing me to Tom of Sportsheets who really wanted me to see a rusty metal ben-wa ball (and that's going to be a post, oh boy, will that be a post); all of the time I got to spend with Jenna of Tantus, and just general awesome conversations with friends. I wish I'd had more, though. I had hugs from some of my favorite people (good lord Tim can give hugs like nobody's business, I heart that man) and just talked about sex toys so very much. This was wonderful. 
I think Catalyst outgrew that hotel. Which is a good thing, on so many levels. But it became so difficult to find people, to move, to talk. And that all led to me becoming more introverted than I wanted to be. I couldn't handle it. I was so overwhelmed, that by Sunday's (fucking awesome) closing keynote with Carol Queen and her husband Robert Morgan Lawrence, when Robert said that the whole room was filled with sex educators, that we were all educators my first thought was "Can I put that on my business card?" but instead I tweeted and wondered if he really meant us all, if me with just this blog could use that term too, I couldn't stand up and ask the question. Lorax did it for me when I shied away. I simply did not have the ability to speak up and stand up and have everyone look at me, in case I would say it wrong or dumb. My social agoraphobia was just in full swing by then. After the closing keynote was over, I wished I had had the ability to go up and say something to Robert and Carol, but I did not. I retreated and shrunk. *sigh*
The dynamic of this year compared to previous years for me was SO different that it has a small part of me questioning if I'll attend next year, if there is another CatalystEast. I have an idea for something that might make Saturday evening more my style, but I have a feeling that it isn't something that can be pulled off by me.  I would like to take the ideas that have been done this year and past years for a "party" gathering, where food is served, but those were held in rooms that are on the hotel room floors called Presidential/Executive suites – they are small, and end up being so crowded that you can't hardly move and so loud you can't really hear. And hot. And overwhelming to people like me. So my idea then is to have something on Saturday evening for a few hours, extremely casual. Pizza. Utilize one of the meeting rooms like the sessions were in. I'm thinking a few hour event for sex bloggers of all types, hosted by the Sex Blogger Co-Op, sponsored by a lovely store/retailer, where the bloggers can all talk to each other about bloggery things and sex toys, and the sex toy manufacturers that are in attendance can talk to us casually and we can talk to them and it's all just….casual. Networking, sort of, but mostly just being able to hang out with and geek out with our crowd. Perhaps a trivia game thrown in with some prizes of sex toys. I think there were a number of sex bloggers there that I never even got to meet this time. Anyways, since this idea of mine isn't as big as the other things that go on, like readings and Cinekink and bingo, I doubt I would be able to make it happen the way I envision.
Am I wrong in assuming that many of the bloggers who are bloggers like me are social "misfits" like me? Not everyone, of course, but many? Or am I really just that much of a special snowflake? ;)
Oh, and to update those who were wondering: I had planned on doing the big silicone lube vs silicone sex toys testing at Catalyst. But when Jenna and Lorax and I started talking about it and doing it, especially after hearing about the bio-cumulative effects of cadmium, we wondered if perhaps there could also be a cumulative effect of the silicone lube. Like that maybe a few minutes wouldn't do much, and maybe 24 hours wouldn't do much, but what about doing it all over time, again and again? So IN THE NAME OF SCIENCE I plan to hack up various brands of silicone and start performing even more in-depth tests. The results won't be done for a few weeks. But it will happen!!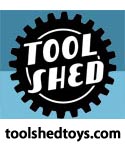 And finally I'd like to send a really huge thank you to Laura and The Tool Shed, my latest site sponsor who heard my last minute "Oh shit, life fucked me over and my funds for Catalyst are dangerously low" moans, and their banner resides over there in the sidebar. I was so sad that Laura was too sick to attend this year herself, because in addition to running a freakin awesome sex toy shop in Milwaukee, she is an awesome lady all around. The Tool Shed is super sex-positive and is a member of the Progressive Pleasure Club. Anything that The Tool Shed carries is a safe item.