I have 6 drafts that are half-finished. I've been in some state or another of "sick" this week and feeling like crap, exhausted and lacking patience. I'm away this weekend so all these posts will have to wait, and I hope I can conjure up their thought trains again.
My main point to this post is to say "ILU" to the people who purchase sex toys through my affiliate link. The sales aren't racking up this month like they were in December, but December was still a banner month, more than I'd ever made before. These sales make me feel like I'm not sitting here wasting away, like I'm contributing to the household or at least not draining it. Thank you, it means more than you know. Also, I'm DYING of curiousity whenever I see a sale and I wonder what you bought, so if you ever feel like telling me – TELL ME!
EF is interviewing one of my favorite people right now, Ducky, so go ask her some crazy questions. Crazy questions, though, not  just "I'm doing this for the hell of it" questions with bad grammar.
Oo!oo! EF is having another one of those sales, where your discount goes up the more you spend. GO BUY SEX TOYS FOR VALENTINE'S DAY. BUY ALL THE TOYS. HAVE ALL THE SEX. Partnered? Sex toys. Solo? SEX TOYS. I mean hey, you should always learn to love yourself first, right? Oh wait, I don't think "love" is what they meant with that saying. You know. AIRQUOTE love /AIRQUOTE.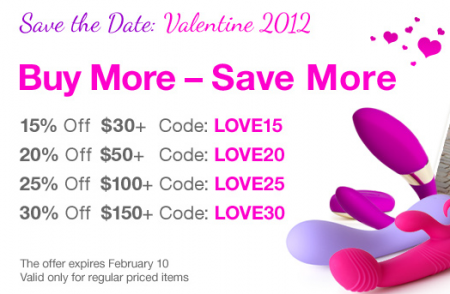 I know what I'm buying with this deal. Since I like the We Vibe Touch so much, I want to own the We Vibe Salsa and Tango. I wonder why the latter two are named after sexy dances but the Touch isn't? Hmm.
Oh! I might possibly have gotten a lead on finally doing some of those sex toy education workshops I've talked about. Very exciting. I suck at public speaking and I'm initially very shy so I have NO clue how this will go the first time or the first ten minutes. Perhaps vodka will be the key?
Anyways, coming up in posts: More sex toy reviewer interviews, with Epiphora and Adriana. My ticked-off review of the JimmyJane Form 6. Review of the We Vibe Touch and Minna Ola. A fun game of "spot the sex toy" with Tumblr porn. I might talk about the Pipedreams Curve wand, a steel toy that may or may not be stainless steel and is a knock-off, design-wise, of the Njoy Fun Wand. Waiting on info for a big tell-all post about our favorite material: Silicone! And some upcoming fun stuff with Crystal Delights, makers of pretty glass and Swarovski butt plugs and dildos. But now I'm off to go tend to my very aching back and smell my own tits.
whut. they smell nice. I've just discovered Philosophy's Amazing Grace scent. You can smell them too, cuz ILU.
this post sponsored is by: EdenFantasys (What this means), a sex toy store