Posted by Lilly in Wanton Wednesday | 15 Comments
Wanton Wednesday….Blogging Naked
Hubs has been napping for awhile and I'm sitting here in my dark office, trying to blog. And eat dinner. Mix into that Twitter and Facebook games. I didn't want to get up and go turn down the heat out of sheer laziness so I just stripped here at my desk.
If I'm not blogging about BEING naked, I might as well do some of my blogging WHILE naked. Apologies for the small and crappy resolution photo, my webcam is the only thing I own that will capture me by the glow of my computer monitor.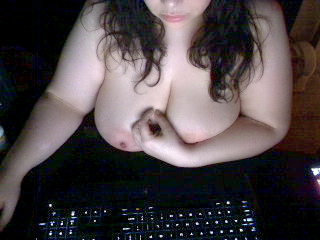 And yes, my tits are still big enough that they rest on my desktop *giggles*
Go see the other Wanton players!