Posted by Lilly in Photography, Wanton Wednesday | 17 Comments
Wanton Wednesday: Off to a Wanton Party
So my WW photo isn't really very revealing or sexy or wanton, but it's the best I can do these days (at least I was wearing a hot bra). You'd think I would have been able to pull off something much better with this hotel room with a loft, stairs, round mirror and 2nd floor window overlooking a street in Tribeca but….alas, my mood wasn't "there" this trip to NYC. In fact, I probably should have just stayed the heck home this weekend but…..I bought clothes so I HAD to go ;)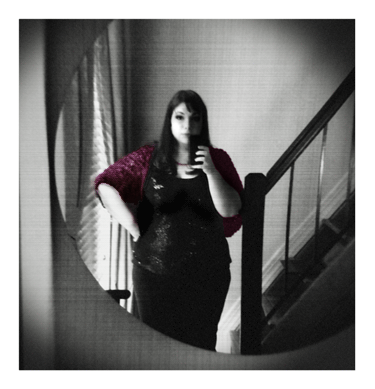 Friday night was a pervy little party at Madame X's, a fundraiser thrown by Tied Up Events for SWA. Sadly, conversations were difficult and people I wanted to hang out with had to leave early (Nadia!), arrived late (Dee!), didn't make it (C&B!) or it was just too loud to hear much (Ten!). Many thanks to the lovely man who kept me company and kept me from feeling like a total loner-loser hehe; I'd hoped for more debauchery for myself but it wasn't meant to be – however the absolute high point of my night was when Ten gleefully offered to rummage around inside my bra for my lost drink ticket. And I do mean rummage. Her hand was digging around all over and it was amusing and  fun and…..I have to say I wouldn't ever turn down a repeat under any circumstances ;) A hot and awesome chick with her hand on my boobs? YES PLEASE! The venue is kinda awesome – all red and victorian bordello and gorgeous. There was also some impossibly tiny chick there that was way outta my league but looked so hot in her tiny sparkly gold dress. I kept staring at her ass. I hope she didn't mind, if she noticed.
I felt good about my outfit, for once. A sparkly black tank with a hand-crocheted shrug that isn't perfect, but oh well. Sadly on my walk from the hotel 18 blocks to the venue, because I fuckin fail hard at hailing myself a cab, I lost the gorgeous, sparkly raspberry jade necklace I left wearing and that I bought specifically for this outfit. At least my adorable little wristlet purse made for me by the lovely Nitebyrd (go see her Etsy shop!) didn't get lost.
While there were some awesome things about the party, the trip in general has left me jaded and I'm thinking it was probably my last blogger-event-related NYC trip. I don't really fit in well with the big, crowded party scene. I'm not a social butterfly; I like to be introduced to people I don't know rather than just waltzing up and talking to strangers out of the blue. I also can get shy and overwhelmed because of the crowd/noise and if the ratio of people I know vs people I don't know sucks. If I ever get back to NYC it'll be under entirely different circumstances.
When I first decided to post this photo, a friend said the first version (wherein there were less prominent shadows) was too much of an exposure. So I tried to crop it, but it ruined the balance and look of the photo. So I said…fuck it. Things, major things, are rapidly changing in my life and while I can't say I'll be blogging "out", I'm not afraid to post this photo.