Posted by Lilly in Blogging, Navel-Gazing, personal information | 4 Comments
I was there. Now I'm here.
I wasn't well. I left to get better. I'd say that I'm about 50% better. That's about as good as it'll get for now, folks.
But now I'm back. And that's that.
Back to business.
I get some really interesting emails, sometimes. We all do. This one was…..classic: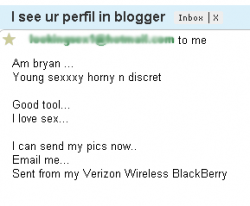 *headdesk*
I hope to get back to posting something of interest shortly. What exactly that is, I'm not sure. I hate to have so many reviews with so little actual content but my brain is….tapped. Got any questions? Need help shopping for a sex toy for the Holidays? You know how to reach me *points to the sidebar*