Posted by Lilly in Old Stuff, Photography, Wanton Wednesday | 16 Comments
Wanton Wednesday: Hoodie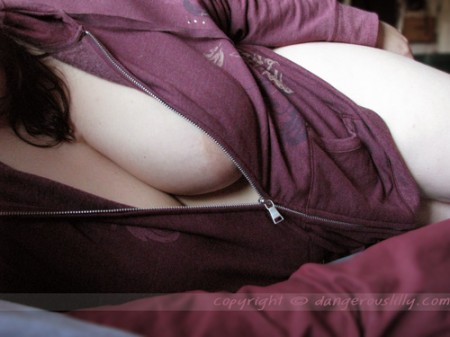 I love wearing the occasional hoodie but usually it's zipped up and covering, at most, a camisole. Frequently I wear no other top underneath and the ability of an errant zipper exposing me is definitely possible.
Husband loves when I wear these whether I'm naked or just in a bra. He loves the tease, and knowing that it wouldn't take much to see more.
I was laying in bed on a weekend morning, having thrown on the hoodie overtop nothing at all as a sort of makeshift robe to ward off the chill as I scampered to the bathroom. H loved the view so very much that I let him take some photos both for WW posts and his own satisfaction.
I'd say that the only thing I personally don't like about this photo is how fishbelly white my legs are. My lord that's blinding!!
Check out the other Wanton bloggers playing this week!