Posted by Lilly in Old Stuff, Photography, Wanton Wednesday | 13 Comments
Wanton Wednesday: Lunch Date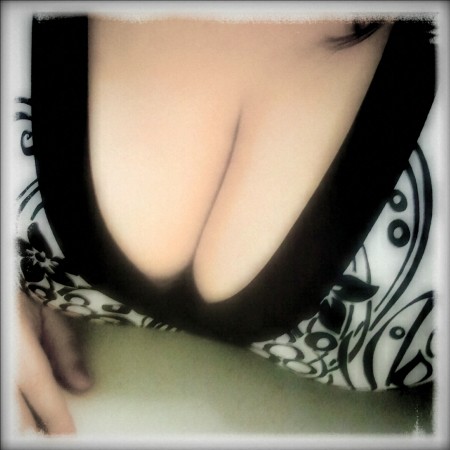 Last Friday I had the pleasure of meeting Hubman for lunch on his way home from his trip. Topics included bloggers, blogging, and a little geeking out over our phones (his the iphone, mine an android).
The top that I wore that day, seen above, I've actually never been able to wear. I purchased it a year ago and even though I knew it was a size too small,  I got it anyways because I liked it so much. While the fit could be just a little bit better in some spots, its wearable now. I think Hubman was a little boob-focused, as at one point he honestly asked if I had noticed how many times his gaze had traveled down (yes) and another asked if I'd worn that top special just to tease him – I informed him frankly that no, most of my wardrobe is like this. If it doesn't show cleavage, I won't buy it.
I'm not 100% sure on how much weight I'll be losing on this journey – I also have no idea what will happen to my tits. When I was at my thinnest, I was a full C cup. I can only hope that is as small as I'll get because honestly anything less is just completely unacceptable to me and I'll have to start taking donations for a boob job :P
Happy WW! See who else it playing!